Watch Collector Secrets: Luxury Italian Timepieces for Men
By Danielle Pollack
Italians are dedicated watch collectors, and for good reason: there are so many highly specialized timepiece designers, especially in northern Italy, many of them just being discovered outside the country.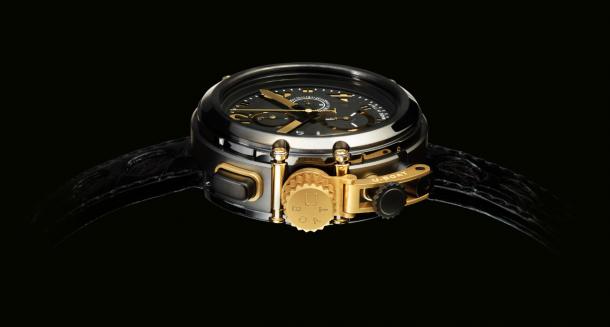 The historic Italian names more commonly known for luxury watches internationally include Bulgari and Panerai. While of course such companies still make beautiful designs, the growth of these brands over the decades has distanced them from their roots of relying on completely handmade, labor intensive production processes. While some of their tourbillon and limited edition pieces still rely on such techniques, most of their collections have moved to mass production.
Now emerging in the last decade or so are several small production bespoke watch brands much sought after by European buyers and collectors. These brands, still a bit of a secret in the US, produce small runs of some exceptional timepieces with the utmost attention to every detail of craftsmanship.
Here I have something for enthusiasts of three areas of extreme sports associated with dynamic speed and performance: diving, flying and racing.
Luxury Diving Timepieces
A prestigious watchmaker known for the quality of their casings for deep sea diving and other activities, Anonimo, was launched when Federico Massacesi bought the manufacturing facilities where Panerai formerly operated. He wisely hired the highly skilled Florentine team of watchmakers, led by the famous watchmaking Ambuchi family, who remained in Italy.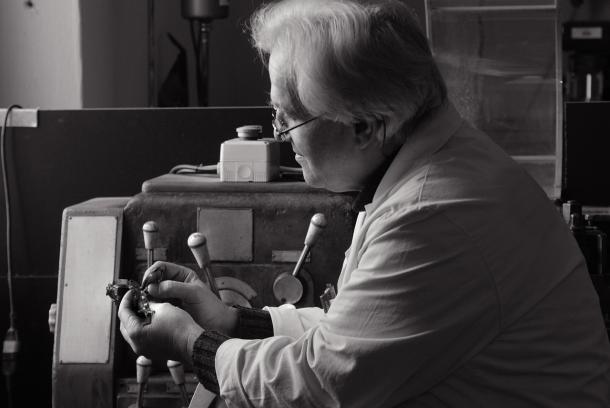 A little background: historic watchmaker Panerai – founded in 1860 in Florence and having made diving watches for the Italian navy for over 50 years – moved production to Switzerland after being bought by Richemont in 1997 (though Panerai headquarters remain in Italy). Anonomio took that tradition and quietly proceeded to bring small production waterproof watchmaking to new highs for contemporary watch fanatics who also happen to love diving.
Unlike any competitor, some of their editions are now made with full carbon casings, rather than a carbon composite. They only make limited edition pieces and always entirely by hand in Florence (as written on every watch), producing no more than a total of 4000 watches per year.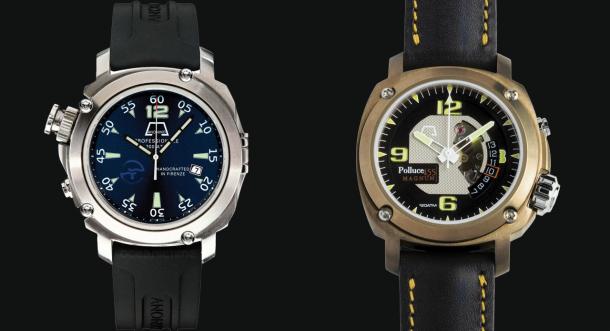 Luxury Flight Timepieces
The next luxury watchmaker to be aware of is U-Boat, based in Lucca. This company caters to flight enthusiasts and tastemakers, with the owner Italo Fontana having founded the company based on designs made by his grandfather in the 1940s.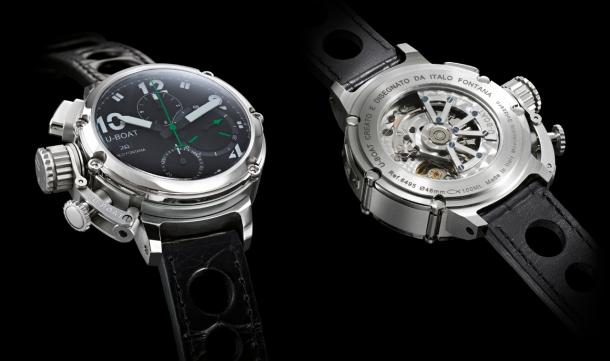 Fontana's grandfather designed several timepieces commissioned by the Italian Navy Pilots; he developed these pieces to have large faces (easy to read with goggles on) and with the crown located on the left so that pilots could use them while wearing gloves up in the cold sky. Taking inspiration from his grandfather's work, we often see these and other vintage aspects in Italo Fontana's contemporary designs, especially in his brown and bronze collections.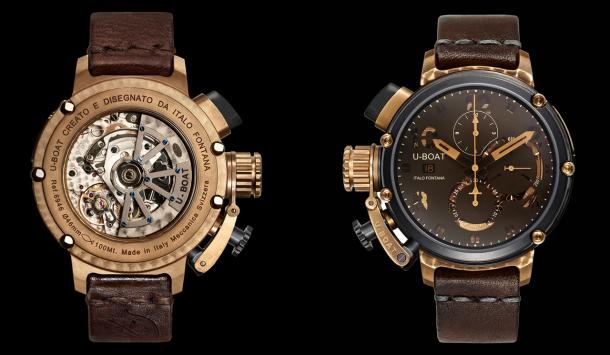 And we are starting to see some important fans of this brand. Ever stylish Giorgio Armani wears his U-Boat regularly and the brand is catching on with some big names outside of Italy: James Blunt, David Beckham, and Tom Cruise all own at least one U-Boat. They also make some pretty irresistible black diamond editions for women, of which Victoria Beckham is an enthusias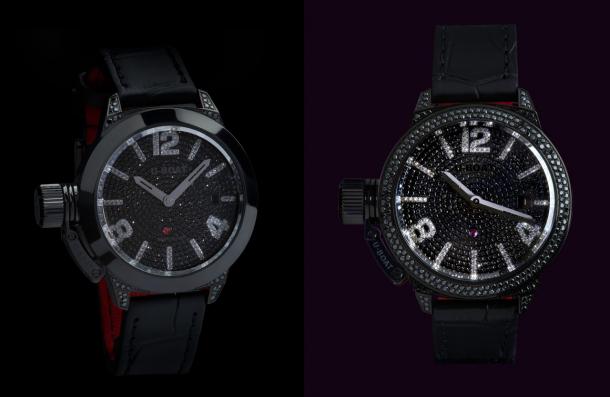 Luxury Racing Timepieces
Launched in 2006, Meccaniche Veloci is known for their Quattro Valvole collection, which translates to "Four Pistons" and is recognizable by the face resembling the pistons of a motor. As their name indicates, Meccaniche Veloci (literally "Fast Machines") likes to collaborate with leading Italian companies in the racing and industrial fields to source and jointly develop new high tech components and materials.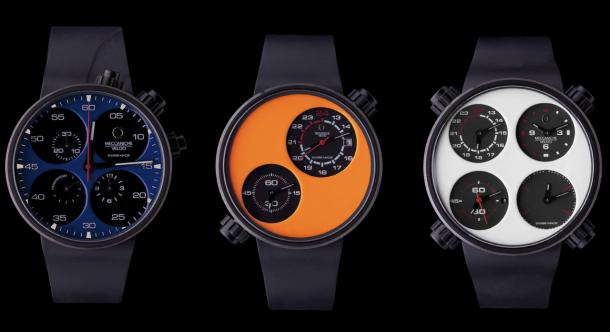 Their Quattro Valvole CMM edition, for example, was born out of a partnership with Bremo, an Italian company which makes brake discs for high-performance racing cars; Meccaniche Veloci applied the same carbon ceramic CMM composition used in these brakes to create their CMM edition of timepieces. They also use something called ergal, borrowed from racing car carburetors, to create select timepieces. If you are a racing enthusiast who loves the sleek aspect of Italian luxury design, this is the watch company for you.
Fashion Brand Timepieces
Who else should you know? If you are looking for something fun, more of a fashion brand watch than a bespoke luxury investment piece, in the last five years many fashion houses have launched timepiece collections as part of their stable of offerings.
Gucci, Ferragamo, and other luxury houses have dedicated significant energy to developing interesting timepiece collections to compliment their shoes, suiting and outerwear, though be aware that generally these houses have licensing agreements for their watch production, since this is not really their area of specialty. So, if you are looking for a company that works in the fashion watch arena but focuses solely on watch production, have a look at Officina del Tempo.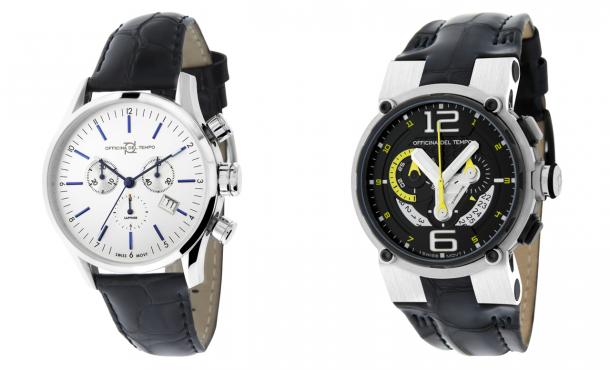 Brothers and long-time watch collectors Giorgio and Roberto Emili launched Officina del Tempo in 2000 after experimenting with designs in their medieval town of Senigallia. They introduce innovative, attractive designs presented every year at the Basel Fair, the most important annual watch event in the world.
Whatever your personal style, and budget, there is plenty to be discovered in the world of bespoke Italian watchmaking. You just have to know where to seek it.
Related New Stories