Mens Trends 2013: Bottega Veneta, Pure Sartorial Elegance
Some of SS13's most accessible casual luxury looks come from Bottega Veneta, with monochromatic sets in greys and natural suede. Soft forms say easy traveler with this set. We also see that sheer trend like in Ferragamo and others, as it appears here in the third look. We see (rather than ties peering out like from Giornetti's collection) Maier's shadows of a uniquely dark mono-floral look hidden beneath cloud-like transparencies.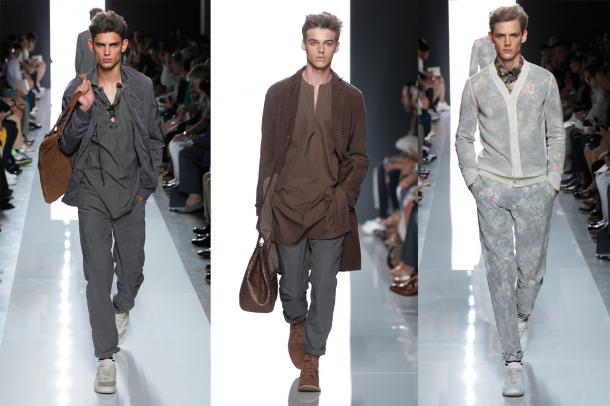 While it is a pale cardigan over a dark collared shirt on top, the pants for this look use a barely there pale film sewn into the dark under-layer to create the same effect on top and bottom. Very cool flowers for boys from Bottega, very cool. Don't be afraid to let your (dark) feminine side peek out through the clouds a little, guys.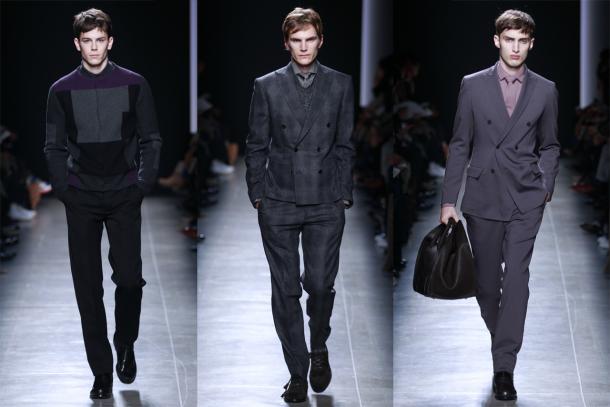 No toying with lengths like some compatriots and competitors, for FW13 Maier takes an ultra-sophisticated approach with his full attention on classic tailoring and proportions at Bottega Veneta. Where could you NOT go with this great look on the left?