Mens Trends 2013: Ferragamo, Explosive Color, Ultra Urban
Who says complementary colors are opposites? If you're not afraid of bold color this summer – big blues and persimmon oranges – and want to do something new with your ties, take a tip from Ferragamo. Sheer is not only for the ladies any longer, guys. Why not let your tie peer out through the mist of superfine spun merino?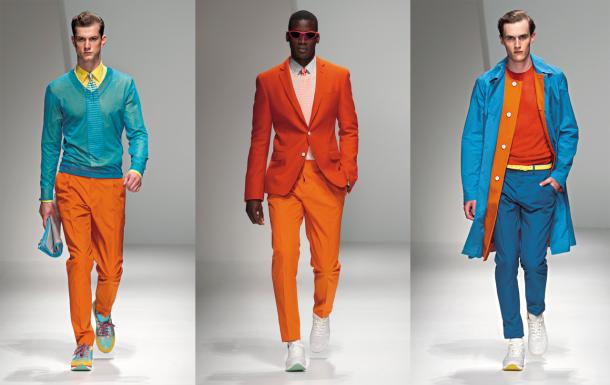 And you can see below that for FW13 Ferragamo continues the big color theme, albeit in more muted tones, with plenty of deep blues, forest greens, and rich reds. Sharp cut double lapels and buttery leather coats in oxblood are just the thing to keep the contemporary elegant man looking timeless when in a wintery spirit.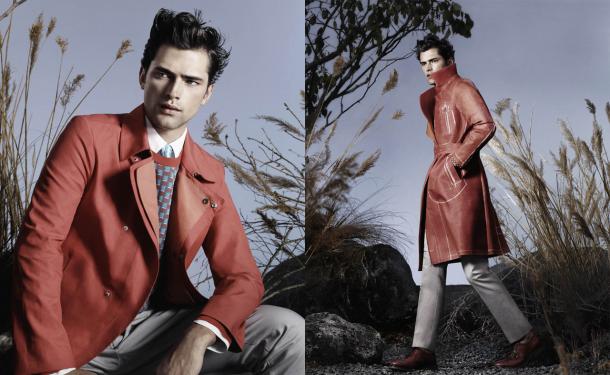 The Ferragamo FW13 runway gave us some ultra urban New York looks, some sleek, some top-heavy. Big, usually stand-up, collars made the appearance here, as they did with many of the houses for the FW13 collections. Designer Massimiliano Giornetti worked the brand's trademark leather trim on cashmere and other woolen outerwear to nice effect, as you can see here.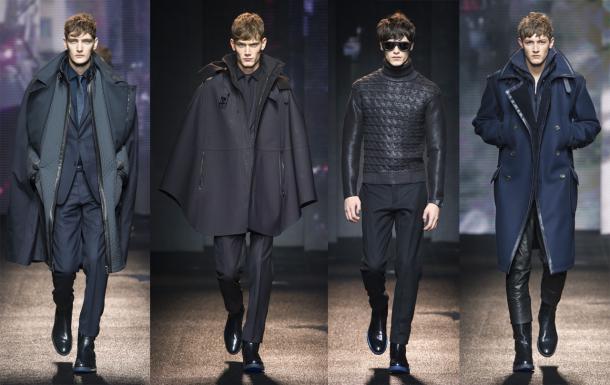 > By Danielle Pollack
Learn more about:
Related news stories:
Be Bold: Pairing Wines and Liqueurs with Cigars
My Rome Trip: Learning What an Armani Suit Can Do for a Guy
Coated in Crocodile or Ostrich: Bespoke Bicycles Made in Milan
Watch Collector Secrets: Luxury Italian Timepieces for Men
Pirelli's Graphic Design: More Than Just a Pretty Face
When Wine Barrels Die: Reborn as Design Furniture
Lake Como: What Keeps George Clooney Coming Back?
A Suite Ride: Ramaciotti's Maserati Quattroporte
Mens Trends 2013: Costume National Brings It, Swagger Included
Mens Trends 2013: Borsalino Hats for Boardwalk Empire Men
Mens Trends 2013: Bottega Veneta, Pure Sartorial Elegance
Mens Trends 2013: Ferragamo, Explosive Color, Ultra Urban
Mens Trends: Trussardi, Sleek Outdoorsmen, Man Bags
Mens Trends: Brioni's Slim Suits & Secret Service Looks