Milan Fashion Week: Armani Unbound by Time, Spring 2013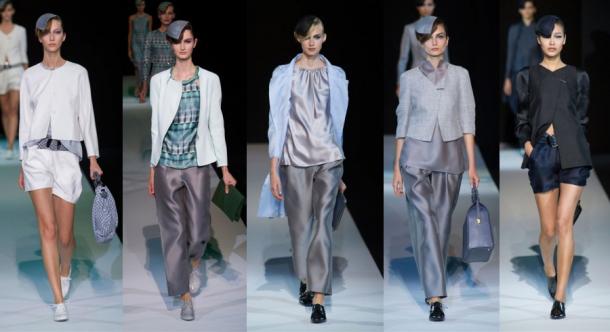 Adding a whisper of color to his classic grey, variations of silvery blue graphite were core to Giorgio Armani's lustrous Spring 2013 collection, made up largely of cropped ¾ sleeve jackets over soft tunics and gently tailored pants, sometimes pajama-like, sometimes sharply creased, but always loose and easy enough to wear walking kilometers or reclining on the proverbial divan. Cobalt midnight blues and hushed teals also appeared, sometimes in watery long rectangular batik patterns in tops, pants, and skirts. Sensible oxfords and minimalist doctor's and Kelly-shaped bags emphasized the casual elegance of Armani's day looks.
For evening, Armani took these colors, and black, into the starry night and gave us an entirely new way of looking at the cosmology of fashion; maybe this was his way of quietly reminding us of his own personal contribution to the larger galaxy of couture over the decades, especially given his retrospective show on display next door. Particles of stardust inspired the prints and patterns of these sweeping, and sometimes sequined, ethereal chiffon looks.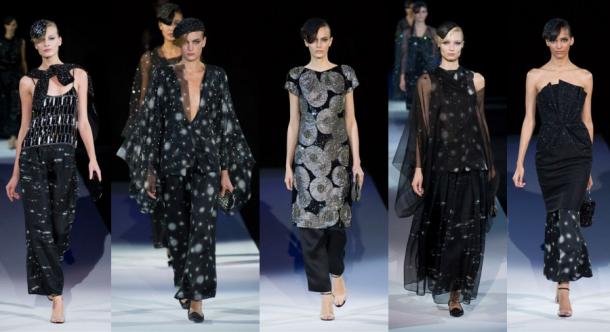 This 2013 collection is an excellent illustration of one Armani's key strengths: his ability to successfully integrate and combine details of past eras in understated ways which make sense and do not distract from his very contemporary elegance. Almost indiscernible notes of the graphic space age of the 1950s appeared in the pochettes, jewelry, and larger more symmetrical patterns for evening, and then there was a nod to the late 1930s in both hairstyle and headwear, in this instance a consistently reappearing very simple flat and forward-placed take on the fascinator sans plumage.
And of course Armani wouldn't be Armani without a mention of the 1980s, here with oversized belts and the line of jacket fronts. Once again, the maestro presented us a very strong, wearable collection and reaffirmed why he is indeed a benchmark among his peers through seasons and eras.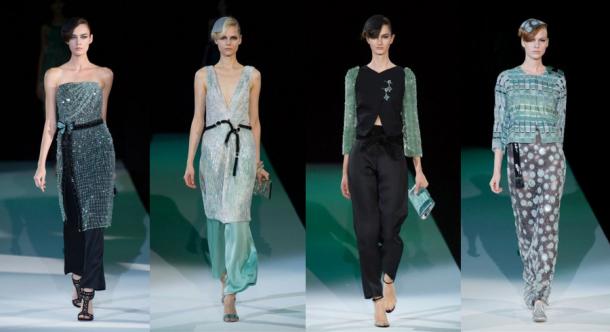 By Danielle Pollack
Learn more about: