"I Do" Italian Style: The Best Wedding Dresses
It only takes the first few notes of Wagner's Bridal Chorus to send some girls' heads reeling. While romance and flowers are important, what sets the tone for the perfect fairytale wedding better than a gorgeous Italian dress for the modern princess?
Brides, some quite memorable, have been following the Silk Road straight to Italy for centuries. From Audrey Hepburn (in Sorelle Fontana) to Jackie Kennedy Onassis and Anne Hathaway (both in Valentino) and Jessica Biel (in Giambattista Valli), some of the world's most iconic brides have evoked eternal elegance by wearing the luxurious bridal creations of Italian designers.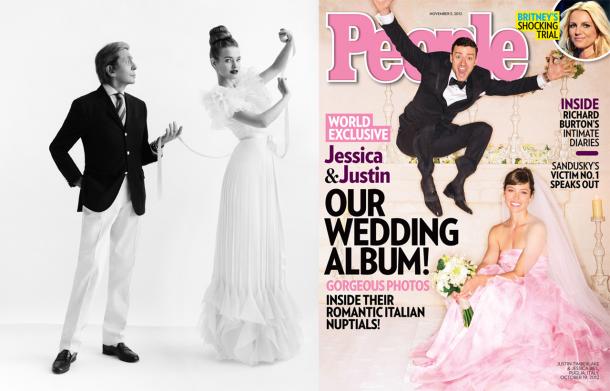 While highly sought-after fashion houses like the Sorelle Fontana and Valentino have been dressing celebrity brides for more than half a century, leading design houses like Atelier Aimée Montenapoleone and Alberta Ferretti stand out from the crowd for their luxurious, original bridal masterpieces today. These two adorned the catwalk this season with dresses ranging from traditional princess in pure white to edgy urban goddess with abbreviated skirts and pastel colors.
Here are some of the hottest trends in Italian bridal wear for 2013, so you too can say "I do," right on time and in true Italian style.
Black & White
This season Atelier Aimée Montenapoleone pays tribute to Grace Kelly with a romantic collection in black and white, embellished with finely embroidered lace and glittery tulle.  Another great designer to apply the chiaroscuro beauty of black and white is Dolce & Gabbana, imbuing their latest collection with baroque flourishes, unabashed clusters of sequin and brocaded gold details, while shortening hems and adding sleeves for the modern bride who doesn't shy away from a little southern Italian bling.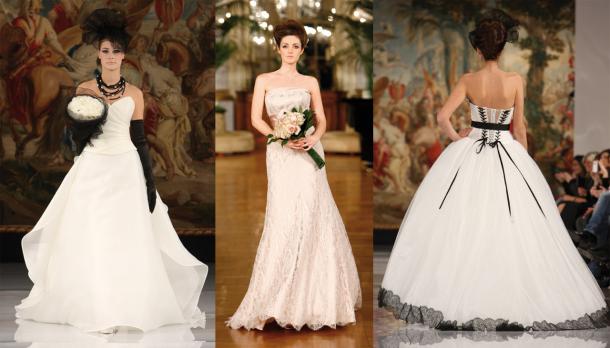 Pastels & Florals
For the non-traditional, read non-white, wedding, a touch of color could grace the aisle with long, flowing ruffles either bordered with a just touch of blue or saturated in delicate princess pink, just as Jessica Biel did in her Giambattista Valli gown when saying "I do" to Justin Timberlake in a very private Italian affair. A gamut of fashion houses, from Atelier Aimée to Emé di Emé and Renato Balestra, showcase selections in pastel or bright floral fabrics or with silk floral accents that add dimension in their latest collections.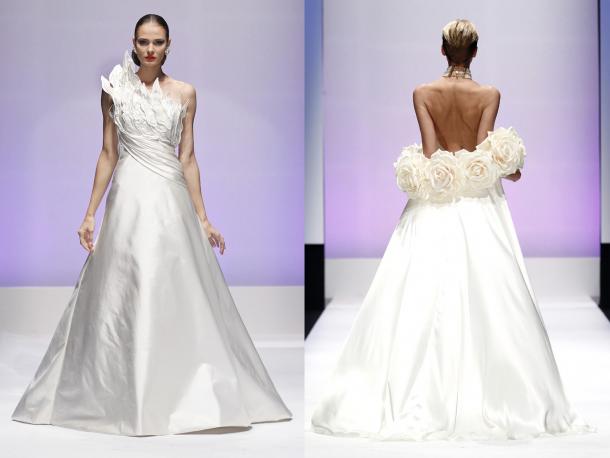 Short, Long & False Short
Perfect for showing off great legs and fabulous shoes, Italians are currently in love with what is called the gonna corto-lungo, literally the short-long skirt. Certainly a bold step for saying "I do", Emé di Emé is not the only fashion house to have several eye-catching designs for the fearless fashionista on her big day.
A-Symmetry & A-Line
More traditional, but still with a dose of elegant rebellion, Alberta Ferretti and Atelier Aiméemesmerized those at the Milan shows with one-shoulder bodices, while Valentino offered that poised perfection of high collars with chiffon bodices and flowing a-line skirts. To finish off your look you might want to make your walk to the altar in a pair of very Italian and very tall Loriblu's.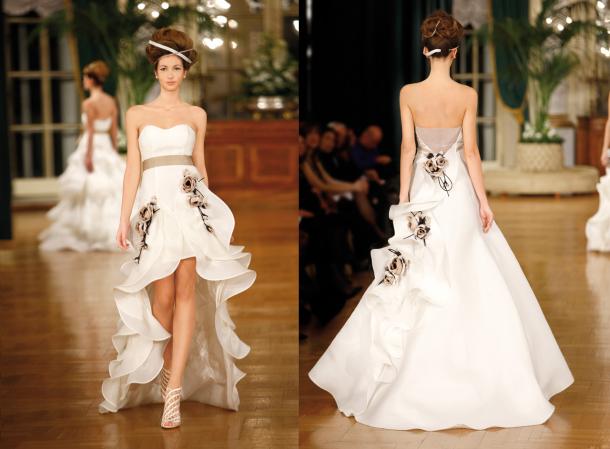 Anyone who has wandered the streets of Florence or Rome knows that the sky is the limit when it comes to the Italian imagination, and the modern bride is no exception. Scorning anything resembling a cookie cutter dress, a real Italian bride does not settle for prêt-à-porter on her big day. She is fitted in her favorite atelier after hand-selecting the silks and laces that will forever be immortalized in albums and sometimes films. Nevertheless, if you're not quite that much diva, Italian RTW bridal options are excellent and anything but boring.
By Kelly Fann
Related news stories:
Special vacation ideas