Two Italian Boyhood Friends Become Menswear Trend Setters
By Nadia Koski
The Two Italian Boys brand was launched in 2011 by two young menswear designers who also happened to be long-time friends from Puglia. Their FW 2013 show impressed at Pitti Uomo, where we had a chance to talk with CEO Ruggiero Cortellino.
The first thing one notices about Cortellino is his polished old Hollywood look, a bit 1930s and with perfectly coifed hair. The words dapper street punk sprang to mind. As we sat down I remarked that it was fun to finally interview a designer close to my own age, and he seemed amused and very aware of his relative youth among designers here. I had a whiskey, while he had Sassicaia, his favorite wine.
Cortellino's choice in food and wine is the perfect contrast, just like his designs, a balance of the simple and refined: a simple plate of spaghetti di mare – a rather rustic dish – along with a refined Sassicaia, which runs no less than $150 bottle. Cortellino speaks here on how such personal contrasts inspire his styles for Two Italian Boys.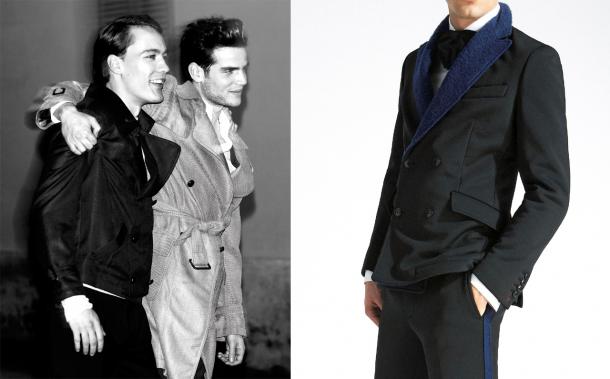 What inspires you? Why do you do this work?
We want to contribute our idea of style to this sector. Our goal is to mix personal experience with Italian taste, though with an international flair. Today's market is difficult, but if you have a clear vision and a good work ethic, your business will grow.

Our inspiration comes from this idea of two Italian boys, friends who meet up at home in Puglia after having experiences abroad in London, Paris, Asia – specifically Japan and China. Our style is a fusion of Italian craftsmanship with an international touch; it is an attention to detail coupled with research of the latest materials available. This style I speak of reflects us both, the idea of elegance and refinement mixed with what is contemporary, just a hint of vintage embedded in experimental form and color.
In what way is the Made In Italy concept relevant to your business? How much of your design, development, and production occurs within Italian borders?
We are not interested in producing outside of Italy. Our clothes are conceived, designed and entirely Made In Italy with only Italian fabrics. We take a lot of time researching the best suppliers in Italy who develop model forms and produce excellent goods. For us, Made in Italy is in our DNA.

Our name "Two Italian Boys," stands for good taste – a lifestyle and sartorial craftsmanship that, in my opinion, is true Italian style. We wanted to express these values in our name, two Italian boys who don't distance themselves from tradition, but rather bring tradition into the future. The Made in Italy concept can be seen in our internal and external garment construction.

It is also a form of "correctness" we have with our consumers. We want to present a truly Italian product. We don't have anything to hide. We're honest with ourselves and with others. We have no problem following this ethos. Seriousness and correctness always win. That is when true quality can be enjoyed.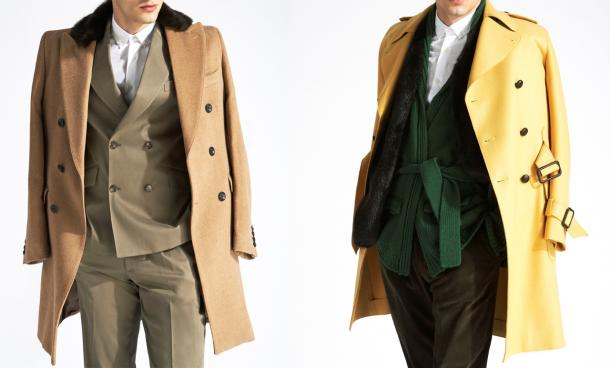 What is your most popular product and why do you think that is?
We'll have to wait to see how this coming collection sells with clients and buyers in the coming months. At the moment, we have focused on a unique mix of refined materials. We have pieces in our collection that are classically tailored but are interpreted with very modern materials like neoprene and furry fabrics, which are gaining attention with various clients. We're getting a lot of positive feedback here.
Which is your favorite piece from the FW 2013-2014 collection?
Beginning from our very first collection, we have always included pieces that are entirely unique to our brand. For example, we have a double-breasted blazer with a '30s "sack-fit" without the open slit in the back, a button-less jacket with a drawstring waist, a military trench. All these pieces we've reinvented in our second collection, and are absolute "musts" for our followers.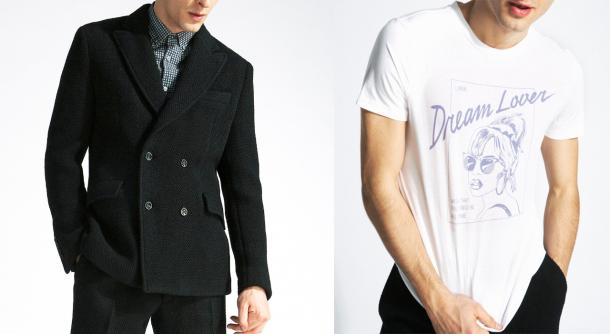 What do you see as the most important trends ahead for 2013?
For Spring Summer 2013, there's a return to relaxed elegance. We adapted this idea with an Italian attitude for our collection. Our brand represents this relaxed elegance that is never forced, always natural, a way of life or essential continuity if you will. Our pieces can be worn from morning to evening, adapted to the various parts of your daily routine.

In the past couple days [at Pitti Uomo] we've been seeing the following trends: elegance, refined materials and precise, detailed tailoring. There is no longer this "thrown together" mix but rather very coherent, decisive style. Obviously people will still mix and match their wardrobes, but in my opinion the trend is moving towards precision and elegance, in particular among younger men.

In fact, you can see this representation with our pieces, like the sartorial sports coat with distressed details, which is a perfect piece a young guy can wear out for a relaxed night with friends or a date. Our collection offers pieces for the modern man who doesn't want to renounce a great cut and precise Italian tailoring, but wants unique materials and taste without being overly "classic."

A sneak peak for Fall/Winter 2013-2014: we're seeing a lot of heavy knits, a lot of color and raw cuts. There is also a return to more sartorial pieces made with refined fabrics. Our FW13 line takes on the idea of the sophisticated traveler, an international jet-setter who appreciates unique details, like a touch of embroidery, or those you see in our double-breasted camel coat, inspired by the one Marlon Brandon wore in "Last Tango in Paris." We see tailored jackets in innovative materials, like double layered neoprene. There's a more experimental yet sophisticated mix of materials, fabrics and layers. Also prints are very big.
What are people looking for today? How do you respond to this market's needs?
The modern man has multiple interests, travels often and is very busy. He needs elegant pieces that are functional, light, sporty, versatile and not bulky. This new wardrobe must work with a lifestyle that has changed over the years; refined pieces and fabrics now correspond to one's lifestyle. A man must have style and materials that will still look great over time. Today's man is very attached to the tasteful, functional pieces in his wardrobe.

There is also a very interesting thing happening now with accessories. They've become really important pieces in order to complete your look. For example, colored socks have become a cool accessory to pair with any type of wardrobe. Brands are also counting on technological accessories to really take off. Overall the trend is moving toward functional pieces, constructed with refined materials which exude elegance, but are placed in the right context. All of us travel, we're moving around every day, and it's important to have a wardrobe that allows you to feel comfortable without sacrificing style.
What is your advice for young people who want to start working in fashion?
Your own style is very important. It represents who you are. Decide which agencies are going to stimulate your creativity and help you gain experience to build a good resume. Then gain as much experience as possible and work hard. It's very competitive out there. It is really important to distinguish yourself with your own style instead of following what others are doing.

When you get into this business you're convinced you'll create something new, but it's not always easy for those just starting out. The fashion business seems like a beautiful, fantastic world on the surface but in reality, it's a very complex system. You must make smart investments, put your heart into it, take risks and have a very defined idea of what you want to do.

Those who get into this line of work have to know it will be hard. You must always stay informed, know that that there are millions of competitors to distinguish yourself from. Though a bit of luck helps, you also must start with a good base. Hone your skill and know your business, from a stylistic and commercial point of view. Hard work and investment are key elements to success.
Related news stories:
Be Bold: Pairing Wines and Liqueurs with Cigars
My Rome Trip: Learning What an Armani Suit Can Do for a Guy
Coated in Crocodile or Ostrich: Bespoke Bicycles Made in Milan
Watch Collector Secrets: Luxury Italian Timepieces for Men
Pirelli's Graphic Design: More Than Just a Pretty Face
When Wine Barrels Die: Reborn as Design Furniture
Lake Como: What Keeps George Clooney Coming Back?
A Suite Ride: Ramaciotti's Maserati Quattroporte
Mens Trends 2013: Costume National Brings It, Swagger Included
Mens Trends 2013: Borsalino Hats for Boardwalk Empire Men
Mens Trends 2013: Bottega Veneta, Pure Sartorial Elegance
Mens Trends 2013: Ferragamo, Explosive Color, Ultra Urban
Mens Trends: Trussardi, Sleek Outdoorsmen, Man Bags
Mens Trends: Brioni's Slim Suits & Secret Service Looks