Italian Scarves: Wrap Yourself in Iconic Style
We wear them as fashion accessories, to keep us warm, or even for religious reasons.  Yes, scarves and shawls are a staple in everybody's wardrobe and in this area, as with most other fashion items, Italy leads the way. Who doesn't love Italian scarves?
One outstanding characteristic of Italian made scarves and shawls is the fabric. Nothing but the finest will do. Italian silk scarves give any outfit that all important finishing touch, classy, stylish and sexy. Just think of the filmstar chic of Jackie O or Sofia Loren's headscarves! And if you are looking for warmth and luxury rolled up into one gorgeous bundle, then baby soft Italian cashmere scarves are going to push all the right buttons.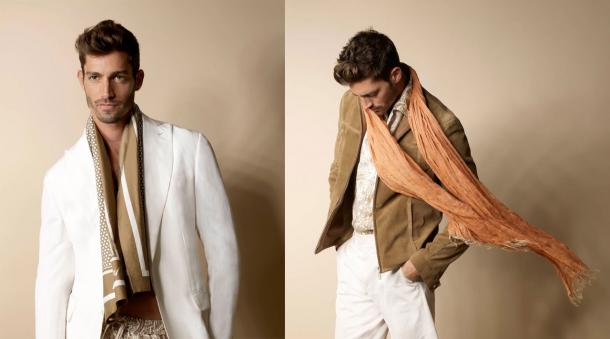 The humble scarf has come on a long way since its traditional use in Italy. Formerly gracing the heads of peasant workers and grandmothers in times gone by, and often simply made of black cotton or white lace, the scarf has now been elevated to iconic status, adopted by Italian designers and fashion houses keen to create their own signature style, whether it be through fabric – such as to-die-for hand painted silk – or through pattern and color. Some designers, such as Valentino, repeat their logo all over the fabric to give a subtle yet high fashion look.
Italian scarves come in such a wide range of styles, fabrics and colors that even the most finicky fashionistas among you should find something to please you. Depending on your mood and your look, you can go all rock chick with Versace's clashing red and pink florals or classic and elegant with something like a Valentino plain colored silk and cotton stole. The choice is as wide as the sky and as deep as the ocean, you are only limited by your imagination.
Men needn't feel left out as you are more than catered for with the vast array of beautiful scarves out there. On less than warm days, why not wrap one of Roberto Cavalli's oblong Italian cashmere scarves around your neck and step out in true Mediterranean style?  (Mediterranean on a cool day, that is!) Because make no mistake, no self respecting Italian man would venture out after October without his scarf. And of course it goes without saying that it has to be knotted or tied just right.
Celebrities world-wide have long realised the appeal and impact of the right scarf. The Italian singer Luciano Pavarotti was referred to as "the tenor with the colored scarf" after his habit of wearing very long scarves over his evening dress, which added the final artistic touch to his ensemble. And on the silver screen, the stars of the movie "Thelma & Louise" wore colored silk head scarves topped by a pair of sunglasses, a look that has now become associated with that film.
If you are feeling tempted by luscious Italian silk scarves, or even soft and sumptuous Italian cashmere scarves, then this is the place to begin. Take a look now at the collection we have put together for you, selecting from all the best designers out there. You know you want to!