The Food and Cuisine of The Aosta Valley (Valle d'Aosta)
French, Swiss and Piedmont influence has created Aosta Valley cuisine, an entirely unique set of dishes despite being the smallest region in Italy. The climate high in the mountains is bitterly cold, due to being located in the Alps. The food in Valle d'Aosta is known for being hearty, full of filling starches and rich dairy. It is supplemented by locally hunted game meats and herds of cattle.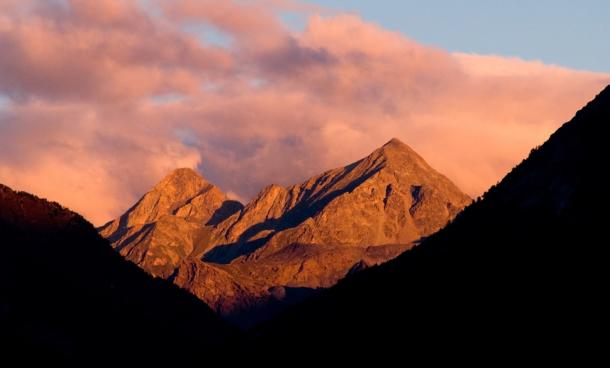 Unlikely much of Italy, pasta is not a staple food. Valle dAosta cooking is based on warming soups, heavy rye bread, polenta, rice, potatoes and gnocchi. Minestra di castagne e riso simmers rice and chestnuts in milk until it becomes a thick, comforting porridge. Corn meal mush is chilled and sliced. These slices are then layered with a thick beef and sausage ragout and Fontina cheese in polenta alla rascard. Fontina cheese is also used with butter, toma and Parmigiano Reggiano cheeses and rice to make the creamy risotto alla valdostana. This traditional dish only contains simple ingredients, but requires close attention at the stove top in order to achieve the classic texture — creamy with a toothsome bite.
Satisfying hot soups are often served in Aosta Valley cuisine. These distinctive dishes often include fresh or dried mushrooms, chestnuts and almonds. Seupa de gri is a barley soup made with seasonal vegetables and potatoes, seasoned with onions and salt pork. Savoy cabbage, Fontina, ham and rye bread are simmered in beef broth with salt pork, spices and herbs to make seupa à la valpellinentze.
The Alpine meadows are covered with lush grass, making for the perfect place to graze vast herds of cows. Valle d'Aosta recipes are known for their sweet butter and cheeses, especially Fontina and Valle d'Aosta Fromadzo. The cheeses are used for eating out of hand and fondue, but also for flavoring polenta, risotto, soups and other dishes.
In addition to milk, the herds of cattle provide meat for the small community. Beef stew, or carbonade, is made with salt preserved beef, onions and red wine and served with polenta. Veal cutlets are breaded and fried, topped with thinly shaved white truffles and Parmigiano Reggiano and a cream sauce in the traditional costoletta alla valdostana. Even the cow's udder is served after salt curing with herbs, pressing and slicing thinly. This unusual dish, known as tetouns, has been compared to ham.
Valle d'Aosta cooking is supplemented with wild hare, venison and game birds. Venison and vegetables are stewed in an herb flavored cream and grappa sauce for capriolo alla valdostana. Herds of free range pigs are used for the famous prosciutto known as Jambon de Bosses and for making salt pork. Aosta Valley recipes waste nothing from these pigs, either. Boudins, spicy sausages made from pork blood, and salame are preserved in rendered pork fat.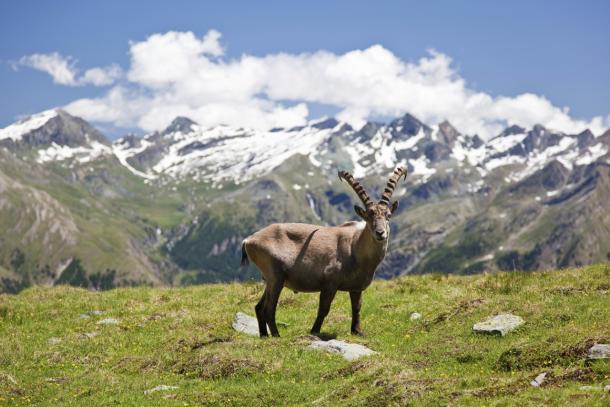 While seafood is not typically part of Valle d'Aosta cuisine, mountain stream grown trout is considered a special treat. Typical Aosta Valley recipes for fish might stuff trout fillets with ham and top with fontina, then poach in white wine.
Fruit from the Alps is very sweet and many desserts are prepared with the locally grown apples and pears. These fruits are often cooked with red wine. The flavorful local honey is used to bake tegole, a cookie named after the roof tiles that they resemble. Torcetti, or ring shaped cookies, are also flavored with honey before being dusted with powdered sugar.
Even though this region is Italy's smallest, the hearty soups and other filling dishes satisfy the most demanding appetite.
---
Aosta Valley protected local food products
Fresh & Cured Meats:
Valle d'Aosta Jambon de Bosses DOP, Valle d'Aosta Lard d'Arnad DOP
Cheeses:
Fontina DOP, Valle d'Aosta Fromadzo DOP
Learn more about:
The Wines of The Aosta Valley (Valle d'Aosta)