The Food and Cuisine of Molise
In 1970, Abruzzi and Molise split apart, creating Italy's newest region. Formerly ruled by Sicily, Molise cuisine strongly reflects this influence. As with many other Italian regions, a history of poverty created an emphasis on simple dishes made with fresh local ingredients. Like Abruzzi, Molise recipes often contain hot peppers affectionately referred to as diavolino, or "little devil".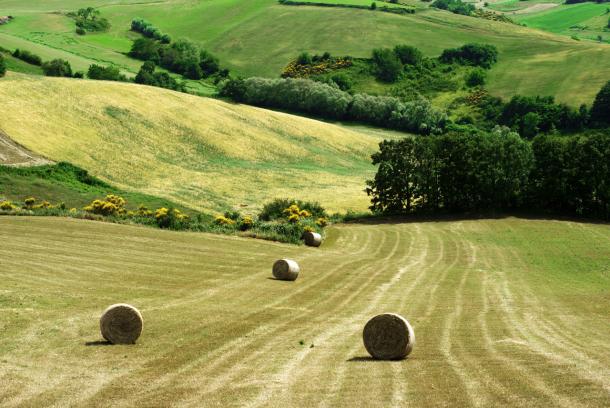 Many of the local families migrated annually in order to move their grazing animals to fresh grasslands, so most traditional Molise food is quickly prepared. In the spring, early nettle sprouts are gently cooked in soup with bacon and tomatoes to make zuppa di ortiche. Cheese and vegetables are staple dishes in Molise cooking, since most of the herds were reserved for sale. Eating meat was a sign of affluence, with most of the population serving meat only for special occasions. Fresh or preserved tomatoes, beans, artichokes and giant white celery are in many meals.
When meat dishes are eaten, mutton, lamb and kid are the favorite choices of food for Molise recipes. Pezatta is a dish of stewed mutton with tomatoes and onions flavored with rosemary and hot peppers. Abbuoti, or envelopes, are made of chopped lamb liver and sweetbreads mixed with hard cooked eggs and stuffed into intestine and baked.
Pork is also used in Molise cuisine for making sausages and preserved meats. Prosciutto is generally a salt cured food, as smoking is unusual in Italy. Sopressata and salame may be cured and stored in terracotta containers with the local olive oil. Ventricina is a local pork sausage flavored with fennel seeds and peperoncino. Pork skin is also used in pasta sauces. Other meats eaten in Molise include rabbit. Lepre a ciffe e ciaffe marinates hare in herb flavored wine and vinegar before cooking.
Cheeses eaten in Molise are mostly made from sheep's milk. They include the famous Caciocavallo Silano and other well known cheeses such as Provolone, Pecorino and Scamorza. Cheese and seafood are often combined in regional dishes, as in the beloved broiled stuffed mussels. The local ports offers a variety of fresh seafood including anchovies, shellfish and sea snails. Baccalà alla cantalupese is salt cured cod with olives, grapes and peppers seasoned with capers and garlic.
Traditional homes still make their pasta by hand. Molise cuisine often features pasta with sauces made from lamb or pork, freshly ground pecorino and chili peppers. It may be in the form of sagne, laganelle, crejoli or recchietelle. Calcioni di ricotta rustici fills round dumplings of pasta dough with prosciutto, provolone and ricotta before frying them in olive oil. This food is often served as part of an assorted platter of fried appetizers called a fritto misto in Molise cooking. Cavatelli, the most famous local semolina pasta, is usually served with mushrooms or broccoli with a hearty meat sauce.
Molise cooking often features a cornmeal known as polenta. It may be cooked into a mush or used as a flour for baking with. The mush is chilled, then sliced and fried with garlic. These slices of polenta can be layered with beans and peppers before baking. P'lenta d'iragn is a white polenta made with potatoes and wheat, served topped with tomato sauce. Another popular use of polenta is to bake the corn flour into a flat bread and top it with wild greens to make pizza con le foglie. The leftover pizza is enjoyed crumbled into pork broth to make pizza e minestra.
Molise desserts often feature the local, aromatic olive oil as a unique flavoring. They offer both familiar pastries, such as picatelli, filled with honey, grapes and nuts, and less well known desserts made from corn flour. Panettoncino is a springy chocolate cake made with polenta. The most unusual dessert is made with blood sausage, chocolate and pignolis.
---
Molise protected local food products
Olive Oils:
Molise DOP
Fresh & Cured Meats:
Salamini italiani alla cacciatora DOP, Vitellone Bianco dell'Appennino Centrale IGP
Cheeses:
Caciocavallo Silano DOP
Learn more about: