The Food and Cuisine of Piedmont (Piemonte)
Piedmont's cuisine is famous for the immense variety of antipasti. In any other area, these filling dishes and the ubiquitous grissini, or meter long breadsticks, would qualify as main courses. The famous bagna càuda (or bagna caôda) begins the meal with pieces of raw vegetables served with a heated sauce of garlic and anchovies in mixed olive oil and butter. The local variation of fonduta is an egg yolk enriched fondue made with Fontina cheese, milk, plenty of butter, and sometimes garnished with shaved white truffle.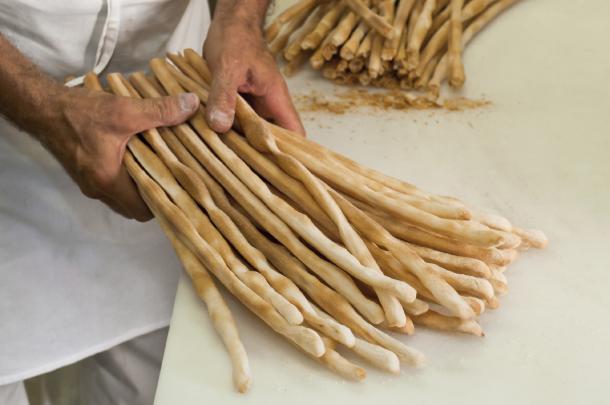 Other commonly eaten hot appetizers include fiori di zucca ripieni, fried stuffed squash blossoms, cavolo verza ripieno, stuffed Savoy cabbage, and crocchette, rice or potatoes croquettes with cheese. Eggs are fried with truffles, cooked with onions to make egg tarts called tartrà piemontese, or made into crustless, baked vegetable omelets known as frittate.
Many filling meat dishes are served as appetizers in Piemonte's cuisine. Vitello tonnato, or veal with tuna sauce, is prepared by simmering veal in vegetable broth before thinly slicing it and serving it cold with a capers and tuna flavored mayonnaise. Organ meats are often prepared as part of the antipasti course, including tongue and tripe. Finanziera is a dish of mixed organ meats and mushrooms flavored with Marsala, garlic and vinegar. Terrines and pâtés contain game birds and liver.
Salumi, or preserved meats, from Piedmont include salame aged in pottery vases full of lard and sanguinacci, or blood sausages. Salami are not only made from pork in Piedmont cooking. They often contains trout, beef, goose, or even potatoes. Pigs' feet are fried and referred to as batsoa, or silk stockings, taken from the French bas de soie. Marinated rabbit is cooked until as tender as tuna and is appropriately named tonno di coniglio.
Insalata di carne cruda is a minced raw beef or veal appetizer prepared with a marinade of lemon juice, olive oil and garlic. When truffles are in season, they are used to garnish this, otherwise it is served with salad greens. Other cold salads are made with wild mushrooms, beans, greens, asparagus or sweet and sour onions.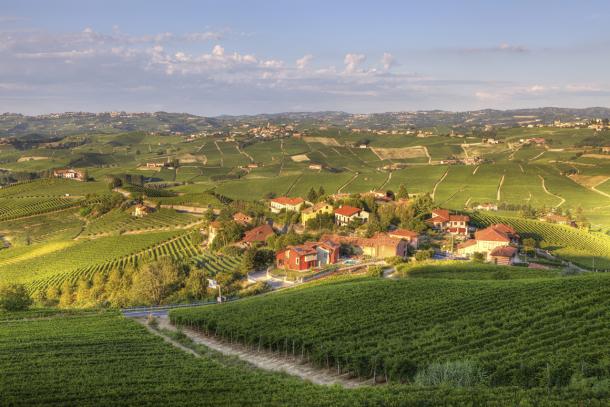 In Piemonte's cooking, the preferred pasta is a narrow handmade noodle called tajarin. They are often simmered in beef broth and topped with butter, grated Grana Padano cheese and shaved truffles with nutmet. Agnolotti piemontesi, similar to ravioli, are also popular. These meat and herb filled dumplings are generally served with fresh sage fried in butter and topped with Parmigiano Reggiano.
Gnocchi alla bava, or potato dumplings, are garnished with Fontina, Grana Padano and melted butter. Cornmeal is cooked into a comforting winter dish, by mixing it with Toma and Fontina cheeses and garnishing it with grated Grana Padano and butter to make polenta cùnsa. Filling bean soups, such as cisrà and tôfeja, are flavored with pork or pork rind.
The flatlands of Piemonte are Europe's prominent supplier of Carnaroli rice, prized for creamy risotto. It may be cooked with butter and shaved truffles or made into panissa, a risotto flavored with red borlotti beans, Salam d'la Duja and pork rind. Frogs, meat or vegetable sauces may also be used with the luscious rice dishes.
Piedmontese recipes often feature their prized cattle. To make brasato al Barolo the beef is marinated in red wine and then braised with herbs and vegetables until tender. Gran bollito misto piemontese boils many different cuts of veal and beef with poultry, cotechino sausage and  vegetables. The traditional condiments for this meal are bagnet verde, a sauce made from parsley, garlic, anchovy and thickened with breadcrumbs, and a spicy tomato sauce known as bagnet ross.
The beef may also be grilled or roasted. Veal calves, lamb and kid are also popular red meats. Game birds, poultry and rabbits round out the selection of meats in the diet. Lepre in civet (or lepre al sivè) is hare marinated and cooked in red wine, vegetables and herbs. A similar dish, lepre in salmì, is sometime served with a gravy thickened with chicken livers.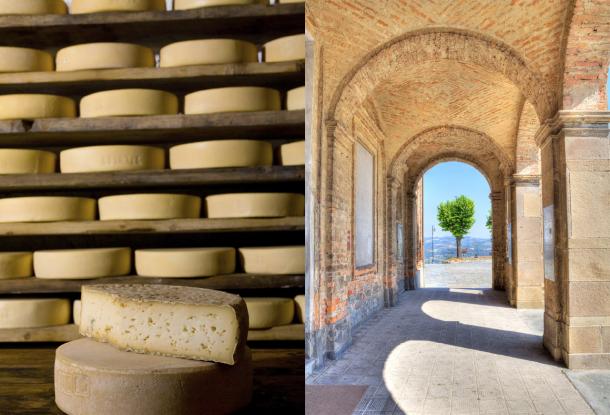 Fritto misto piemontese is a classic Piedmont's dish: a selection of meats, offal, vegetables, fruit, cheese, and even starchy food such as dumplings and biscuits, are battered and fried. Fresh fish is not used in most Piemonte recipes, though anchovies and tuna flavor many dishes and fresh water trout is popular. Brook trout is simmered in a vinegar and white wine bath flavored with sage and bay leaves.
Piemonte produces large numbers of high quality hazelnuts. These nuts are put to good use in cakes and pastries as well as torrone nougat and chocolates. Candied chestnuts, known as marron glacés, are famous worldwide. Corn flour is used to make meliga cookies. Other outstanding desserts include bonèt, a custard cake flavored with coffee or chocolate.
Panna cotta is a silky custard made with cream and caramel thickened with gelatin. Torta gianduia is a decadent hazelnut and chocolate torte, a kind of dense cake made with ground nuts instead of flour. Zabaione (or sanbajon) is a light custard made with Marsala wine and sweetned egg yolks, sometimes used to flavor semifreddo or ice creams.
---
Piedmont protected local food products
Fresh & Cured Meats:
Mortadella Bologna IGP, Salamini italiani alla cacciatora DOP
Cheeses:
Bra DOP, Castelmagno DOP, Gorgonzola DOP, Grana Padano DOP, Murazzano DOP, Raschera DOP, Robiola di Roccaverano DOP, Taleggio DOP, Toma Piemontese DOP
Fruits:
Nocciola di Piemonte IGP
Learn more about:
The Wines of Piedmont (Piemonte)
Authentic gourmet products:
Suggested recipes:
Baci di Dama (Lady Kisses) Cookies