Italian Wedding Cake: Tall Towers, Light Layers, Classic White…
Wedding cakes have all kinds of significance. From the color of the icing to the cutting of the cake, every part of the tradition means something special, depending on the culture. For example, have you ever wondered why newlyweds smear a dab of cake on one another's face? Of course, it's a way to share a playful moment, but it's also part of a long tradition. In Ancient Rome, wedding cakes were not eaten (nor were they sweetened), but instead they were broken over the bride's head or thrown at the bride by the groom as part of a fertility rite! Today's variation is the dab of cake in the face. Thankfully, these days we are not getting banged up, ruining our coifs, nor sullying our gowns; we're just getting a sweet little icing facial.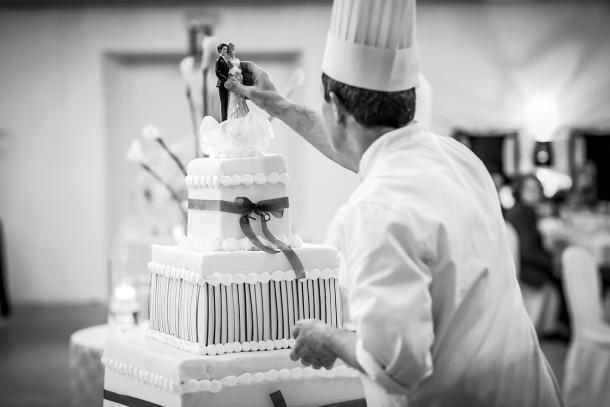 Deciding on the type of wedding cake is one of the many fun choices a bride and groom get to make when planning their wedding. If you want an Italian wedding cake, you have a nice array of options, and here we guide you to some of the most traditional and popular at Italian weddings.
Millefoglie
Millefoglie, literally a "thousand layers" is a traditional Italian wedding cake made up of many extremely thin sheets of filo-like pastry interspersed with a light cream including mascarpone, sometimes chocolate, and topped with berries and a dusting of powdered sugar. This is very pretty, simple cake, which does not tower up due to the way the ingredients hold together.
Profiterole Tower
The profiterole cake served at Italian weddings on the other hand is in the shape of a tall conical tower, and is unquestionably a delicious statement cake for your special day. This cake is made of many small round cream filled pastries called profiterole, which are coated in a dark chocolate sauce or brittle caramel. Making the profiterole is the first step in creating this work of art. The profiterole are then cemented together one by one with the hot caramel (or chocolate) along the surface of a tall cone of stiff paper or other material. In France this cake is called croquembouche.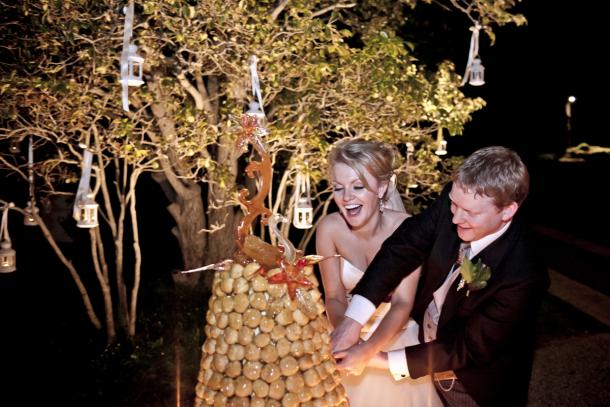 A less elaborate (more mound than tower) version of this cake is called the Bignolata alla vaniglia, which includes a whipped cream in addition to the Chantilly cream of the profiterole and is generally topped with a milk chocolate sauce.
Classic Tiered White Cake
The classic tiered white cake is a favorite centerpiece no matter where you are in the world, and Italy is no exception. In fact, many people think it originated here. The plethora of choices for shape and decorative styles make the classic tiered white cake one of most loved cakes for weddings. Traditionally, the white icing symbolizes the bride's purity and devotion to her new husband.
Crostata di Frutta
If you are simply not a fan of cake, there is a nice option for the main dessert in the Italian wedding tradition. The crostata di frutta or fruit tart is a large custard tart topped with a whole rainbow of colorful fruit, usually including kiwi, berries, apples, and other fruit. Traditionally, cakes with fruit were served at weddings as a wish for fertility and fortune, specifically with the hope that the bride would bear many children during the couple's lifetime together.
No matter which wedding cake (or other dessert) you chose for your big day, and no matter which chef you decide to work with, now you know a little more about how to make it a little sweeter, Italian style… Buon appetito!
By Danielle Pollack
Related news stories:
Special vacation ideas