Shopping in Italy: Discount Stores and Factory Outlets
Italy is heaven for clothes shopping. Factory outlets and designers stores in Italy are positively overflowing with gorgeous on-trend bargains that will transform even the most stylistically challenged into Mediterranean catwalk queens in no time.
Here's the Made-in-Italy.com guide to tracking down those designer outlets in the big cities. However, if your vacation does not take you to any of the places we mention, don't worry. Almost every reasonable sized city in Italy has some kind of outlet mall, an idea from the USA that the country has embraced wholeheartedly. No longer do you need to work in the studio, be a friend of the owner or a cousin of the designer to grab yourself a cut price bargain!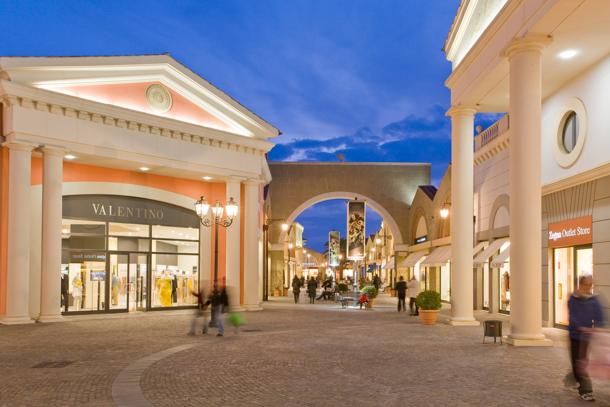 Although we usually give you the Italian translation for important words related to the topics we cover, with designer outlets and discount stores it isn't necessary, as Italians use the English word "outlet". It's also useful to know that factory outlets are usually located on the outskirts of the city, perhaps even an hour or more away. They may still be called a "Florence outlet" or a "Milan outlet" even though they are quite a distance from the historical centre, so bear that in mind.
MILAN
Let's start with the biggest and some would say the best. The Serravalle Designer Outlet (also known as McArthurGlen) is the largest in Europe and was the first in Italy too. It has all the big designer names, a massive selection and will keep you happy for hours and hours! If you are traveling with kids then there is a play area so you can enjoy some guilt-free browsing. The address is Via della Moda 1, 15069 Serravalle Scrivia (AL), and it's about 50 minutes by car from Milan.
Il Salvagente is one of Milan's best known fashion outlets and was established in 1978. Located in Via Fratelli Bronzetti 16, 20129 Milan, there is a vast range of designer goods on its three floors to choose from. It's open 3pm – 7pm on Monday and 10am – 7pm from Tuesday to Saturday. It is closed in August.
VENICE
The Veneto Designer Outlet is another one from the McArthurGlen group and is located in Via Marco Polo 1, 30020 Noventa di Piave (VE). It's about 25 miles from Venice on the Venice Trieste freeway. It has the usual huge selection of clothing, accessories and footwear from named designers, with up to 80% discount, and is designed to be like a little village with a cafe, so that you can shop til you drop, then have an espresso and carry on!
ROME
The Castel Romano Designer Outlet is another fashion outlet mall from the ubiquitous McArthurGlen. As in Milan and Venice, the wide range of more than 200 heavily discounted designer brands mean it is possible to pick up items for massive bargains, depending on how old the stock is (obviously last season's stock is more heavily discounted than this season's). Located in Ponte di Piscina Cupa 64, 00128 Castel Romano (RM), the outlet is 25 kilometers from the center of Rome, in the Agro Pontino area. There is a daily shuttle service from Via Marsala (Roma Termini station) at 10am, 12.30pm and 3pm if you haven't got a car.
Il Discount dell'Alta Moda (literally: High Fashion Discount) is located in Via di Gesu e Maria 16A, 00187 Roma, near the Spanish Steps, selling last season's fashion, footwear and accessories. You can get between 40 and 50% discount on top brands.
Il Discount delle Firme (literally signature or "big name" name discount) is the sister store of the Alta Moda outlet and is in Via dei Serviti 27, 00187 Roma. This is the place for purses, scarves, ties, gloves and shoes, as well as designer fashion. It's famous for its cut price Gucci handbags!
Valmontone Outlet is 45 minutes from Rome by car and is located in Via della Pace, località Pascolaro, 00038 Valmontone (RM). It is said to be Italy's most visited outlet with over 400 designer brands available. They open from 10am to 8pm from Monday to Friday and 10am to 9pm on weekends. You'll find everything your little heart could desire there, including top designer brands for fashion, accessories, household goods and more.
FLORENCE
Barberino Designer Outlet is in the small town of Barberino di Mugello, about 30 kilometers from Florence. As you may expect by now, there is a vast range of more than 100 stores running the gamut from accessories and high fashion to household goods. There are daily shuttles from Florence as well as Sita buses, so no excuse not to go, really!
The Mall, Via Europa 8, 50060 Reggello (FI), is about 45 minutes drive from Florence, although there are also Sita buses available that take you there. It's open daily from 10am to 7pm and you can choose from a wide range of Italian and international designers. It was one of the first designer outlet malls in Tuscany and is probably still the best known.
Valdichiana Outlet Village lies between Siena and Arezzo and was the first outlet mall in Tuscany and is laid out like a real village with piazzas and streets. It is open from 10am to 8pm on weekdays and 10am to 9pm on Saturdays and Sundays (from June 1 to August 1: other times of year it closes at 8pm on weekends). You'll find over 140 designer brands in stores that offer between 30 and 70% discount, so no excuse not to look gorgeous! The address is Via Enzo Ferrari 5, Foiano della Chiana (AR).
As you can see we have barely scratched the glamorous surface of Italy's designer outlets and discount stores, but they are numerous and a growing trend. You'd be crazy not to include a visit to at least one on your vacation. They aren't as cheap as in the States but getting that designer dress from the country it was designed in and made in at a reasonable price is well worth it!