A Calendar of Events for Travellers to Italy
Italy is a place of celebration and festivities, and no matter what time of year you visit the country you are sure to find some wonderful events taking place. Whether you love the opera, horse racing, books, wine or local cuisine, there is something for everyone. To help you plan your trip, we have created a curated list of the most important Italian lifestyle events happening throughout the year.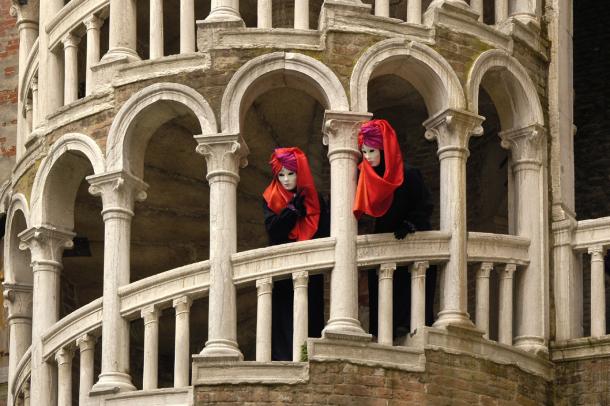 JANUARY
Festa della Befana
Various locations
On January 6th, Italians celebrate La Befana (Christmas Witch), a holiday that is now part of the countrywide Christian tradition, marking the arrival of the Three Wise Men, though it has roots in the ancient Roman pagan festival of Saturnalia. Celebrations are generally held at each city Duomo or central church and may involve parades, music and a woman dressed as the Christmas Witch, filling children's stockings with gifts and special treats (if they behaved well during the previous year) or chunks of "coal" made with black-tinted sugar (if they did not).
Fiera di Sant'Orso
Piazza Emile Chanoux
11015 Aosta, Italy
Web:
http://www.fieradisantorso.it/GB/fieraGb.htm
The Fair of Sant'Orso is one of the Alps largest woodcarver and artisan festival. It takes place in the last week of January and it has been held annually for the past 800 years.
FEBRUARY
Carnevale di Venezia
Various locations
30100 Venezia, Italy
Web:
http://www.carnevale.venezia.it/?slang=en
While Carnival is celebrated all over Italy, this festivity assumes an exquisite flavour in Venice, where the entire city center is transformed into a living theater set for two whole weeks, following a tradition originating in the year 1162. The event involves tens of thousands of costumed celebrants attending masquerade balls and participating in activities such as juggling and street performance, a non-stop program of historical plays presented on a giant temporary stage in the central Piazza San Marco, and even a final, candle-lit, silent water parade, with hundreds of "gondole" floating along the Canal Grande. The 2013 edition will take place from January 26th to February 12th.
Festa di Sant'Agata
Various locations
95100 Catania, Italy
Web:
http://www.comune.catania.it/la_città/santagata
Saint Agatha's Feast in Catania, Sicily, from February 3rd to 5th, includes the second largest religious procession in the world, with about one million pilgrims and visitors attending.
Fiera del Cioccolato Artigianale
Piazza della Repubblica
50132 Firenze, Italy
A week-long artisanal chocolate fair held annually in the center of Florence. The 2013's dates are to be announced.
MARCH
Festa della Donna
Various locations
Women's Day is celebrated on March 8th throughout Italy to honor women and mothers. On this day, men bring flowers, usually yellow Mimosa, to the women in their lives. Restaurants have special meals honoring women and local festivals or concerts are held around the country.
Maratona di Roma
Via dei Fori Imperiali (Start/Finish)
00186 Roma, Italy
Web:
http://www.maratonadiroma.it
The course of Rome's Marathon runs through some of the most scenic and historic parts of the city. The next edition of this sporting event, which grows in number of participants every year, will take place on March 17th, 2013.
APRIL
Vinitaly
Veronafiere
Viale del Lavoro, 8
37135 Verona, Italy
Tel: [+39] 045 829-8111
Web:
http://www.vinitaly.it
Vinitaly is the largest wine trade fair in Italy, hosting more than 140,000 wine operators from around the world. It is the best place to meet Italian wineries without traveling hundreds of miles and taste the broadest range of Italian wines. Even if you can't get on the convention grounds – access is limited to wine makers, merchants, sommeliers, bar and restaurant owners, hotel managers and other professionals – this gigantic gathering sparks all sorts of satellite events throughout Verona, giving you plenty of opportunities to learn more about Italian wines. The 2013 edition will run from April 7th to 10th.
MAY
Festa del Primo Maggio
Piazza di San Giovanni in Laterano
00184 Roma, Italy
Web:
http://www.primomaggio.com
May Day festivities are held annually on May 1st, Italian Labor Day, throughout the country. As Italians take their workers rights very seriously you can expect a great deal of celebration: this is an official national holiday and most shops are closed. The most massive gathering is a marathon music concert, organized by the leading Italian labor unions, in Piazza di San Giovanni, Rome, running all day and night and featuring the country's best known pop stars.
Maggio Musicale Fiorentino
Teatro Comunale
Corso Italia, 16
50123 Firenze, Italy
Tel: [+39] 055 27791
Web:
http://www.maggiofiorentino.com
Email:
infoboxoffice@maggiofiorentino.com
Florence's Teatro Comunale hosts music and ballet events year round, but the entire month of May, and part of June, is a grand festival of opera and classical music bringing enthusiasts from all over the world. The 2013 season's program is yet to be announced.
Salone Internazionale del Libro Torino
Lingotto Fiere
Via Nizza, 280
10126 Torino, Italy
Tel: [+39] 011 518-4268
Web:
http://en.salonelibro.it
The International Book Fair in Turin is Italy's largest trade fair for the publishing industry, with author events and signings. The 2013 edition will be held on May 16th-20th.
I Profumi di Boboli
Giardino di Boboli – Palazzo Pitti
Piazza dei Pitti
50125 Firenze, Italy
Tel: [+39] 05 5226-0738
Web:
http://www.profumidiboboli.org
Perfumes of Boboli is a yearly exhibition of the Florentine art of perfume. Entrance to the exhibit in the Serra della Botanica Inferiore is free, and professionals and amateur perfume lovers can admire the raw materials artisans turn into fragrances and speak with their makers. The visit includes entrance to the Gardens of Boboli and Palazzo Pitti's Silver Museum, Porcelain Museum and Costume Museum. The 2013 edition's dates are yet to be announced.
Mille Miglia
Tel: [+39] 06 322-9691
Web:
http://www.1000miglia.eu/inglese/home.html
Email:
info@1000miglia.eu
The 1,000 Miles Antique Automobile Race has been called "the most beautiful road race in the world" and is the second week in May. The round-trip course runs from Brescia to Rome and is a visual delight if you like vintage autos. The 2013 edition's exact dates are yet to be announced.
Letterature Festival Internazionale di Roma
Basilica di Massenzio, Clivo di Venere Felice
Via del Fori Imperiali
00186 Roma, Italy
Web:
http://www.festivaldelleletterature.it
The International Literature Festival of Rome hosts some of the most important contemporary authors from Italy and around the world. It generally runs from the end of May to the beginning of June, with open-air evening readings and performances at Basilica di Massenzio, inside the ruins of the Roman Imperial Forum. The 2013 program is yet to be announced.
Piazza di Siena – Concorso Ippico Internazionale di Roma
Villa Borghese
00197 Roma, Italy
Tel: [+39] 06 3685-8420
Web:
http://www.piazzadisiena.org/en
This international horse jumping competition has been running for 80 years and is currently held at the beautiful Piazza di Siena in the Villa Borghese park. The 2013 edition's date is yet to be announced.
Artigianato e Palazzo
Giardino Corsini
Via della Scala, 115
50121 Firenze, Italy
Tel: [+39] 055 265-4589
Web:
http://www.artigianatoepalazzo.it/comunicatoeng.htm
This exhibition presents over 80 master craftspeople from Italy and all over the world. Practical demonstrations of handcraft techniques in iron, glass, wood, textiles, precious stones and metals are hosted in the gorgeous gardens of Palazzo Corsini, which are privately owned and generally closed to the public.
JUNE
Festival dei Due Mondi
Various locations
06049 Spoleto (PG), Italy
Tel: [+39] 0743 776-444
Web:
http://www.festivaldispoleto.com/index.asp?lang=eng
Email:
info@festivaldispoleto.com
The Festival of Two Worlds in Spoleto, held annually in June and July, is one of Italy's most famous performing arts festivals, featuring concerts, operas, ballets, films, and art. The festival began in 1958 with the intention of bringing together artists from the old and new worlds of Europe and America. The 2013 program is yet to be announced.
JULY
Grande Opera alle Terme di Caracalla
Viale delle Terme di Caracalla
00153 Roma, Italy
Tel: [+39] 06 481-601
Web
http://www.operaroma.it/stagione/terme_di_caracalla
Terme di Caracalla Grand Opera was established in 1937 and hosts unforgettable operatic events under the stars in the ancient Roman baths during the summer. The 2013 season's program is still to be announced.
Sagre paesane
Various locations
A "sagra" is a festival or fair held in small towns and cities to celebrate the local food and traditional culture of the place. Sagre take place throughout the country, mostly in the month of July, to take advantage of the great Italian summer weather. They sometimes have a religious component, honoring the town's patron saint, and may include extravant firework shows. These events are a great way to interact with the locals, especially when dining at large outdoor communal tables set up in the piazzas and streets.
AUGUST
Palio di Siena
Piazza del Campo
53100 Siena, Italy
Web:
http://palio.comune.siena.it
The Palio is a spectacular medieval horse race lasting all of about 75 seconds held twice a year, on July 2nd and August 16th, in Piazza del Campo, the central square of the city of Siena. Horses and jockeys – who ride bareback – represent one of the 17 neighborhoods of the city and the competition is fierce. The winning "contrada" then holds an all-night celebration, involving plenty of communal eating and drinking in the neighborhood's streets.
La Biennale di Venezia
Various locations
30100 Venezia, Italy
Tel: [+39] 04 1521 8711
Web:
http://www.labiennale.org/en/Home.html
Venice Biennial was established in 1895 and is one of the most important art extravaganzas in the world. It includes the International Art Exhibition, International Film Festival and International Architecture Exhibition, as well as the Festival of Contemporary Music and International Theatre Festival. Ten years ago the Festival of Contemporary Dance was added to the already abundant offerings. They host events year round but two main gatherings are the Esposizione Internazionale d'Arte di Venezia, held every two years during the summer (the next edition will take place in 2013) and the Mostra Internazionale d'Arte Cinematografica di Venezia, which generally starts at the end of August (in 2012 it will run from August 29th to September 8th).
SEPTEMBER
Regata Storica di Venezia
Canal Grande
30100 Venezia, Italy
Web:
http://regatastoricavenezia.it
Venice's Historic Regatta is one of the most spectacular and picturesque events of Venetian life highlighting the city's reliance on waterways and boating. These races, held on the Grand Canal and dating to the 13th century, involve many different types of boats, including the gondola, the Venetian boat par excellence. The 2012 Regata Storica will take place on Sunday, September 2nd.
Festa di San Gennaro
Duomo di Napoli
Via Duomo
80138 Napoli, Italy
Web:
http://www.duomodinapoli.it
The Feast of San Gennaro in Naples occurs every September 19th and is a celebration of the city's patron saint who was beheaded in 305 AD. There is a belief in Naples that his blood, captured in a vial and housed in the Cathedral of Naples, liquefies on this day after intense prayer. If for any reason the blood does not liquefy, it is seen as a bad omen for the city. Festivities last about one week and involve plenty of wonderful local food.
OCTOBER
Mercanteinfiera
Fiera di Parma
Viale delle Esposizioni, 393/A
43126 Parma, Italy
Tel: [+39] 05 2199-6328
Web:
http://mercanteinfiera.it/?lang=en
This international show of collectables, classic and modern antiques has been held in Parma annually for the past 30 years. It is one of Europe largest events of its kind, hosting thousands of antique and art dealers. The 2012 edition runs from September 29th to October 7th.
Fiera Internazionale del Tartufo Bianco d'Alba
Various locations
12051 Alba (CN), Italy
Tel: [+39] 0173 361-051
Web:
http://www.fieradeltartufo.org
Email:
info@fieradeltartufo.org
The Alba White Truffle Fair is celebrated every October and early November. It is the place to be for foodies or anyone who loves the rare white truffles. The event includes seminars, gourmet tastings, wine tours, medieval games, and an auction where prize truffles are bid for – during the 2010 edition 13 truffles were purchased for a total of 307,200 euros! The 2012 fair will take place from October 6th to November 18th.
NOVEMBER
Ognissanti and Giorno dei Morti
Various location
All Saints Day, November 1st, is celebrated to honor the martyred saints. All Souls Day, November 2nd, is dedicated to honoring loved ones who have passed on. Italians celebrate the two holidays together, both in association with the fall harvest, which is reflected in the traditions of the two days, including music, theater and dance.
Festival Internazionale del Cinema di Roma
Auditorium Parco della Musica
Viale Pietro De Coubertin, 30
00196 Roma, Italy
Tel: [+39] 06 4040-1900
Web:
http://www.romacinemafest.it
Email:
info@romacinemafest.org
Rome's International Film Festival hosts about sixty world premieres, screenings, master classes, panels and events devoted to Italian cinema and to Italian co-productions, with a focus on new trends in contemporary cinema. The 2012 edition will be held on November 9th-17th.
Luxury & Yachts
Veronafiere
Viale del Lavoro, 8
37135 Verona, Italy
Tel: [+39] 045 820-4457
Web:
http://www.luxuryyachts.it
Email:
info@luxuryyachts.it
It is Europe's largest fair dedicated to the world of luxury. The 2012 edition will be held on November 24th-27th.
DECEMBER
Sagra del Cinghiale
57028 Suvereto (LI), Italy
Web:
http://www.suvereto.net/lasagra.php
The Wild Boar Festival is celebrated in Suvereto, a medieval village near the Ligurian Sea in Tuscany, during the first week in December. Wild boars are butchered and roasted on open grills in the central piazza, medieval musicians and flag wavers perform, and many traditional dishes containing wild boar are served.
La "prima" della Scala
Teatro alla Scala
Via Filodrammatici, 2
20121 Milano, Italy
Tel: [+39] 02 8879-2412
Web:
http://www.teatroallascala.org/en
In December, Teatro alla Scala, Italy's most celebrated opera house, opens its new performing season. The evening is the most important social event for Milan's high society, with scores of top government officials, industrial tycoons, power brokers and local pop stars in attendance. The 2012/13 season's calendar will take off on December 7th with a "serata inaugurale" featuring Lohengrin, followed on the 19th by Roméo et Juliette's "prima".
Mercatino di Natale
Piazza Navona
00186 Roma, Italy
Piazza Navona is where Rome's biggest and most traditional Christmas Market takes place. Meet Babbo Natale (Santa Claus), see nativity scenes alongside the spectacular Fountain of the Moor and the Fountain of Neptune, and browse the many stalls for Christmas goodies.