Shopping in Italy: Flea Markets and Antique Shows
Everybody loves a bargain, don't they? There's something about buying a piece of history or a "preloved" item that makes it even more special than a brand new object. Italy is a veritable treasure chest of flea markets, antique shows and second hand stores. And somehow the fact that you are uncovering mysterious items in a foreign country makes that special find all the more magical. Here at Made-in-Italy.com we have a short guide to help you plan visits to antique shows, fairs and flea markets (mercato delle pulci in Italian!) on your vacation and maybe come back with a fabulous find in your suitcase to boot!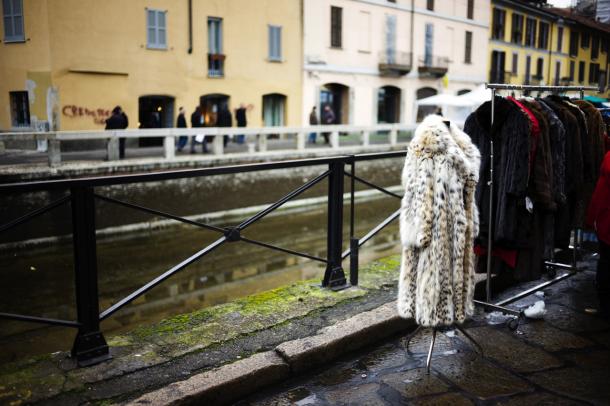 Take the usual precautions and don't leave your brain behind in your hotel room as you fall in love with a "genuine" da Vinci notebook or a cute wooden manger used by cows in the Renaissance. Some Italian stall-holders do have the gift of the gab, especially when they see a prospective wealthy tourist buyer in the offing, so check out provenance, don't believe everything you hear and don't carry too much cash on you. Oh, and remember that you have to get the "bargain" antique home somehow, which may well prove costly if it is the size of the Sistine Chapel and weighs a thousand kilos.
TUSCANY
Fiera Antiquaria di Arezzo
Probably the biggest and most famous antiques market in the country is held in Arezzo, Tuscany, on the first weekend of the month. There are usually over 500 stalls spread over the Piazza Grande and the surrounding streets, which are manned (and visited) by people from all over Italy. You can buy everything there, from a pair of palazzo doors to a lace handkerchief. Some things are overpriced and it does get very crowded, especially during the summer, with an estimated average 20,000 visitors, but you may find a bargain and it will certainly be an experience. Arezzo is easy to reach: it is an hour by train from Florence and a couple of hours from Rome. The market is ten minutes from Arezzo Train Station and the square is surrounded by antique shops.
Cortonantiquaria, Cortona
This top quality antiques fair is held annually, in late August and early September, in 17th century Palazzo Vagnotti, Cortona, and has been going since 1963, making it Italy's oldest antiques show. Cortonantiquaria is now considered one of the most prestigious fairs in Europe and many dealers visit it, resulting in correspondingly high prices. Cortona is of course now an internationally famous destination thanks to Frances Mayes' book Under the Tuscan Sun and there is now also a Tuscan Sun Festival held in Cortona to make the most of that publicity. The 2012 event is being held between August 25th and September 9th and its 40 exhibitors display the finest art and antiques from all over Italy.
Flea Market, Piazza dei Ciompi, Firenze
Open from 9am to 7pm this is considered Florence's best flea market and on the last Sunday of the month its 100 extra stalls also overflow into the streets around. There's the usual eclectic mix that makes flea market shopping so addictive!
ROME
May Antiques Fair
Held in Rome's "antiques street", Via dei Coronari, in late May every year, the stalls are open until late and allow you to dine nearby and then have a post prandial browse while in the Eternal City.
Flea Market
Held every Sunday in Via Tirso (except the 4th Sunday of the month, so check your dates first) this variety of stalls selling bric a brac is worth a look and you'll find portable items that just fit in your luggage, like antique books and old jewelry!
Piazza Verdi Antiques Market
Held on the 4th Sunday of the month (so you can go there if you miss the flea market above!) this has a little bit of everything.
Porta Portese
Probably the most famous flea market in Rome, this stretches from Piazzale Portuense to Viale Trestevere and is held on Sundays from 6.30am to 2pm. Bargaining will get you anything from 10 to 30 % off, so give it a go. You'll find everything here, including a lot of junk, but keep your eyes peeled and you may come home with a treasure.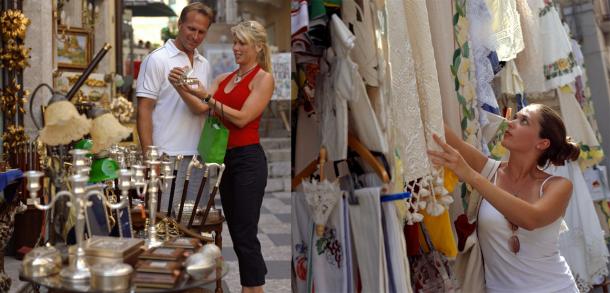 VENICE
Mercatino dell'Antiquariato
You'll need to check your dates for this one, as you only get four chances a year, in April, June, mid September and Christmas. The three-day market is home to over 100 stalls with professional vendors selling everything from postcards to pearls and is held in Campo San Maurizio. It's renowned for having genuine antiques and not junk. in 2012 the dates are June 1st, 2nd and 3rd; September 14th, 15th and 16th, as well as December 14th, 15th and 16th.
Miracles Fair Flea and Antiques Market, Campo Santa Maria Nova
Organized entirely by amateurs (i.e. not antiques pros) this sprawling and fascinating antiques and second hand market is held six times a year. This year the upcoming dates for 2012 are May 12th and 13th, then September 8th and 9th, October 13th and 14th, and finally December 8th and 9th.
MILAN
Mercatone dell'Antiquariato (Antiques Market), Naviglio Grande
Taking place on the last Sunday of every month, except in July and August, this massive open air market wends its way along the canal of the uber cool Naviglio area of the city and is teeming with bargain hunters keen to find a hidden gem or two. The quality, as is usual in such events, is variable but there are genuine antiques among the groaning tables of exhibits.
Brocantage Fiera dell'Antico
Held in an aircraft hangar at Milan's Linate Aeroporto (address: Tangenziale Est, Via Novegro, 20090 Segrate, Milano) this almost monthly antiques and collectors fair attracts over 200 top quality stall-holders with antiques, furniture, paintings and other goodies on offer. It gets around 600 visitors and is well worth a look. Dates for 2012 are May 11th, 12th and 13th; September 14th, 15th and 16th; October 12th, 13th and 14th; November 9th, 10th and 11th; and December 14th, 15th and 16th . It does charge around 8 euro to get in though.
We hope this little round up gives you a taste of the antiques shows and flea markets in Italy. Remember that all you need to do is ask at your hotel, the tourist office or even in local shops for "mercato dei pulci" (flea market) or "fiera/mercato dell'antiquariato" and you will find almost every town and city has something to offer!