A Guide to Shopping in Italy for Hedonists and Bargain Lovers
Italy is a shoppers heaven with something for everyone. The country is so stylish that even the cheap bargain stuff is chic. Let's start with a warning though. You must be aware when shopping in Italy that prices get marked up in tourist areas and also that there are a lot of things for sale that have been made in China or are knock-offs of well-known labels and designers, so keep your wits about you. Here are some tips:
Check the labels for inscriptions that say: "Fatto a mano" (hand made), "Fatto in Italia" (Made in Italy), "Certificato" (certified), "Dipinto a mano" (hand painted), "Produzione propria" (home produced – e.g. for a farm producing its own olive oil or jam) or "Prodotto artigianale" (produced by craftsman/artisan).
If you are buying ceramics, check there is a rough unglazed area underneath and that you can see the brushstrokes. If in doubt, don't buy.
Avoid buying anything from unlicensed street sellers. You can get fined and their stuff is fake.
Always keep your receipts as the Guardia di Finanzia (Financial Police) can stop you and ask you to produce it and fine you if you haven't got it If a trader "forgets" to give you a receipt then they are not putting the transaction through the till. (There are exceptions that don't have to give you a till receipt, like newspaper kiosks and second hand stores, but in general you should get a receipt.)
Be aware that shops should always display a clear label with the price on.
Think Laterally
Rather than looking for designer labels (which may well be cheaper back in the USA) try and find the more unusual objects that are unique to the area you are staying or even consider everyday stuff that the locals buy and which you can't find back home. Even a visit to a local village supermarket can be a real treasure trail, with all manner of strange looking objects that to Italians are run of the mill but to you may be fascinating keepsakes and talking points at home. (Like Mocha coffee machines, local cloudy olive oil in a bottle with a built in oil pourer, housewife-style aprons in bright floral prints… you get the idea.)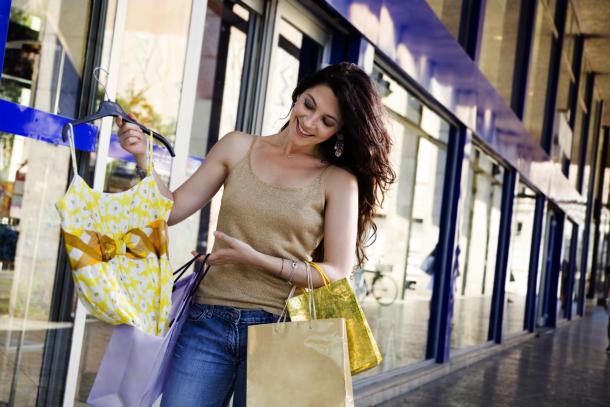 If you manage to make friends with any Italians where you are staying then ask their advice about the best and most genuine things to buy. Where do they go? Italy is very much a country of networking and exchanging information and gossip in the piazza or the local shop, so don't be afraid to ask for help. (While also being aware that if you flash the cash, the locals eyes may light up with delight at the prospect of making a killing with a tourist. As usual, use your common sense.)
Visit a Market
Markets are great fun and almost every town and village has one once a week. If you are staying in self catering accommodation then the market can be a fantastic place to buy your food as it's usually local and fresh. Watch and learn. Which stalls are the locals flocking to? Wait for someone to ask the price before you so you know they are not going to change it because you're a tourist. Oh – and don't forget to bring a camera as all those colorful displays of fruit and veg are very evocative!
Bargain – a Little!
You can always try to get a little bit off the price in small stores and markets, getting a discount in larger stores tends to be for those buying a large number of items or spending a lot of money. The word for a discount is a "sconto" so you could ask politely if there is a "piccolo sconto" on the price. Often you may be surprised that you get offered a "sconto" without asking, or that the vendor gives you a little extra something – for example the fruit and veg seller may add a few oranges and lemons if you buy you vegetables from him. It's things like that that make Italy special.
Get it Gift Wrapped
Depending on what you buy (and clearly we are not talking about a kilo of potatoes here) you will often be offered free gift wrapping. This is done – beautifully – even for something like a 2 Euro plant at a florists! You can ask for this (although you will usually be offered it anyway) by saying "mi puo' fare una confezione regalo per favore?" or listen out for words like "regalo" (present/gift) and "fare un pacchetto" (make a gift package).
Do Your Research
It pays to do your research before shopping in Italy> For instance, if ceramics are your thing then find out where the kind of stuff you love is made and go there. Try the small town of Deruta in Umbria for wonderful majolica or Vietri sul Mare on the Amalfi coast.
There are specialist towns and cities in Italy for pretty much anything (Arezzo in Tuscany is famous for gold and for its antiques fair, Burano in Venice is the place to buy lace,and of course if you want a bottle of Chianti Classico, where better than the Chianti region in Tuscany?) Therefore do your legwork on the computer first (and use Made-in-Italy.com of course) to help plan your itinerary.
Final Word
We hope you have picked up a few tips and will think carefully about what to buy when you go shopping in Italy. But don't be too conservative! You are on vacation and you may not be back to Italy's beautiful shores for a long time. Sometimes you have to go with your heart and so if you see something you completely fall in love with, even if it isn't very sensible, then you know what? Just buy it! The pleasure and the memories you will enjoy every time you look at it or use it will far outweigh the slightly elevated price.
Learn more about:
A Guide to the Best Shopping in Florence
A Guide to the Best Shopping in Milan
A Guide to the Best Shopping in Rome
A Guide to the Best Shopping in Venice