Palaces, Castles, Resorts: The 14 Best Wedding Venues in Italy
Have you been dreaming of getting married in Italy and just don't know where to start? Let us begin with the most exquisite wedding venues in Italy to get you on your way to making that dream wedding come true. Whether you are thinking a 16th century formal garden, a villa with perfectly appointed luxurious rooms with frescoed vaulted ceilings, a little chapel and a Tuscan villa set among the rolling hills and vineyards, breathtaking views from a seaside castle, or a private estate on placid Lake Como, here we guide you to some of the most legendary locales and hidden gems to make your big day truly special in authentic Italian style.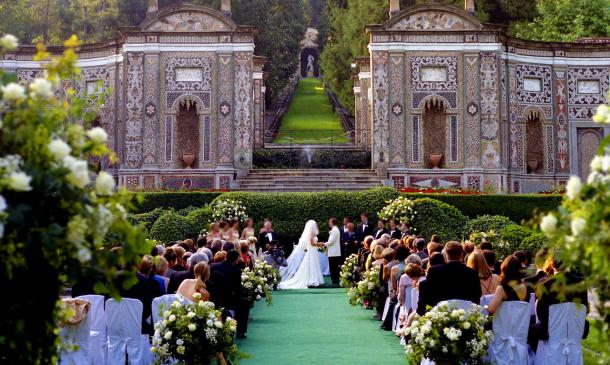 ITALIAN LAKE WEDDINGS
Villa d'Este at Lake Como
If you are looking for the ultimate old-world luxury experience in the Lakes region for your Italian wedding, you should consider the stunning Villa d'Este of Lago di Como, surrounded by a 25-acre park and about one hour from Milan. The estate was built as a summer home for Cardinal Tolomeo Gallio in 1568 and has since hosted the English Queen, important aristocrats and powerbrokers, and of course has served as the location of many gala weddings over the centuries. Also, if you would like to have an outdoor wedding in a formal 16th century garden filled with oleander, gardenia, wisteria, and a mosaic covered nymphaeum, this is the wedding venue for you.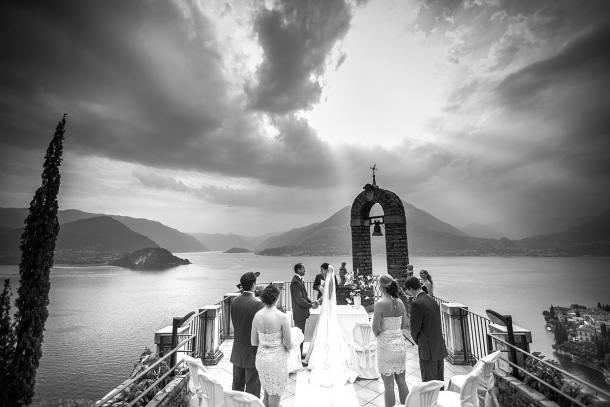 Via Regina, 40
22012 Cernobbio (CO), Italy
Tel: [+39] 031 3481
Fax: [+39] 031 348-873
Web:
http://www.villadeste.com
Email:
reservations@villadeste.it
General Manager: Danilo Zucchetti
Email: danilo.zucchetti@villadeste.it
Villa d'Este's wedding services details

Villa Balbianello on Lake Como
Villa Balbianello, an 18th century villa with exquisite terraced gardens, is part of the National Trust of Italy. It was built in 1787 on the southern edge of Lake Como. Highlights are a pretty chapel with two bell towers overlooking the lake and directly accessible from the harbor, beautifully decorated rooms with Beauvais tapestries and Ming dynasty porcelain, stone stairways and lovely views from any direction. Because it is part of the Italian National Trust and not privately owned, we recommend working with a wedding planner or agency to book a wedding event, though you can contact the property manager.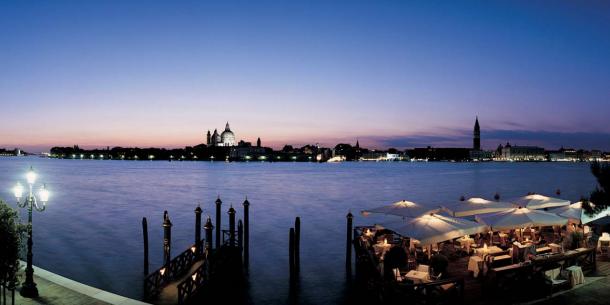 Via Comoedia, 5
22016 Lenno (CO), Italy
Tel: [+39] 0344 56110
Fax: [+39] 0344 55575
Web:
http://www.fondoambiente.it/beni/Index.aspx?q=villa-del-balbianello
Email:
faibalbianello@fondoambiente.it
Property Manager: Giuliano Galli
Tel: [+39] 329 412-8464
Email: g.galli@fondoambiente.it
DREAMY VENICE WEDDINGS
Hotel Cipriani
Watery Venice is unlike any city in the world, and an ideal place for romance in true Italian style. We think  one of the best places to host wedding festivities is Hotel Cipriani with 79 guest rooms, a ballroom, three high-ceilinged granaries, as well as the Fortuny Restaurant with two expansive flower-filled terraces overlooking the lagoon and the Cips Club looking onto St Marks Square. The hotel also has an in-house events planning team and offers a special "ultimate take over" package where you can have the whole place to yourself.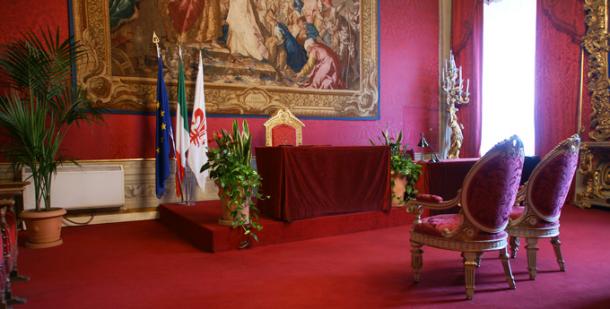 Giudecca 10
30133 Venice, Italy
Tel: [+39] 041 240-801
Fax: [+39] 041 520 3930
Web:
http://www.hotelcipriani.com
Email:
info@hotelcipriani.it
Hotel Cipriani's wedding services details
STUNNING WEDDINGS IN TUSCANY
Palazzo Vecchio
The Sala Rossa or Red Hall of the Florentine 14th century medieval palace called Palazzo Vecchio is part of one of the more stunning town halls you will ever see. It is the perfect place – and quite a dramatic setting – for a quick civil (not religious) wedding, with its floor to ceiling crimson red drapes, walls and ancient furnishings. Ceremonies take place only on Wednesday, Thursday, or Saturday mornings and last less than a half hour. There are also some opportunities to book Saturday afternoon events throughout the year.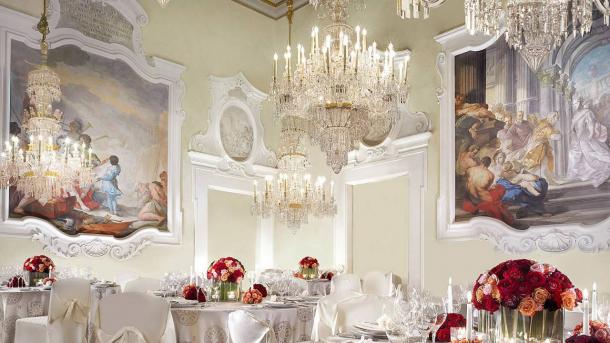 Piazza della Signoria, 1
50122 Firenze, Italy
Web:
http://en.comune.fi.it/municipality/rooms_pv/redroom.htm
City of Florence Marriage Bureau Manager: Loretta Burdassi
Tel: [+39] 055 276-8518 – 276-8299 – 276-8211 – 276-8575
Email loretta.burdassi@comune.fi.it
Information and forms for wedding of non resident foreign citizens

The Four Seasons
If you think grandiose Renaissance style when you are dreaming about your perfect Italian wedding venue, then The Four Seasons Hotel in Florence can be your playground with its two ballrooms (one formerly a convent church), grand halls, exclusive suites with vaulted ceilings showing frescos and stuccos, outdoor terraces, and expansive private gardens. We recommend the Royal Suite della Gherardesca for the bride and groom.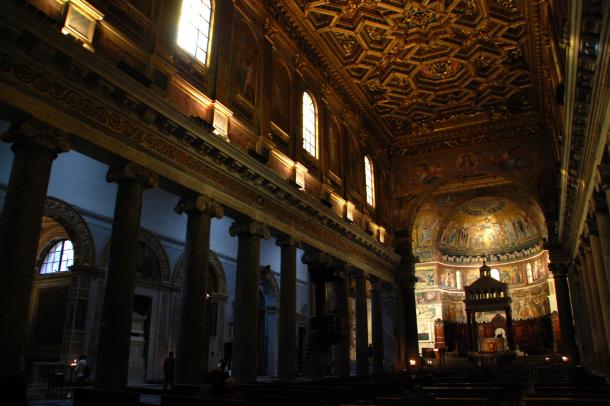 Borgo Pinti, 99
50121 Firenze, Italy
Tel: [+39] 055 26261
Fax: [+39] 055 2626-500
Web:
http://www.fourseasons.com/florence/
Four Seasons Hotel's wedding services details

Terre di Nano
If your idea of a dream wedding is more about rustic country life and wine (and you don't have the budget of a Queen), you might like Terre di Nano, a refined country villa or what Italians call a "farmhouse" set in the hills of Tuscany and surrounded by acres of vineyards and olive groves. Terre di Nano produces their own excellent wine and has lovely views of the countryside and nearby hamlets including Montichiello. It can host up to 30 people for overnight stays. If you book far enough in advance you can rent the entire villa and grounds for an intimate wedding party.
Località Nano
53026 Monticchiello di Pienza (SI), Italy
Tel: [+39] 0578 070-115
Fax: [+39] 0578 070-027
Web:
http://www.terredinano.com/
Email:
info@terredinano.com
CLASSIC ROMAN WEDDINGS
Santa Maria in Trastevere
Rome is full of incredible churches and gardens dating back to the earliest Christian times. If you are Catholic, then see if you can secure a spot in a smaller Roman church. Try the lovely mosaic-laden Santa Maria in Trastevere if you want a traditional ceremony, but be sure to plan well ahead as there is a great deal of demand for a ceremony in this ancient church built in the year 340.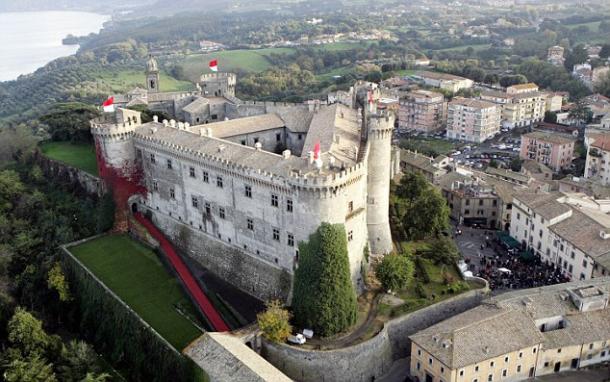 Via della Paglia, 14
00153 Roma, Italy
Tel: [+39] 06 581-4802
Fax: [+39] 06 589-6460
Web:
http://www.vicariatusurbis.org/?page_id=188&ID=2
Email
SantaMariainTrastevere@VicariatusUrbis.org
Castello Odescalchi di Bracciano
If you are more a castle kind of girl, one of the best places to get married near Rome is Castello Odescalchi di Bracciano, a castle constructed in 1470 with a museum and church onsite, the Duomo di Santo Stefano, which can seat about 150 guests. The great thing about this venue is that there is a secret underground passageway running from the castle to the church, which the bride can pass through after being prepared in the Sala Vittoria of the castle's quarters; this makes for a truly grand appearance!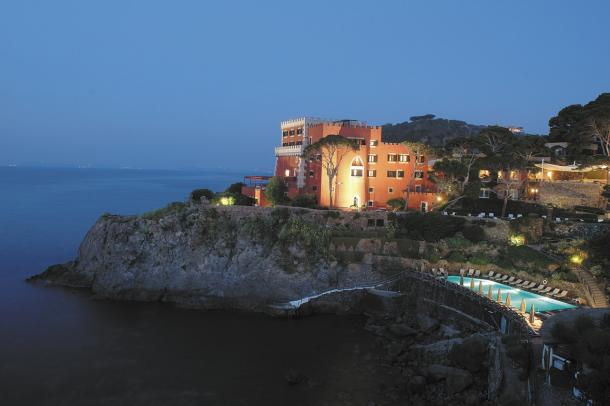 Piazza Mazzini, 13
00062 Bracciano (RM), Italy
Tel: [+39] 06 9980-2379
Fax: [+39] 06 9980-2380
Web:
http://www.odescalchi.it
Email:
castello@odescalchi.it
ISLAND WEDDINGS: ISCHIA AND CAPRI
Mezzatorre Resort and Spa
Ischia and Capri are islands off the coast of Sorrento and ideal locations for summer weddings if you love picturesque seaside settings with dramatic coastlines. Imagine a light Mediterranean breeze wafting through your veil at Ischia's Hotel Mezzatorre. In addition to stunning views, this hotel has one of the country's most respected spas onsite – just in case you want to indulge in some extra pampering to prepare for your big day. They also can arrange helicopter service direct from the airport.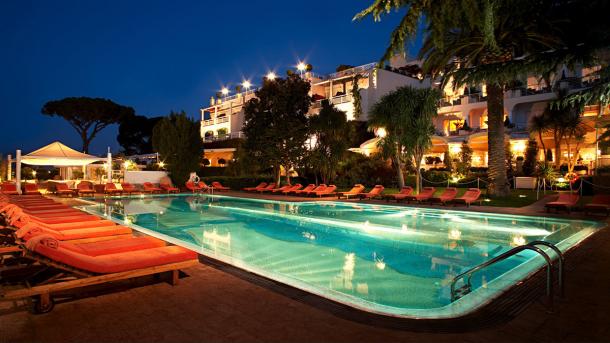 Via Mezzatorre, 23
80075 Forio d'Ischia (NA), Italy
Tel: [+39] 081 986-111
Fax: [+39] 081 986-015
Web:
http://www.mezzatorre.it
Email:
info@mezzatorre.it
General Manager: Giovanni Sirabella
Email: g.sirabella@mezzatorre.it

Capri Palace Hotel & Spa
If you want modern elegance in the style of a 1700s Neapolitan palace replete with its own White Museum housing contemporary art, an internationally recognized restaurant, and suites which have their own private pools inside the rooms, try the Capri Palace Hotel & Spa, which has won various awards from Conde Nast. The hotel is situated next to a laboratory of artisans who make objects in linen, cashmere, and leather for the Hotel's own line of handmade goods using traditional island methods.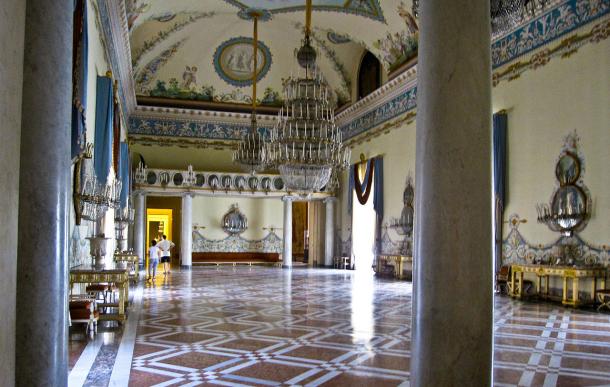 Via Capodimonte, 14
80071 Anacapri (NA), Italy
Tel: [+39] 081 978-0111
Fax: [+39] 081 837-3191
Web:
http://www.capripalace.com
Email:
info@capripalace.com
NAPLES WEDDINGS
Palazzo di Capodimonte
In Italy there is a famous expression about Naples, "see it and die there", meaning once you go to Naples and experience the beauty of it you will never want to leave again. It is indeed one of the most distinctive cities in all of Italy, and one of the best places to host a wedding event is at the exquisite Palace of Capodimonte, set on a hill on the edge of the city and not far from Naples Bay. Originally the location was the hunting grounds of King Charles VII of Naples and Sicily. The King wanted to construct a hunting lodge there, but in the end he decided he needed something more lavish and the Palace was constructed in the early 1700s. It is now the site of the National Museum housing works by great masters including Raphael, Titian, Caravaggio, and Bellini, as well as the Farnese collection of sculptures. It is not possible to rent the entire palace (nor could you ever fill it no matter how many guests you might have), but some divine rooms are available for events.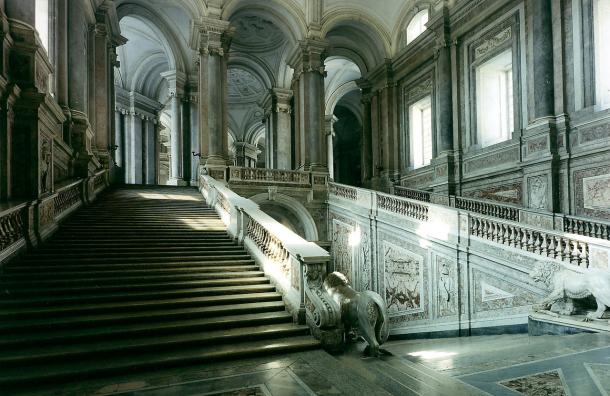 Via Miano, 2
80137 Napoli, Italy
Tel: [+39] 081 749-9111
Fax: [+39] 081 744-5032
Web:
http://www.polomusealenapoli.beniculturali.it/museo_cp/museo_cp.html
Email:
sspsae-na.capodimonte@beniculturali.it
Property Manager: Linda Martino
Tel: [+39] 081 749-9171
Email: linda.martino@beniculturali.it

Reggia di Caserta
If you want opulence first and foremost for the setting of your Italian wedding celebration, we also recommend the Reggia di Caserta, modeled on the Palace of Versailles and not far from Naples. This stunning location was formerly the residence of Bourbon King Ferdinand IV and his Queen Maria Carolina, the sister of Marie Antionette. In all of Europe, it was the largest palace of the 18th century and is surrounded by 296 acres of spectacular gardens, elaborate fountains and even waterfalls. In addition to it being a UNESCO World Heritage site, the palace and grounds have been the setting for scenes of Star Wars, Mission Impossible III, and Angels & Demons. Needless to say, this is not an easy wedding venue to access (Naomi Campbell wanted to get married here). Officially, weddings are not permitted inside the palace – wedding photos and small wedding parties are allowed only in the outdoor areas of the estate – but it has been reported that some very exclusive weddings have taken place behind the palace doors.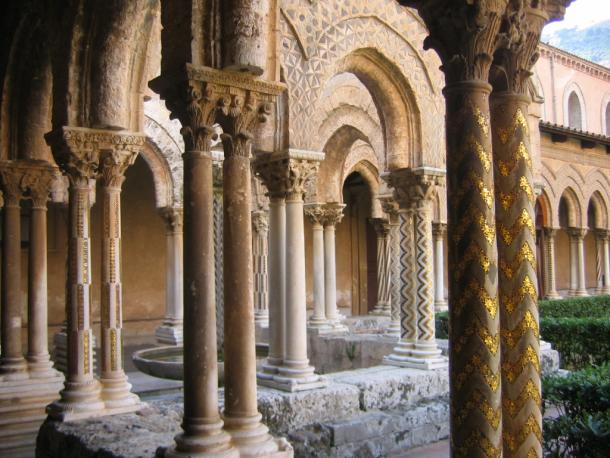 Piazza Carlo III
81100 Caserta, Italy
Tel: [+39] 0823 277-468
Fax: [+39] 0823 354-516
Web:
http://www.reggiadicaserta.beniculturali.it
Property Manager: Marco Mazzarella
Email: marco.mazzarella@beniculturali.it
OFF TO SICILY
Palazzo Borgia del Casale, Piano Nobile
If you want a luxurious wedding in the heart of paradise, then look no further than the Palazzo Borgia del Casale in Syracuse, Sicily. Any bride who wants to feel like a princess will feel right at home among the sumptuous Rococo interiors of this palazzo built in 1760.
Piazza Duomo, 6
96100 Siracusa, Italy
Tel: [+39] 0931 22509
Web:
http://www.borgiadelcasale.it
Email:
info@borgiadelcasale.com
Duomo di Monreale
If you want a religious ceremony in Sicily it will be a very difficult job to chose from all the beautiful churches, but perhaps one of the most glorious is the Duomo di Monreale, a 12th century monument of Norman Sicily just outside of Palermo. Second in the world only to the Hagia Sofia in Istanbul, the exquisite and well-preserved golden mosaic-interiors of the Duomo cover an expanse of nearly 70,000 square feet. The intricately carved Romanesque capitals and columns in the adjoining Cloister are also breathtaking.
Piazza Guglielmo II, 1
90046 Monreale (PA), Italy
Tel: [+39] 091 640-2424
Fax: [+39] 091 640-0519
Web: http://www.webdiocesi.chiesacattolica.it/sicilia/monreale…
Secretary to the archbishop: Don Giacomo Sgroi
Tel: [+39] 091 640-2457
Fax: [+39] 091 640-2457
Email: segretario@monreale.chiesacattolica.it
Forms to apply for a catholic wedding at Duomo di Monreale
Related news stories: