Italian Spas and Wellness Centers
Combining a vacation in Italy with some pampering in a spa or wellness resort is always a great idea, it's a great way to shrug off the stress of all that shopping and sightseeing! Italy as a country is very big on the concept of health, fitness, beauty and wellness and you will find that even relatively small towns have at least one facility devoted to the body beautiful. This Made-in-Italy.com guide to spas and wellness will give you a few ideas for choosing the best places to spoil yourself.
Italy heavily promotes its spa resorts and there are many hotels offering luxury packages which include spa treatments. Because Italy is a geologically active country it has lots of hot springs, known as sorgenti termali. There are active and dormant volcanoes too which provide mineral rich mud for various health and beauty treatments. You can choose to visit a spa town or go to a hotel or purpose built resort which offer health and beauty treatments to their guests.
A Little History
Originally the real meaning of the term "spa" was a place offering a therapeutic water treatment from spring water rich in a certain kind of mineral. This water can be from a hot or cold spring and often the place where it is found has been used by people for bathing or healing for many hundreds, if not thousands, of years.
Although people gathered at these places to drink the water, or even to worship near it, the European concept of a spa resort – a purpose built place for not only drinking but also bathing in the water – really became popular in the mid-19th century. Since then, the concept of a spa has expanded to include mind, body and spirit and now there are whole holiday complexes devoted to all kinds of treatments and courses from aromatherapy to meditation. Italy has embraced the whole spa and wellness idea with a vengeance, so it's the least you can do to try a treatment, isn't it?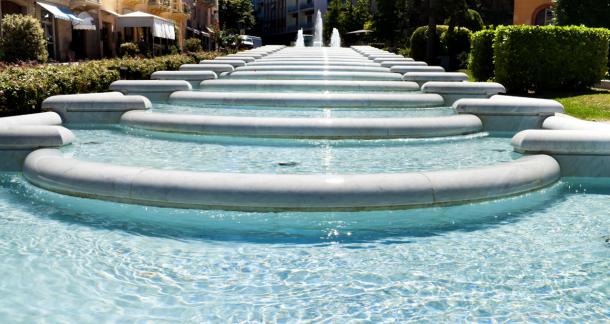 Italy's Spa Towns and Resorts
If you see the word "Bagni" or "Terme" in a town name then you know that it is or was a spa. The Italian word benessere means well-being, so watch out for that too. Tuscany is perhaps the region most blessed with spas and there are apparently two million "thermal tourists" a year to the region, according to the Tuscany tourist board, who call spas "the new tourism of the 21st century." Among the best in Tuscany are:
PISTOIA: Montecatini Terme
Viale Giuseppe Verdi, 41
51016 Montecatini Terme (PT)
http://www.termemontecatini.it
Often called the best spa town in Italy.
LUCCA: Bagni di Lucca
Piazza San Martino, 11
55021 Bagni di Lucca (LU)
http://www.termebagnidilucca.it
SIENA: Chianciano Terme
Via delle Rose, 12
53042 Chianciano Terme (SI)
http://www.termechianciano.it
SIENA: San Casciano dei Bagni
Località Terme, 1
53040 San Casciano dei Bagni (SI)
http://www.sancascianodeibagni-tt.it
PISA: Casciana Terme
Piazza Garibaldi, 9
56034 Casciana Terme (PT)
http://www.termedicasciana.it
GROSSETO: Terme di Saturnia
Località della Follonata
58014 Manciano (GR)
http://www.termedisaturnia.it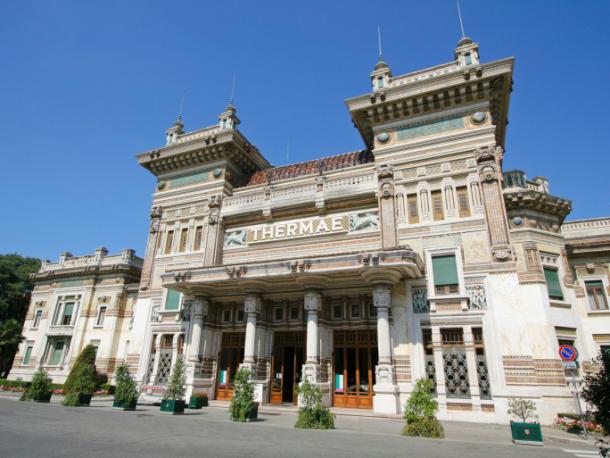 Other regions:
LOMBARDY: Bagni di Bormio Spa Resort
Via Bagni Nuovi, 7
23030 Valdidentro (SO)
http://www.bagnidibormio.it
TRENTINO ALTO ADIGE: Terme di Merano
Piazza Terme, 9
39012, Merano (BZ)
http://www.termemerano.it
LAZIO: Acque Albule Terme di Roma
Via Tiburtina Valeria, Km 22,700
00011 Tivoli Terme (RM)
http://www.termediroma.org
SICILY: Verdura Golf & Spa Resort
Strada Statale 115, Km 131
92019 Sciacca (AG)
http://www.verduraresort.com
Winner of the World Travel Awards Italy's Leading Spa Resort 2011.
SARDINIA: Forte Village Resort
Strada Statale 195, Km 39.600
09010 Santa Margherita di Pula (CA)
http://www.fortevillageresort.com
Even if you don't actually book a stay in a spa town, there's sure to be one nearby, or your hotel will probably offer a wellness package or a list of treatments. If it doesn't – book in somewhere else!