Milan (Milano): The Glamour of Fashion, Design and Gourmet
Milan is a dazzling city, a mecca for lovers of fashion, culture and art. Beneath Milan's ubercool skin and creative heart is a solid and strong commercial structure. In fact, this relatively small city in the northwest of Italy is the country's business capital and home to the stock exchange as well as the majority of Italy's international companies.
Milan's small historic centre, with the Palazzo Duomo in the middle, was once encircled by protective medieval walls and they are still there in spirit, if not in substance. Although Milan was badly bombed in the Second World War, and subsequently and strikingly rebuilt, there are still historic gems to see. One of the most celebrated of these is the white marble Duomo itself, which is the world's largest Gothic cathedral and whose Palazzo is at the very epicenter of Milan street life. Then there is the imposing redbrick Castello Sforzesco, built in the 15th century, one of Milan's most well-known landmarks.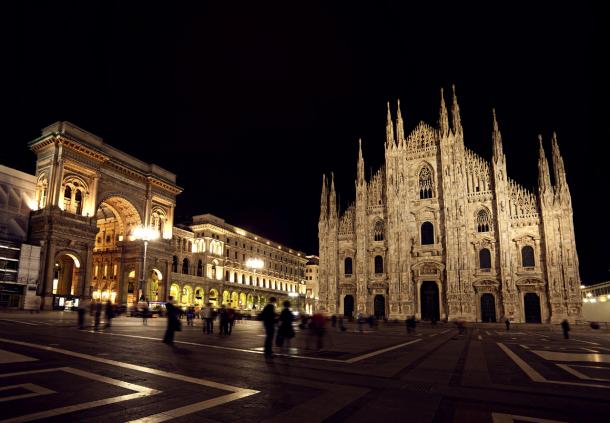 The city is home to the world-famous fresco The Last Supper by Leonardo da Vinci which is housed in the bombed and rebuilt church of Santa Maria della Grazie and for opera lovers there is the sumptuous 18th-century La Scala opera house which can seat 2000.
Don't be fooled into thinking Milan is in any way a city locked into its past glories. Far from it. It is a creative crucible from which ideas flow in a molten river of talent. Fast paced and glamorous, with scintillating nightlife and a raft of up and coming designers, artists and other creative types, Milan is one of the coolest cities in Europe and attracts young ambitious types like moths to a flame.
Fashionistas will be in their element in Milan, where top quality clothing, accessories and footwear are around every corner. Just north of the Duomo is the so-called Quadrilatero d'Oro (the "Golden Quad") where Giorgio Armani has recently made fashion history by having his name somewhere on every one of its four designer crammed streets. (The most famous one – his menswear store – is situated on Via Monteleone.) From Hermes and Prada to Missoni and D&G, this glittering quadrangle is a veritable shoppers' paradiso and you will have to be dragged away kicking and screaming from its enticing wares. However if you can release yourself from the gilded streets you will find that venturing further has its own rewards with a wealth of designer discount outlets and chic boutiques to choose from.
Less well known, but totally fascinating areas of Milan include the canal-side district of Navigli where you can find great antiques and second hand goods, wonderful street cafés and killer gelaterie (ice cream parlors).
Foodies will love the range of Italian cuisine you can find in Milan, including the specialties named after the city – risotto alla milanese (made with saffron – what else?) and cotoletta alla milanese, (breaded veal). The cocktail hour is very big in Milan and there are many bars serving aperitivi and buffet-style pre dinner snacks, almost like the Italian equivalent of Spanish tapas bars, with extra Italian glamour, of course.
Milan is not only in love with creativity, business and fashion but also football. Two of Italy's best football teams, Inter and AC Milan, have their respective fans screaming down the San Siro stadium when they play at home. If you want to have an entertaining time then just ask two Milanese fans of rival teams who plays the best football then stand back as the sparks fly!
Thanks to Milan's position just south of the Alps, it's brilliantly located for skiing and snowboarding and many Milanesi regularly go off for fun filled weekends on the slopes. For lovers of Formula One, the Italian Grand Prix at Monza about 10 miles from downtown Milan is as exciting as it gets. This year will be held on September 9, 2012, a must-see if you're in town.
To sum up, Milan is a heady mix of the hip and happening and cool business know-how. Easily accessible by two international airports: Malpensa and Linate as well as a large central bus network in Piazza Castello and train station (Milano Centrale) with links to the rest of Italy and Europe, there is no excuse not to visit this vibrant and unforgettable place.
Special vacation ideas
Italian Historical and Botanical Gardens