Mens Trends 2013: Borsalino Hats for Boardwalk Empire Men
By Danielle Pollack
No man is complete without at least one Borsalino in his wardrobe. It seems they created this one at the center to go with the bright persimmon SS13 Ferragamo collection. Maybe the designers were on the same Greek holiday for inspiration, but in either case, we are sure to see pops of these color schemes this summer. If you like something a little more subtle, we recommend this wheat color to top off a whole range of your summer looks, or this white with a grey band if you have some southern garden party events and the like to attend.

For FW13 Borsalino seems to have taken at least some of its inspiration from the prohibition era. There are some nice options in dove grey, including this one on the left with a baby blue grosgrain band. If you are a Boardwalk Empire fan and want to get your uber-cool badass Chalky look happening, you might try this red on for size.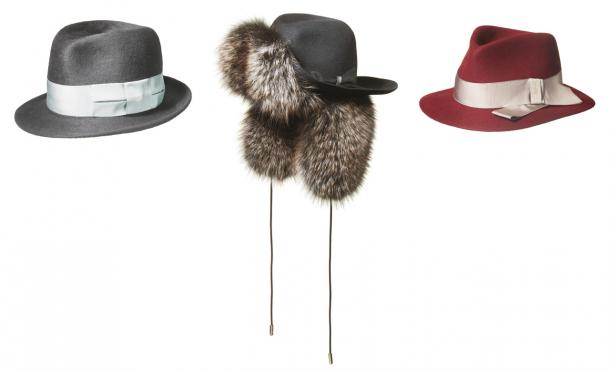 Finally, for those freezing days, Borsalino reaches a little farther back for inspiration, perhaps to Davy Crockett times, with this middle look which is sure to keep you warm no matter how hard the wind blows or which part of the Arctic circle you are working on conquering.
Learn more about:
Related news stories:
Be Bold: Pairing Wines and Liqueurs with Cigars
My Rome Trip: Learning What an Armani Suit Can Do for a Guy
Coated in Crocodile or Ostrich: Bespoke Bicycles Made in Milan
Watch Collector Secrets: Luxury Italian Timepieces for Men
Pirelli's Graphic Design: More Than Just a Pretty Face
When Wine Barrels Die: Reborn as Design Furniture
Lake Como: What Keeps George Clooney Coming Back?
A Suite Ride: Ramaciotti's Maserati Quattroporte
Mens Trends 2013: Costume National Brings It, Swagger Included
Mens Trends 2013: Borsalino Hats for Boardwalk Empire Men
Mens Trends 2013: Bottega Veneta, Pure Sartorial Elegance
Mens Trends 2013: Ferragamo, Explosive Color, Ultra Urban
Mens Trends: Trussardi, Sleek Outdoorsmen, Man Bags
Mens Trends: Brioni's Slim Suits & Secret Service Looks