The Food and Cuisine of Campania
Despite rich arable soils and access to ports for fresh seafood, Campania's claim to fame is the wide selection of street food, which may be baked, fried, grilled or even frozen. These treats are generally hand held and are available at shops or along most streets. Campania cuisine is made from inexpensive, fresh ingredients like vegetables and grains. Pizza and pasta, cooked from the local wheat, make Campania recipes famous throughout the world.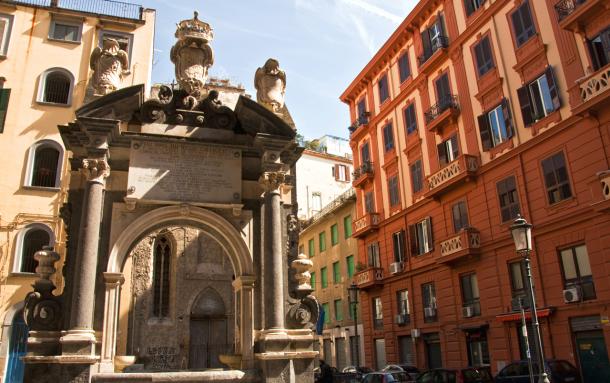 Genuine Neopolitan pizza, the famous hand held food, is usually either pizza marinara, topped with tomato, garlic and oil, or pizza margherita with tomato, basil and mozzarella. These ingredients are prepared by experienced pizzaioli whose skills permit them to bake pizza with tender crumb and delicately crispy crust. Other styles of pizza include the filled calzone and focaccie, which is said to be the origin of today's pizza.  Focaccia is often served topped with olive oil and a light dusting of sea salt.
Vegetables play such a large part in the Campania cuisine that the locals are often called mangiafoglie, or leaf eaters. The fertile soil provides bountiful amounts of food including salad greens, tomatoes, eggplants, peppers, garlic and herbs. A typical cold salad might include raw or cooked vegetables tossed with herbs and cheese. Other popular dishes are cianfotta, a stewed dish of eggplants, peppers, zucchini and onions with basil and olive oil that is served cold. Peperoni imbottiti stuffs red and yellow bell peppers with breadcrumbs seasoned with black olives, capers, garlic and anchovies. Of course, Campania cooking is famous for parmigiana di melanzane, or eggplant parmigiana. Slices of eggplant are deep fried and then layered with onions, tomatoes, basil and mozzarella before being topped with more cheese and baked.
Stone fruits, melons, citrus, figs and grapes grown here are lush and picked at the peak of ripeness. Olives from Campania make richly flavored green extra virgin olive oil. Chestnuts, walnuts and hazelnuts grow well in this region also and are used extensively in Campania recipes.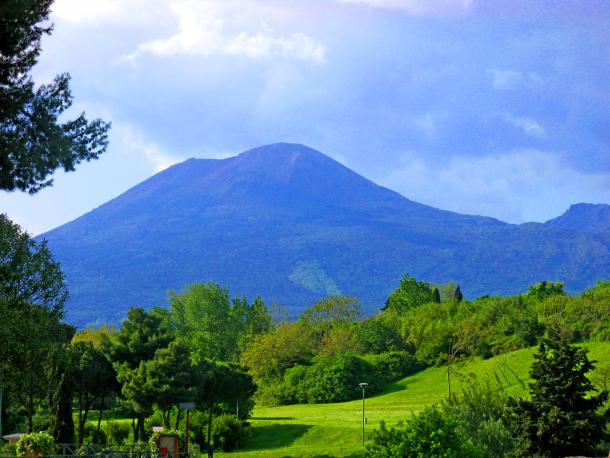 Campania cuisine has plenty of shapes of pasta. Most are familiar, such as spaghetti, maccheroni, fusilli and ziti. Perciatelli is a less well known noodle, long but hollow. The preferred sauce in Campania cooking made from the incomparable San Marzano tomato grown near Mount Vesuvius. Ragu' alla napoletana is reserved for special occasions. This luscious sauce simmers large pieces of different kinds of meat over a low fire for hours. The meat is removed and served as the main course and the sauce used to top the pasta in a different dish.
The famous spaghetti alla puttanesca ("working girl style") has a quickly cooked sauce of tomatoes, olives, anchovies and capers seasoned with chilis and garlic. Ziti ripieni stuffs pasta tubes with a mixture of chopped salame and pork, onion and caciocavallo cheese held together with raw eggs.
Meat consumption tends to be low in the Campania cities, but country folk enjoy both fresh and preserved meat in their food. Salame and prosciutto are popular among the hill dwellers. Lamb, pork, veal, rabbit and poultry are often used as well. Many of the dishes braise meat slowly until tender. Coniglio all'ischitana simmers tomatoes and rabbit with basil, rosemary, and white wine. Beef, chicken liver and sausage are cooked with tomatoes, peas, mushrooms and cheese before being placed in an ornate mold to create sartù.
Campania cuisine heavily relies on seafood. Fresh seafood is eaten in antipasto, or in a fried assortment called fritto di pesce, and can also be found in soups, stews and pasta. Polpo affogato "drowns" octopus in boiling salted water before sauteing it with tomatoes and hot peppers in olive oil. Zuppa di cozze simmers mussels with tomatoes in white wine and is seasoned with hot peppers and parsley. Mussels are also cooked in their juices and seasoned with lemon, parsley and black pepper in 'mpepata di cozze. A wide selection of fishes available locally are often fried, stewed, grilled or even baked wrapped up in paper, or al cartoccio. Salt cured cod is cooked with tomatoes, olives, raisins and pine nuts and seasoned with capers and garlic in baccalà alla napoletana.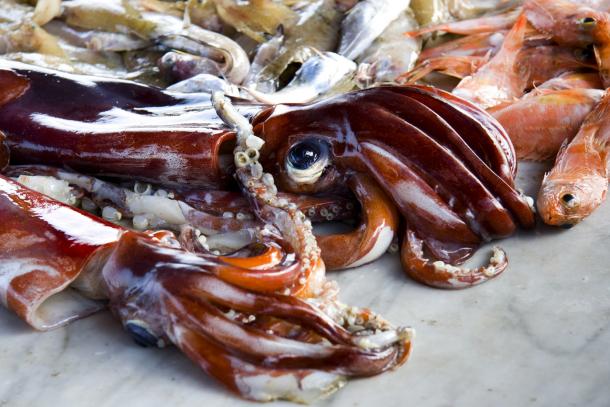 Water buffalo milk is said to produce the best quality mozzarella. It is not used in cooking, but instead eaten as a simple room temperature or cold food. Ideally, mozzarella should be eaten within a few hours of being made for the best flavor and texture. Other local cheeses include Scamorza Irpina, Pecorino cheese, Provola, and Fior di Latte. In addition to using cheese to accent other dishes, cheese often is the focus of Campania recipes. With mozzarella in carrozza, cheese is placed between two slices of bread, sometimes along with pieces of anchovy filet, and soaked in batter before being deep fried. Caprignetti alle erbe is small balls of goat milk cheese that are rolled in herbs before serving.
Campania is famous for its desserts. Gelato can contain locally grown, ripe fruits and nuts. Granita, another form of frozen dessert, is often flavored with espresso or lemon. Cold mousses, such as coviglie al caffè and coviglie al cioccolato are topped with whipped cream, toasted coffee beans or candied cherries.
The region is well known for sweet pastries. Flaky baked shells, called sfogliatelle, are filled with sweetened ricotta blended with candied fruit and spices. Pastiera napoletana is a pie served at Easter made from lemon and cinnamon flavored ricotta with candied fruit mixed in. Ring shaped biscuits called tarallucci dolci are baked with almonds and lard, sweetened and flavored with vanilla, cinnamon and liqueurs. Struffoli are small bite sized fried pastries piled into a mound with candied fruit and held together with honey. Other fried pastries, called zeppole di San Giuseppe, are fried and served with a sweet cream filling.
---
Campania protected local food products
Olive Oils:
Cilento DOP, Colline Salernitane DOP, Penisola Sorrentina DOP
Fresh & Cured Meats:
Vitellone Bianco dell'Appennino Centrale IGP
Cheeses:
Caciocavallo Silano DOP, Mozzarella di Bufala Campana DOP
Fruits:
Castagna di Montella IGP, Fico Bianco del Cilento DOP, Limone Costa d'Amalfi IGP, Limone di Sorrento IGP, Mela Annurca Campana IGP, Nocciola di Giffoni IGP
Vegetables:
Carciofo di Paestum IGP, Pomodoro S. Marzano dell'Agro Sarnese-Nocerino DOP
Learn more about:
Authentic gourmet products:
Suggested recipes:
Caprese Salad (Mozzarella and Tomatoes)