The Food and Cuisine of Liguria
Liguria can be found on the Italian Riviera, along the northwestern coast of Italy. The climate in this mountainous region is mild, perfect for growing vegetables, olives and grapes. Liguria cooking is known for the simple flavors of fresh produce, especially Pesto alla Genovese. Liguria basil is blended with extra virgin olive oil, pine nuts, garlic and Parmigiano Reggiano to make this delicious sauce. It is not only used for pasta, but can also be added to soups or rice dishes.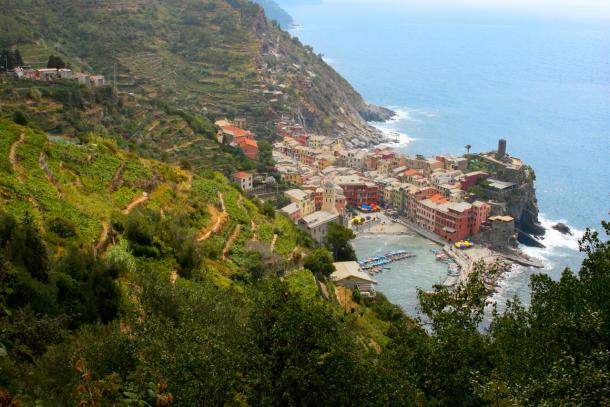 Dry and fresh pasta are both eaten in Liguria cuisine. Trenette, a narrow dry pasta, is enjoyed served with green beans and potatoes, seasoned with pesto. Other popular dry pasta shapes include the trofie or troffiette.
One fresh pasta that is commonly eaten in Liguria is pansòuti con la salsa di noci. These pockets of dough are filled with ricotta cheese and a seasoning blend called preboggion, consisting of borage, chervil, chicory and herbs. This is served with a walnut sauce and freshly grated Parmigiano Reggiano. Corzetti are circles of pasta stamped with decorative shapes to aid the pasta in holding sauce more effectively. Testaroli are a local food that is made by frying then briefly simmering fresh pasta sheets before being served. Mandilli de saea, or silk handkerchiefs, are sheets of paper thin pasta that sometimes contain fresh herbs.
While Liguria recipes are far from vegetarian, beans and fresh vegetables play a large part in the diet. Mes-ciua blends beans and olive oil with farro, an ancient grain, in a classic soup. Aggiadda is a zesty sauce made from fresh garlic and vinegar that is sometimes used to season soups or other dishes.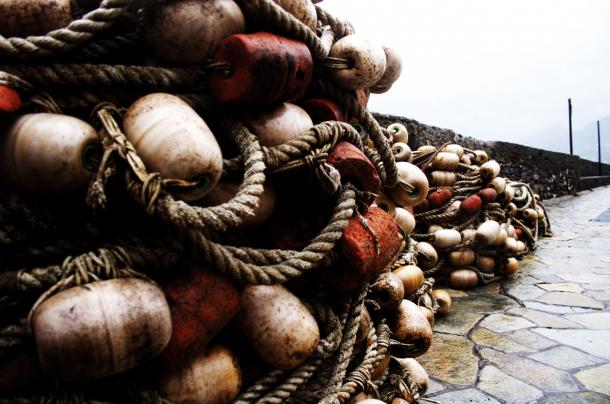 Seafood plays a large role in Liguria cuisine, thanks to the proximity to the water. Fresh staple seafoods include fish, mussels and squid. Ciuppin is a soup with mixed seafood, originally intended to use up leftovers from the fish market. This fish and tomato soup uses stale bread as a thickener and is seasoned with white wine, garlic and onions. Totani, or flying squid, are stuffed with garlic, cheese and bread before stewing in wine and tomatoes. Cappon magro, or "lean capon", contains no capon, but instead is made from cooked vegetables, eggs, many kinds of fish, oysters and lobster in broth seasoned with garlic and anchovies.
Tuna, anchovies, sardines and cod are eaten fresh or preserved in Liguria cooking. The preserved fish are often cooked with biscuits to make capponada, also known as "poor man's cappon magro". Baccalà, or salt cod, is commonly eaten. Stocchefisce accomodou cooks it with potatoes, vegetables, mushrooms, olives and pine nuts in an herb and anchovy seasoned white wine and tomato sauce. Larval anchovies, known as gianchetti or bianchetti, are prized and eaten marinated or raw with lemon, olive oil and fresh parsley, but are only available for a short time each year. Sea bass, lobsters, shrimp, scallops and oysters are also served by restaurants along the Riviera.
Meat is less common in Liguria recipes than seafood, but veal and rabbit are frequently eaten. Cima ripiena is veal breast stuffed with a savory herb scented filling made from vegetables, pistachios and cheese held together with eggs. Veal is rolled around breadcrumbs, mushrooms and pine nuts bound with eggs and then simmered in tomato sauce until tender.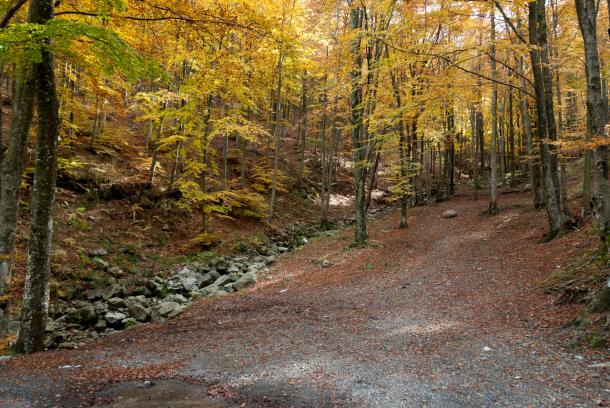 More casual dishes include skewers of veal, mushrooms, artichokes and cheese dipped in batter and fried in olive oil, or thick slices of toast with Parmigiano Reggiano and stewed tripe with tomatoes, potatoes and herbs. Rabbit, lamb and poultry are generally served stewed. Coniglio alla carlona serves rabbit, black olives and pine nuts in an herbed white wine and caper sauce.
Savory baked goods in Liguria are made with several kinds of flours. Wheat flour is baked into rolls or focaccia and may be flavored with onions, herbs and tomatoes. Pizza is baked with garlic and onions, tomatoes, olives and either anchovies or sardines. Torta pasqualina is a savory cake served at Easter time. Its 33 layers contain artichokes or chard, hard cooked eggs and ricotta flavored with herbs. Torta marinara contains fish instead of vegetables.
Chick pea flour is baked with olive oil to make farinata or flavored with onions and fried to make panissa. Chestnut flour is also used to make a pasta called lasagnette. Liguria cooking is known for stuffed tarts, or torte, including a sweet chestnut and pine nut tart called castagnaccio. Other famous sweets include Easter's special pandolce, the fried böxìe, ring shaped biscuits called canestrelli, and raisin and apple fritters called friscieu. Even sweet ravioli can found in Liguria.
---
Liguria protected local food products:

Olive Oils:
Riviera Ligure DOP
Vegetables:
Basilico Genovese DOP
Learn more about:
Suggested recipes:
Genoese Pesto (Basil Pasta Sauce)