Italian Fashion Trade and Promotional Organizations
Italy is the standard-bearer country of fashion and style. The made-in-Italy label is for itself a synonym of elevated quality guaranteed by a secular tradition in the textile and fashion industry. Due to the growing importance of this sector, the country has seen the birth of many important Italian fashion organizations and associations intended to protect the clothing industry, from the beginnings of the weaving factory to the end products shown on fairs and fashion events. Historic Italian fashion organizations such as Sistema Moda Italia or Associazione Tessile Italiana group many other fashion associations spread all over Italy and many fashion brands exploit and make the most of the services offered.
Professional seminar at Palazzo Giureconsulti's Fashion Hub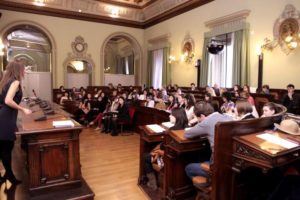 Moda Industria – Associazione Italiana Industriali Abbigliamento e Maglieria (Association of Clothing and Knitwear Manufacturers)
Viale Sarca 223
20126 Milano, Italy
Tel: [+39] 02 6610 3566
Fax: [+39] 02 6610 3667
Associazione Italiana della Pellicceria (Association of Fur Manufacturers)
Corso Venezia 47/49
20121 Milan, Italy
Tel: [+39] 02 7750311
Fax: [+39] 02 7602 1349
E-Mail:
aip@wmf.it
Web:
aip@wmf.it
Camera Nazionale della Moda Italiana
Via Gerolamo Morone 6
20122 Milano, Italy
Tel: [+39] 02 7771081
Fax: [+39] 02 77710850
Email:
info@cameramoda.it
Web:
www.cameramoda.com
E.M.I. Ente Moda Italia s.r.l.
Via Faenza 109
50123 Florence, italy
Tel: [+39] 055 214825
Fax: [+39] 055 288326
EFIMA, Ente Fiera Milano Maglieria e Abbigliamento (organizes MOMI Moda Milano and Sposa Italia Collezioni
Viale Sarca 223
20126 Milan, Italy
Tel: [+39] 02 6616331
Fax: [+39] 02 6610-1638
Fiera Milano Spa – (Milan Trade Fair)
Piazzale Giulio Cesare – Porta Giulio Cesare
20145 Milano, Italy
Tel: [+39] 02 49971
Email:
fieramilano@fieramilano.it
Web:
http://www.fieramilano.it
Fiera di Rimini (Rimini Trade Fair)
Via della Fiera 52
47900 Rimini, Italy
Tel: [+39] 0541 711711
Fax: [+39] 0541 786686
MIPEL
SVIP – Comitato Sviluppo Vendita Pelletteria (Committee for Developing Leather Sales)
Corso Italia 17
20122 Milano, Italy
Tel: [+39] 02 8901 0020
Fax: [+39] 02 8901 0345
Pitti Immagine
Via Faenza 109
50123 Firenze, Italy
Tel: [+39] 055 36931
Fax: [+39] 055 3693200
Email:
info@pittimmagine.com
Web:
http://www.pittimmagine.com