Coliac Martina Grasselli: A Young Designer Making Waves
Do you wonder which young Italian designers are shaping the fashion landscape today? You may not have heard of her yet, but here is one accessories designer you might want to watch.
Coliac Martina Grasselli is an Italian accessories designer (predominately jewelry) whose work you may have seen, but whose name you might not know. Yet. She is a young designer from Reggio Emilia and has collaborated with the likes of Stella McCartney, Jean Paul Gaultier, Christian Louboutin, and Mila Schon.
Coliac's sensibility is highly modern and playful, with just a hint of irony. She excels at mixing components: acrylics with metals, very angular shapes with liquid-like cord and chain, and buttery leather with shiny brass for gloves and belts. The results are fresh, bold, and very wearable.
An outstanding Deco collection she created in 2011 pushed her already growing desirability with international fashion designers to a new level. Her latest collection, Africans, takes that Deco experience and injects it with color and softer elements to make some noteworthy combinations.
Next time you are watching what is coming down the runway, look for Coliac's rising star.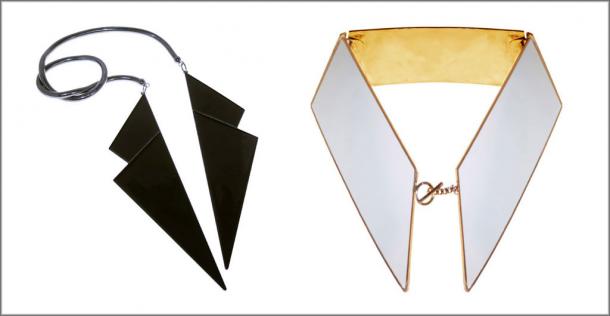 Coliac Martina Grasselli web site
By Danielle Pollack
Learn more about:
Italian Jewelry and Watches: Collectible Glitz