Outdoor Mercati: How to Shop for Fresh Produce the Italian Way
Visiting an outdoor food market in Italy is not just a task to restock your kitchen, it is an event for the senses. Stroll the rows of stands to take in the sights, sounds and smells. One moment the waft of flower's perfume might bring back memories of playing in the garden, the next, yeasty aromas of fresh bread or big bunches of basil might stimulate the appetite. Be drawn in by the shiny display of scaly fish caught fresh that morning and watch the monger slice through a swordfish's meaty interior while holding its long, pointy nose. Hear a produce vendor serenade you with a rich, baritone voice. Indeed, fruit tastes just a bit sweeter after a little opera.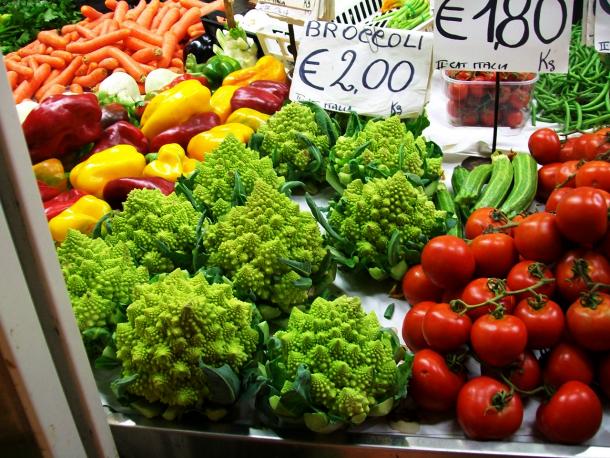 Italian outdoor markets are just one of the many things that make Italy great. Equivalent to the weekend outdoor farmer's markets in the USA, mercati, as they are called in Italy, are made up of stalls and vendor booths selling a range of products from fresh produce to deli meats, baked breads, freshly butchered lamb, whole fish and dried beans. And then there are sometimes other vendors mixed in which offer products such as discount clothing, shoes, cookware or flowers. The shoe booth might be wedged right between a vendor who sells no less than fifteen different varieties of tomatoes, a true pomodoro expert, and the next vendor might sell bulk wines from the local region. In Italy, mercati are open in nearly every neighborhood almost every day of the week with the exception of Sunday in some cases.
The smart visitor who is serious about buying food should simply follow the nonne. The word nonne means grandmothers in Italian and they are the best source in finding the top vendors at any Italian outdoor market. These women have been cooking for their families for decades and have likely been patrons of the outdoor market in their neighborhood equally as long. With that amount of experience comes wisdom, the knowledge of who offers the best quality products. Just follow the nonna with her handcart, a canvas bag on wheels not designed for aerodynamics, but strictly to pile in as much excellent product as possible and make it easy to transport home.
If there are no nonne available, sellers of quality goods are found by simple observation. Where there are two people waiting to be served, it's likely to be a fair vendor. Where there are five, assume there's a good product being offered. And where there are more than five people, get in line no matter how much time it takes.