Bella Figura, Pasta-Style: Pairing Pasta With the Right Sauce
We've almost all done it. We've gone to Olive Garden or some similar chain, enjoyed the American-style Italian meal of endless salad and breadsticks followed by a hearty dish of chunks of white-meat chicken breast over fettuccini Alfredo. Many of us have walked, or rather rolled, out of the restaurant, only to arrive home and sit for the rest of the night trying to digest the monstrous amount of food that was just ingested. "How do those Italians do it?" we ponder. "Do they learn to live with feeling like this after every pasta meal?" Quite the opposite! Most Italian-American restaurants, along with many of us, have actually strayed from the original Italian method of serving pasta dishes.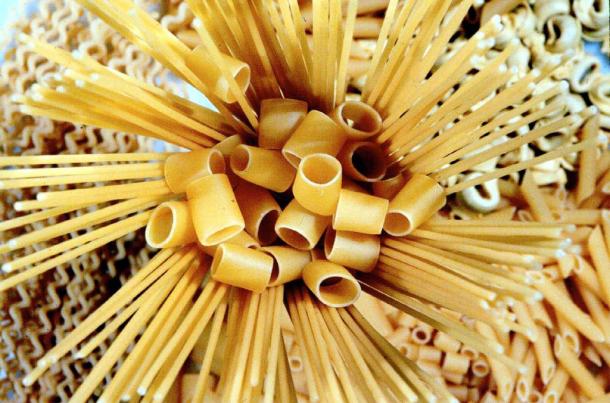 Rule number one of Italian pasta-based primi: the dish is not about the sauce. The pasta is the star, and the sauce a mere accent. Therefore, sauce is to lightly grace and compliment, not envelope and overpower, the noodles, regardless of shape. Pasta is often cooked in salted water for a minute or two less than the suggested cooking time and then tossed in a pan of prepared sauce to finish the cooking and allow the two to marry and compliment each other. If the dish seems too dry, a bit of salted pasta water, not sauce, is added to lubricate.
Rule number two: The chunks in your sauce should never be thicker than the pasta noodle. Huge pieces of chicken breasts, or large meatballs, over spaghetti are unheard of in Italy. As with all things and people Italian, one must strive for bella figura, or to present yourself in a good light, even when pairing sauce and pasta. In Italy you would not leave the house wearing multiple pairs of oversized pajamas, and neither would you dress your skinny, delicate pasta with heavy, chunky sauces. A good rule of thumb is to keep your sauce five ingredients or less (including olive oil and garlic but not salt and pepper) and match the size, heaviness, and shape of the ingredient with the size, thickness and shape of the pasta.
For example, long, skinny pastas are best paired with olive oil-based sauces. The thinner the pasta, the lighter the sauce. Angel hair might be served with olive oil and parsley, and thicker spaghetti or long noodles may be accompanied with pieces of seafood, such as linguine with tiny clams. Flat pastas such as tagliatelle are wider and can therefore support heavier sauces such as bolognese. Short tubular pastas match well with heavier meat-based or vegetable sauces, such as penne ai carciofi (penne with artichoke sauce). Large, ridged rigatoni can support both the large chunks of meat in the famed ragú Napoletano and fried pieces of eggplant in Sicily's Pasta alla Norma. Finally, shaped pasta such as wheels, farfalle, and fusilli are perfect at catching chunky, rich sauces in all their nooks and crannies. It is not that difficult. Follow these simple rules and buon appetito!
By Martina Mirandola Mullen
Authentic gourmet products: