With neighbours in Marche, Tuscany and Latium, Umbria's rolling hills are well suited to viticulture. Although its output is less than a third of that of Tuscany, the region is gaining a reputation for unique modern wines at a fraction of the price of its celebrated neighbor.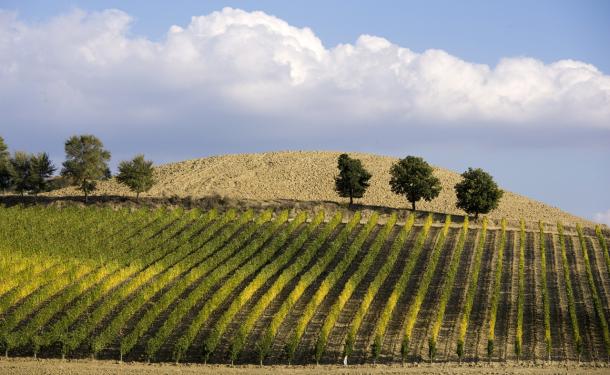 One of Umbria's most famous exports is Orvieto, an appellation that has long pleased consumers in both its traditional abboccato style and as a modern dry wine. The golden, off-dry abboccato and amabile styles have recently been rediscovered as dessert wines. Although the local Procanico often dominates the blend, various grape varieties are permitted, including Malvasia and Grechetto. Some producers have also been introducing non-Italian grapes into the blend, such as Chardonnay and Sauvignon Blanc, with great success. Innovations in vinification have improved the overall quality of Orvieto in recent years. Careful selection of grapes and increased skin contact at the winery has helped some producers to create more concentrated wines. Nonetheless, Orvieto is not made to keep and is best enjoyed while it is young and fresh.
Despite the prominence of Orvieto, Umbria has some fine reds, not least those produced from the distinctive Sagrantino grape. Sagrantino is grown on the hills around Montefalco, making both dry and sweet wines of great character and finesse. The Montefalco Sagrantino has also gained DOCG status to distinguish it from the DOC wines of Montefalco. Despite its prestige within the region, such small quantities are produced that it is largely unknown outside of Italy, although it is praised by connoisseurs. Another important wine that has gained a reputation abroad is the Torgiano Riserva, a rich Sangiovese-based wine capable of ageing for more than 20 years. Compared to Torgiano DOC, the DOCG riserva version have higher alcohol and a minimum of three years of ageing prior to release for selling.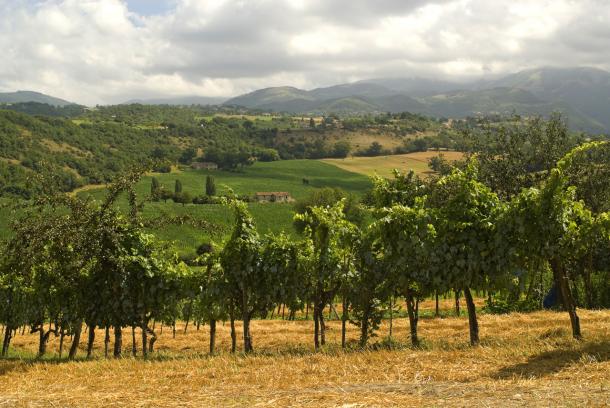 Umbria has also had great success with grapes originating from other parts of the world, such as Cabernet Sauvignon, Chardonnay and Pinot Nero, which seem to thrive in on its temperate slopes. Merlot and Barbera have been planted for many years. There is great potential for non-native varietals, although the wines that the Umbrians are perhaps most proud of will seldom be seen outside the region. Their noble Vin Santo, made from Grechetto or Malvasia grapes that are semi-dried on straw mats for extra concentration, is a highly prized local speciality that is enjoyed as a partner for the regional cuisine.
Umbria DOCG wine appellations:
Montefalco Sagrantino, Torgiano Riserva
Umbria DOC wine appellations:
Amelia, Assisi, Colli Altotiberini, Colli del Trasimeno or Trasimeno, Colli Martani, Colli Perugini, Lago di Corbara, Montefalco, Orvieto, Rosso Orvietano or Orvietano Rosso, Spoleto, Todi, Torgiano
Umbria IGT wine appellations:
Allerona, Bettona, Cannara, Narni, Spello, Umbria
Learn more about:
The Food and Cuisine of Umbria