Holiday Shopping in Italy: 10 Best Gift Ideas for Christmas Season
There are many things you could give your friends and loved ones this holiday season, and with so many perfect Italian gifts to choose from it's hard to know where to start. Whether your budget is large or small, we've put together a list of the ten best Italian gift ideas to put a big smile on your loved one's face and a warm feeling inside everyone! We hope you are lucky enough to be traveling in Italy for the holidays so, that you can explore these options in the little shops where you are staying. If not, many of these things can be found online or made at home, wherever home might be.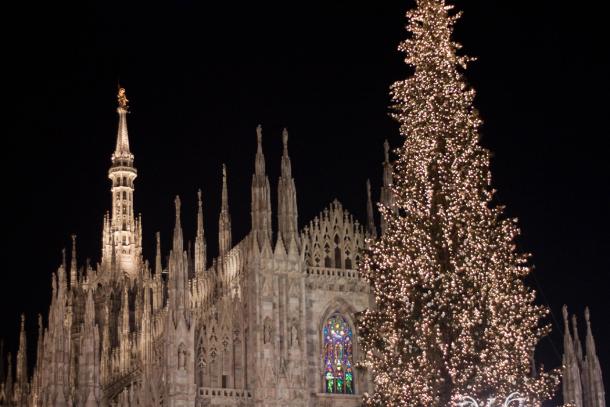 1. Chocolate
Italian brands Venchi, established in 1878, and Amedei, based in Tuscany (though sourcing ingredients from around the world), are two venerable chocolate-makers making some of the most mouth-watering, refined chocolate one can find. Both companies make special holiday editions and can be found in Italian shops everywhere and also online. Baci chocolates by Perugina are known throughout Italy as quality chocolate in an affordable form; they are similar to our Hershey's Kisses (and baci means kisses in Italian) in that they are foil-wrapped and can easily be given as little gifts or stocking stuffers.
2. Italian Cookies with Nutella
Many people do not realize it, but Nutella is considered a special treat in Italy. Think about how much Americans love peanut butter and you will start to understand what all the talk is about. Nutella, found in most Italian groceries, is a creamy roasted hazelnut spread made with chocolate, delicious on crepes, toast, and in pastries. You can try making our Baci di Dama cookies and give a tinful to friends, or choose from the many Italian holiday cookies made with a hazelnut spread: the recipe is here.
3. Italian Wines
Who does not love Italian wine? Famous around the world for amazing wines, Italy ensures you cannot go wrong giving a special bottle of Barolo or bubbly Prosecco. To see specific Italian producers for great holiday bottles or ideas about which bottles to bring to a holiday party, see our pairing guide on wine and Christmas treats, or visit your local enoteca.
4. Gift Baskets
You can find a wide variety of Italian gift baskets that include cured meats, cheeses, herbs, and uniquely flavored olive oils and balsamic vinegars, as well as classic holiday sweets like Torrone and Amaretti. If your recipient especially likes flavorful olive oils, the Calabrian region is known for their olive groves and holiday gift baskets are just the thing for a little sampling of the region's abundance. Many Italian boutiques and agriturismi, as well as online shops, offer these gift baskets for sale during the holiday season.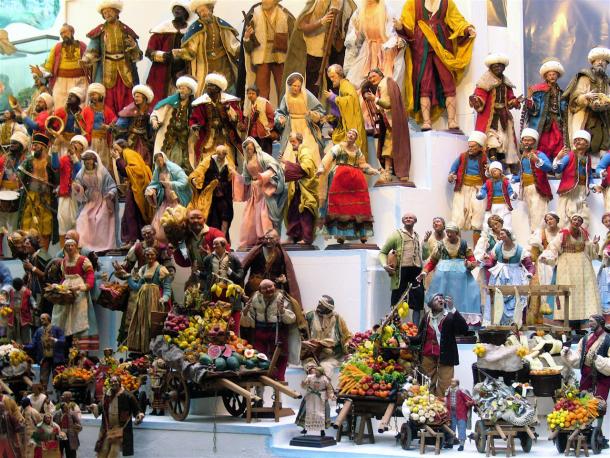 5. A Hand-Made Nativity
Nativities, called presepe in Italian, appear throughout Italy and especially in Rome and Naples during the holidays, in the piazzas, churches and in private homes. There are plenty of craftspeople throughout the country selling handmade nativities, which you could give as a wonderful gift for someone to use year after year. Naples is the center of production for some of the best in Italy, and if you are lucky enough to be there, go to the old historic area and walk up Via San Gregorio Armeno to discover the most delightful, finely crafted, and original presepi.
6. Italian Leather Goods
This is one of those givens that can always happily make the top of gifts list for those special people in your life. Italian leather is known throughout the world for its fine quality and you can choose from exquisite handbags or shoes for that person who deserves a luxury gift. Browse our Fashion section and wander in the shops to get some ideas of the best brands and winter collections to put under the tree.
7. An Italian Cookbook
Italy is known for its simple delicious foods, so an Italian cookbook could be a great gift to give someone who likes to spend time in the kitchen. We recommend The Essentials of Classic Italian Cooking by Marcella Hazan for beginning chefs who really want to understand Italian cuisine, and The Babbo Cookbook by Mario Batali for delectable recipes like Mint Love Letters with Spicy Lamb from the man who runs a few of the most important Italian restaurants in New York, including Babbo and Lupa.
8. Italian Design Items
For people who love their homes and appreciate great design, Murano hand-blown glass objects or Alessi home design items are wonderful quintessentially Italian gifts. If you are in the Venice Mestre region, you can find beautiful glass art for sale and visit a special exhibit now showing there: Carlo Scarpa–Venini 1932–1947. Many people do not know it, but Bavicchi is known for crafting high quality garden tools; these objects could be a great gift to give those green thumbs who you know working on creating their own Italian garden. Explore our Design section for more ideas.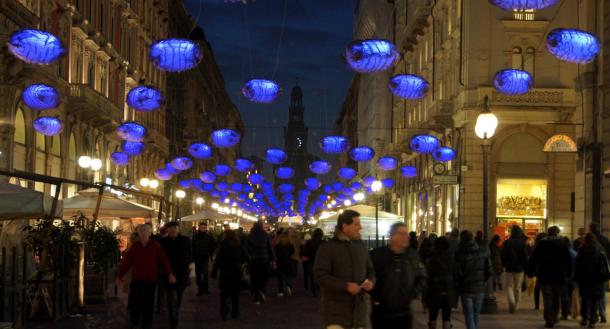 9. Italian Christmas Cakes and Wine Jellies
You can easily purchase or make one of the light holiday cakes, like panettone, pandoro, or panforte, traditionally eaten by Italians this time of year. Italians bring these pretty cakes as gifts wrapped in colorful papers and ribbons to one another's houses. See our Traditional Holiday Cakes and Sweets guide for more details. Wine jellies are something that many Americans have never heard of. They are also easy to purchase or make at home by mixing wine and pectin with flavors like amarena (sour cherry) or melon; the result is tasty jellies with the consistency of a soft gumdrop. These will certainly be a conversation starter and it's always a treat to give something sweet and homemade.
10. Children's Wear & Gifts
The perfect gift for your friends or family members with little ones is the gift of Italian tailoring in crisp cottons, downy cashmeres, and soft leathers. For the best of Italian children's wear this season see our review of collections from Fendi, Missoni, and others. If you want the highest quality children's shoes in the world for your little ones, have a look here for the perfect gift for their small, sweet feet. Giving collectable toys like teddy bears by designer brands working for charity are also a special way to please children while also giving to the less fortunate. And last but not least, Italian toymakers have some wonderful offerings for very unique and very Italian gifts, such as little moped scooters and pizza kitchens for your aspiring chefs.
These are just some of the great gift ideas that can bring a bit of Italian culture to your holiday season and are sure to delight your loved ones. Who knows, maybe you'll even find something you want to ask Santa while exploring all the great things Italy has to offer for your friends and family!
By Danielle Pollack
Related news stories:
Authentic gourmet products:
Italian-Style Christmas: Traditional Holiday Cakes and Sweets