Carlo Scarpa & Venini: Glass Masterpieces Make Splash in Venice
When visiting the Venice Mestre region, spending an afternoon on the island of Murano is the classic way to marvel over the fascinating skills of the Venetian glass blowers. Two of the most historically significant figures in the art of glass began their careers here. The world-renowned Murano glassmaker, Venini, founded his company in the early 1920s, originating as Cappellin Venini & C. While in 1926, just after completing his university studies at the Venice Royal Academy of Fine Arts and beginning his teaching career at the Venice College of Architecture, Carlo Scarpa began his formidable collaboration with the Murano glassmakers.

From 1932 to 1947, Scarpa honed his extraordinary designs working together with Venini, and the current exhibit, Carlo Scarpa: Venini 1932 – 1947, curated by Marino Barovier, demonstrates their beautiful outcomes. The show has been extended until January 6, 2013, so if you are there during the holiday season this is a great show to view the glass arts.
Closer to Venice than Murano, the exhibit is held on the island of San Giorgio at Le Stanze Del Vetro (Rooms for Glass), just a five minute vaporetto ride from Venice's illustrious St. Mark's Square. Le Stanze Del Vetro, previously a school building, was recently renovated through the combined efforts of both the Fondazione Giorgio Cini and Pentagram Stiftung to become a venue for various events and initiatives pertaining to Venetian glass making – and all things design.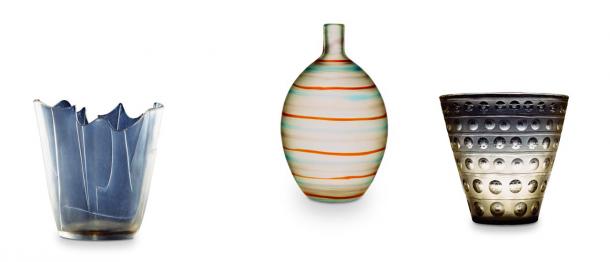 A focus on techniques and glass textures is given to the Scarpa exhibit, as these two traits are what made this work so significant. A collection of over 300 pieces has been divided into nearly thirty types, including long-missing prototypes, original drawings and designs, along with black and white photographs and archive documents. Viewing the intricate detailing of Scarpa's blown glass in person is nothing less than breathtaking. The colors and pioneering techniques of his work are what have made Venini so celebrated in the world of Italian glass making.
Through continuous research alongside the master glass blowers headed by Venini, Scarpa designed series of glass pieces shown at the Venice Biennale, beginning with the 1934 exhibit. Some of these designs are still produced today, including bollicine (bubbles), mezza filigrana (half-filigree), and sommersi (overlaid). Scarpa continued to exhibit at the 1936 and 1938 Biennales; however, it was the 1940 Biennale that had a special significance. Due to the technical intricacy and elevated costs, some pieces only had a limited production, such as the elaborate works laccati neri e rossi (black and red lacquered), granulari (granulated) and incisi (incised).

Carlo Scarpa would show his glass designer work one more time, at the 1942 Biennale, but after World War II he ceased his collaboration with Venini to fully focus on his career as an acclaimed architect. Walking through Carlo Scarpa: Venini 1932 – 1947, filled with the emotion of the installation, an acute appreciation for the beauty of a Scarpa vase becomes manifest.
Carlo Scarpa: Venini 1932–1947
Open from 10am to 7pm until January 6th, 2013
Closed on Wednesdays. Free admission
Le Stanze del Vetro
Isola di San Giorgio Maggiore, 1
30124 Venezia, Italy
Tel: [+39] 041 522-9138
Web:
http://lestanzedelvetro.it
Email:
info@lestanzedelvetro.it
By Jennifer Hawkins Micocci
Top destinations guides:
Venice (Venezia): The Most Romantic City in the World