Confetti & Bomboniere: The Quintessential Italian Wedding Favors
Most people do not need to sugar coat their wedding since this day is already a happy occasion. But a sweet treat and a little luck never hurt anyone, right? It is for this reason that Italian brides have been handing out confetti at their weddings for centuries.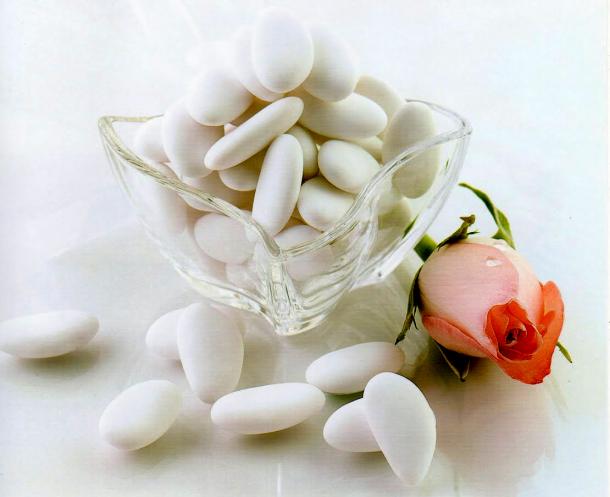 Confetti are candy-coated almonds, also known as Jordan almonds. These candies represent the bittersweet life of a married couple. The sugar coating is added to the bitter almonds in the hope that the newlyweds will have more sweet times than bitter during their lifetime together. When confetti come in boxes or bags they are called bomboniere and serve as place settings or favors.
The candy is given out in odd numbers, most often 3s and 5s. Three almonds symbolize the bride, the groom and their future child, and five almonds represent five wishes for the sposi: health, wealth, fertility, happiness and longevity. Confetti are not only used in Italian weddings, but also in Greek and Middle Eastern wedding ceremonies.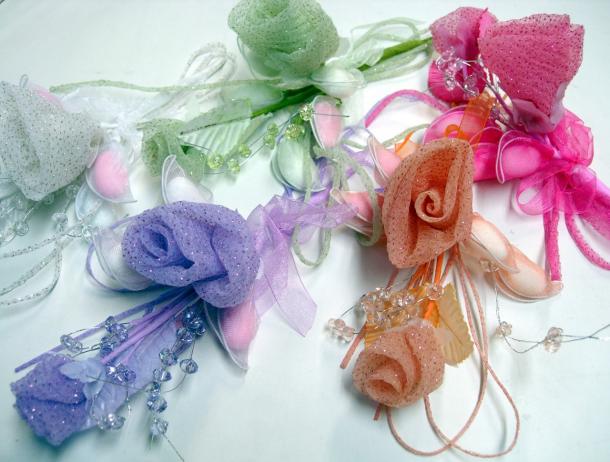 This tradition most likely dates back to the ancient Romans. In fact, the term comes from the Latin confectum meaning "prepared or wrapped". In the Middle Ages the term referred to jams or dried fruit covered in honey, however the confetti that we know today were first produced around 1400 in the city of Sulmona, located in central Italy.
Once-upon-a-time only white organza bags held the white confetti and were tied with a white ribbon. Today, bomboniere come in all different colors and flavors, and containers are all shapes and sizes. To find your own favorite, see the locations listed below.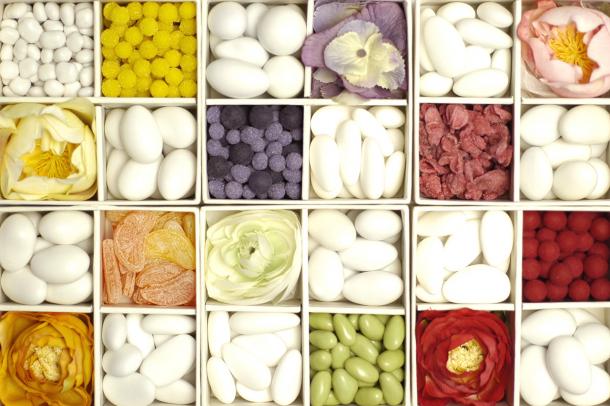 If you are looking for bomboniere for your Italian style wedding, Conti Confetteria has many interesting flavors, among them, praline, coconut, coffee, and pistachio. Their great English website also sells wedding kits which send you all the supplies to make personalized bomboniere.
Conti Confetteria
Palazzo Cardelli
Via di Pallacorda, 12
00186 Roma, Italy
Tel: [+39] 06 6830-7578
Web:
http://www.conticonfetteria.it
Email:
roma@conticonfetteria.it
Con-Bon Arenula also offers many different flavors and colors of confetti, and they sell hand-painted porcelain plates and boxes to give your guests. You can request designs with the colors of your wedding. From both Conti Confetteria and Con-Bon Arenula you also have the option to simply purchase the confetti of your choice in bulk and serve them in a large dish or tray to guests without making them part of the wedding favor.
Con-Bon Arenula
Largo Arenula, 20
00186 Roma, Italy
Tel: [+39] 06 686-8008
Web:
http://www.iconfettidirosemarie.com
Email:
info@iconfettidirosemarie.com
Then there are Il Fiocco Bomboniere and Curiosità which make unique and exclusive handmade bomboniere which can include confetti. Otherwise you can order kind various personalized favors to decorate the tables. Curiosità, for example, sells small ceramic pots from Deruta, Umbria, which can be hand-painted with the couple's initials and wedding date. These treasures filled with confetti can give an American wedding a twist of the authentic Italian wedding.
Il Fiocco Bomboniere
Palazzo Borghese
Largo della Fontanella Borghese, 19
Tel: [+39] 334 896-6343
Web:
http://www.bombonierechic.com
Curiosità
Via degli Scipioni, 78
00192 Roma, Italy
Tel: [+39] 06 3972-4452
Web:
http://www.curiositaonline.com
Email:
info@curiositaonline.com
If you don't anticipate any wedding bells ringing in the future but want to try these Italian candies, don't worry because they are also handed out at baptisms, graduations, anniversaries and even the ceremony where nuns make their solemn vows.
By Elizabeth Simari
Related news stories:
Special vacation ideas