The Real Italian Dinner: A Multi-Course "Slow Food" Experience
Dinner in Italy has the reputation of being a grand affair, typically made up of many courses and lasting at least two hours. It all starts with an appetizer, or antipasto, perhaps a plate of buffalo mozzarella with slices of prosciutto or fritti. Then the first dish, the primo piatto, is typically a pasta or risotto course. Remember, food is always regional in Italy, and not all Italian food is lasagna or spaghetti with meat sauce. Perhaps in Bologna, located in the northern region called Emilia-Romagna, the meat sauce closest resembles what the world outside Italy knows as Italian "meat sauce". Ragù alla Bolognese is made of meat sautéed in olive oil with minced garlic, diced onions, tomatoes and often times other vegetables and fresh herbs.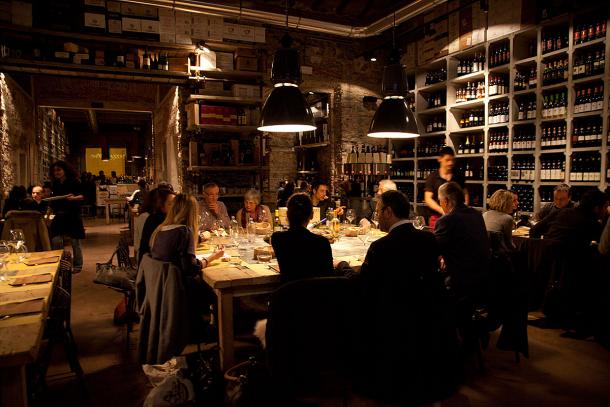 Next in any dinner comes the secondo. The second dishes are almost always meats or fish without any side dishes included. Depending on the region, unique items may be offered for secondo, such as donkey, horse, duck, wild boar, or rabbit. Umbria, for example, is not known for its fish but rather pork and beef. Forests, hills and mountains make up Umbria, not oceans or seas.
Fourth are the side dishes, the contorni, where fresh grilled vegetables, beans and potatoes are typical offerings. In March and April, never pass up a grilled or fried artichoke as contorno because that is when they are in season and most delicious. After the first four courses, salad might be served because it's something light, fresh and easy to digest after such a large meal.
Then comes dessert or dolci, which usually reflects the regional traditions, as does the rest of the meal. For example, Sicilian desserts such as cannoli are much more dense and rich than Roman desserts. Finally the meal is closed with the post-dessert drinks. Most order an espresso shot to help aid digestion (Italians drink lattes and cappuccino only in the morning). Then, finishing on something sweet is common, with a shot of limoncello, amaro, or grappa, worthy of sipping over good conversation for another 30 minutes.
Asking for a quick meal at a sit-down restaurant can raise eyebrows; one should keep such requests to establishments that offer pizza al taglio. The Italian Slow Food movement has been in effect since American fast-food made its debut in Italian culture. In 1986, the first McDonald's was to be opened in Rome near the popular and beautiful Spanish Steps, and Carlo Petrini created a revolution to resist its opening, reminding people that fast food isn't necessarily the best food.
By Nick Cloud
Learn more about:
Italian Recipes: Cook the Italian Way