The Best Italian Hotels when Traveling with Children
Why stop traveling when you have children? You certainly do not have to when you know just the right places to visit and stay. Italy is known for the love of the family and children, and because of this, there are plenty of places to stay that are truly kid friendly regardless of your budget. Choosing the right hotel can depend on a number of factors, like activities that your children would enjoy, accommodation options, and cost. Here are some of the top kid friendly hotels in Italy.

Lake Como: Casa Craig
If you would like to choose an affordable option with plenty of space, then you cannot go wrong with Casa Craig on Lake Como in the village of Limonta. This is an apartment style accommodation, which is kid friendly and close to plenty of things to do for youngsters, like swimming in shallow areas and fishing, as well as windsurfing for teens. Casa Craig has cribs and highchairs available, and they can provide babysitting with advance notice. Additionally, the apartment accommodation is just steps from kid friendly restaurants, a sports club, and more.
Casa Craig
Frazione Limonta
23865 Oliveto Lario (LC), Italy
Florence Countryside: Al Gelso Bianco
You can truly enjoy the culture of Italy with your children at Al Gelso Bianco, located in Chianti in Tuscany, about 16 miles from Florence. This accommodation is located right on a wine and olive estate, giving you a chance to step into the world of Tuscan living. They offer fun cooking classes, which kids can participate in, some farm animals including a friendly kitty, and a cow sculpture on the grounds for young kids to admire. It also has a pool and outdoor BBQ perfect for family activities. Not only is Al Gelso Bianco kid friendly, but it is also designed with all the accoutrements needed for babies and newborns, making it an ideal option for young families.
Al Gelso Bianco
Via di Sant'Appiano, 47
50021 Barberino Val D'elsa (FI), Italy
Tel: [+39] 055 8075658
Fax: [+39] 055 8075243
Web:
http://www.algelsobianco.it
Email:
info@algelsobianco.it
Lucca Countryside: Albergo Villa Marta
Situated in countryside just outside of Lucca, this former hunting lodge turned 4-star hotel is not only family friendly, it is also run by the family of Andrew and Alessia Martinelli, making it a nice, cozy place to stay just near the coastline. There is a swimming pool and painting classes open to older children. You will be able to enjoy the beaches, the Italian countryside and the town of Lucca. Kids also love to visit Pinocchio Park and the butterfly farm at nearby Collodi, about 15km away. Staying here is a great way to immerse your children in the family culture of Italy.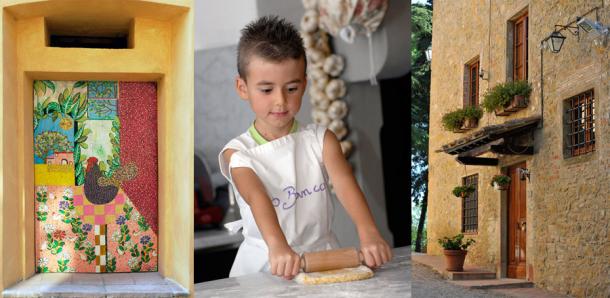 Albergo Villa Marta
Via del Ponte Guasperini, 873
Località San Lorenzo a Vaccoli
55100 Lucca, Italy
Tel: [+39] 0583 370-101
Fax: [+39] 0583 379-999
Web:
http://www.albergovillamarta.com
Email:
info@albergovillamarta.it
Rome: Hotel Ponte Sisto
If you plan to stay in Rome with toddlers, then you will find this hotel a great option, close to all the main attractions of the ancient city. Hotel Ponte Sisto offers Family Suites, nice for 4-5 people and has cribs and highchairs available. It has an enclosed outdoor courtyard so you can get away from the hustle and bustle of busy Rome life and let your little ones safely enjoy themselves. It is also located on a pedestrian only street, so you don't have to worry about heading out into Roman traffic with little ones in tow.
Hotel Ponte Sisto
Via dei Pettinari, 64
00186 Roma, Italy
Tel: [+39] 06 686-3100
Fax: [+39] 06 6830-1712
Web:
http://www.hotelpontesisto.it
Email:
info@hotelpontesisto.it
No matter when you plan to travel in Italy, you will find the family atmosphere abounds wherever you go and in more ways than just in the accommodations. You will soon see why Italy is the perfect location for your next family vacation.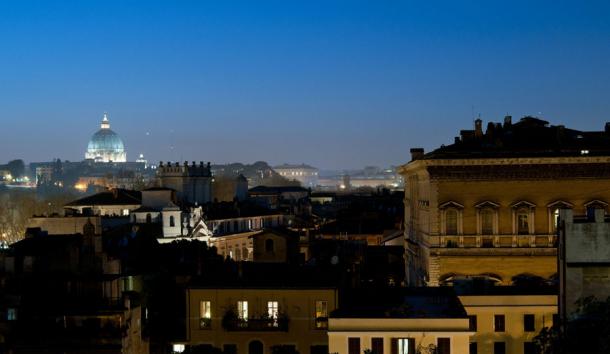 By Danielle Pollack
Related news stories: