My Rome Trip: Learning What an Armani Suit Can Do for a Guy
For me, even before my flight touched down in Venice, Italy was a dazzling myth. I was in love with Italy partly through Hemingway's novels, partly through the stark images of film directors such as Pasolini, Antonioni, and De Sica. It was a place where, I imagined, life was all lived "outside," in a deliberate and solemn, sometimes absurdist, performance involving all the senses.
In Italy, life was not a matter of thinking thoughts or having feelings kept inside oneself, but of becoming entranced by the direct splendor of everyday living; the solemn ritual of the morning espresso; a glass of wine sitting at an outdoor cafe watching a fountain glitter and dance; a walk in the silent, all-enveloping rainy fog through dark and crooked Venetian streets, breathing in the freezing mingled odors of stagnant canal waters, seaweed and wood smoke coming from the chimneys.
One did not just visit Italy; one drank it in, I thought. A quick meal with a glass of wine standing up in a bar was an occasion. And, even while drinking Italy in via all the senses, I found myself on display, exposed to the gazes of Italians. I found I did not wish to disappoint by dressing badly or behaving without restraint and elegance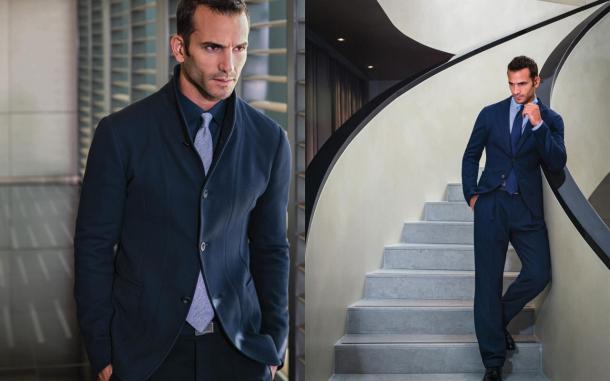 All of life in Italy is like a moving picture, an aesthetic opportunity. American tourists often stand out in Italy because they do not know how to dress simply for the right occasion, without any fuss. They sometimes wear eyesore primary colors to sit in an enoteca and drink wine. They stroll around Venice in shorts, Hawaian shirts and sandals.
I tried valiantly to adjust my inexpensive wardrobe to Italy, and looking now at photographs of my time there I can see that I mostly succeeded in this goal. I may not have been mistaken for an Italian by Italians, but my way of dressing was evidently an attempt at paying homage to the Italian style.
If I wore a t-shirt to go sightseeing, for example, I threw a sport jacket over it. My shoes were shined, and my trousers had razor sharp creases, something I wouldn't care much about at home for casual outings. I also put forth an effort to learn and speak the language well, or at least to polish the few phrases I needed in order to communicate with bartenders and waiters until these readymade phrases no longer sounded forced but light, clear and natural. I made some Italian friends this way.
But what could be more essential to any type of performance than clothes? The mystery and allure of theater is largely a matter of costumes, and this truth extends to movies also. When Michael Corleone flees to Sicily to escape a murder charge, the screen is suddenly flooded with stark brilliance, and wandering the bare hills with his two lupo-armed bodyguards, he wears what they wear — weekend hunting gear and a peasant's cap.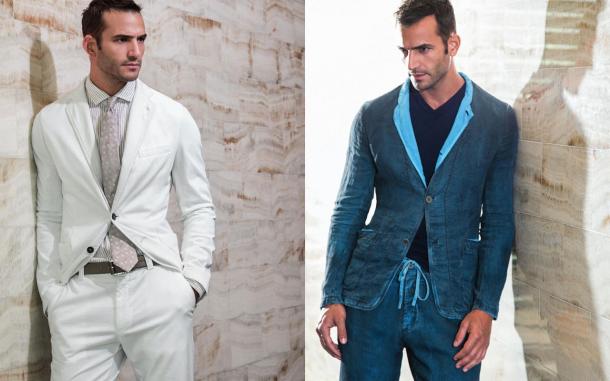 One hears much about Italian suits and women's evening dresses, but most of life does not happen at cocktail parties, awards ceremonies, or the opera. In Italy, there is an appreciation for the rustic, almost vintage look and outdoor life. Some of this has sunk into high fashion. Armani's line, for example, contains pieces that have a timeless, pure quality, pieces that could have been worn as easily in the 19th century as now.
Many of Armani's clothes seem to be made for walking around the streets of a grand old city — Rome, for example, on an autumn evening pervaded by the musky odor of roasting chestnuts. Or for attending your daughter's wedding held outdoors under a sunlit grape arbor.
Though my budget didn't really allow for it, I could no longer resist the allure. It was in Rome that, one afternoon along the Via Condotti, I bought what is easily still the most expensive item in my wardrobe — a dark two piece suit of sober yet lustrous fabric, with the typical Armani relaxed or "deconstructed" cut that gives it a timeless quality.
I recall walking out of the changing room and stepping in front of the three-way mirror with a choked feeling of trepidation. As soon as I saw it, I knew the suit was for me. It was too perfect. The salesgirl took a few steps backward to get a wider angle and we both gazed at the reflection in silence. The fabric looked ink-black in the brilliant overhead lights. Quietly, I asked her opinion. She said, "Bello." I nodded and said, "Grazie mille, lo prendo."
My extravagant purchase needed some taking in at the waistline and sleeves, so once I returned to the US I brought it to the tailor at Emporio Armani in Boston. Even though Emporio is Armani's less prestigious line and this store was not in Italy, I assumed that such a man must have worked with material like this before. As I handed him the suit he stroked a sleeve between two fingers and said, his voice going very low, that he had never touched fabric quite as fine before.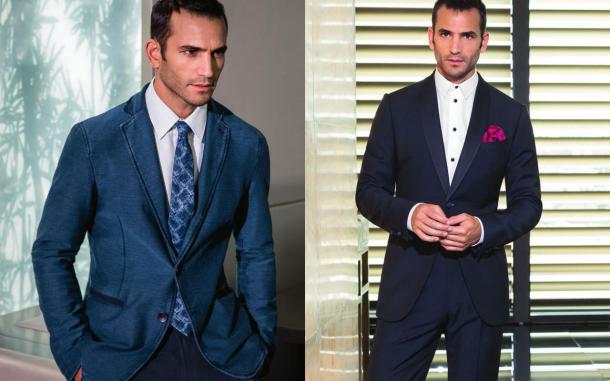 Although this suit is all wool, it has the feel of silk, which is due to the fineness of the weave and the quality of the cashmere. Whenever I have a special event, I always know what my attire will be. I wore my Armani not so long ago to a Christmas party in San Francisco, in a mansion on Pacific Heights and thrown by a wealthy patroness of the arts who I barely knew and I had met through a friend.
I found that most of the people who approached me here to chat assumed I either had some close relationship to the hostess, or that I was someone "special" in the arts world. I hated to disappoint them, but I liked that it was undoubtedly my Rome suit with its understated elegance, which helped elicit such instant respect from these high-powered people.
Near the end of the party, the hostess herself finally approached me to ask how long I had lived in Rome. I said, "Never. I've just traveled there a little bit for sheer enjoyment." She laughed, complimented me on my Italian look, and told me some stories about her times in Italy. I had to admit that I'd never been to Capri, or sailed in a yacht around Sardinia, although I did spend a few memorable weeks once in rural Sicily.
As I was on my way out the door, she told me to wait for just a moment while she sent one of her people down to the basement for a bottle of the five star cognac we'd been drinking that evening; she would like to present me with it as a memento of a grand evening, she said. I refused it – profusely, yet politely as an Italian might — before walking out into the fog in my perfect Armani suit.
By Andrew Wilson
Related news stories: