Four Coffees a Day Keep the Tiredness Away
Italians love their coffee, and for most of them it is a four time a day ritual. Breakfast is never an elaborate affair. Instead of those heavy American meals replete with bacon, eggs, cheese, onions, and potatoes, accompanied by filter-dripped coffee (that watered down stuff some Italians jokingly call "dirty water"), Italian breakfast is just a quick treat to start the day.
Generally, while standing at the bar's counter, breakfast consists of a simple croissant, perhaps filled with berry jam (or chocolate hazelnut spread or honey or nothing at all), and the most essential part of the meal is un caffè, a single shot of espresso. With sugar, please! After all, the stuff is bold.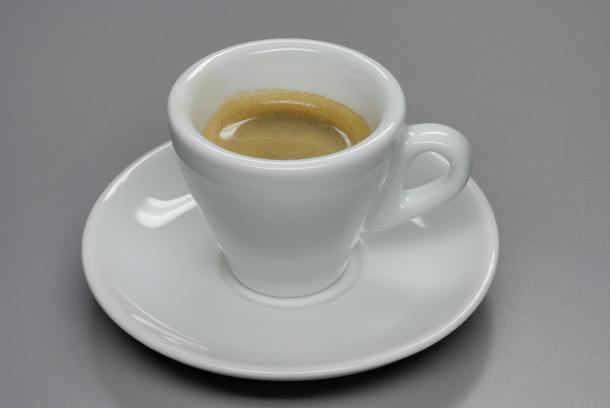 Sometimes adding steamed milk makes it even better. At this time of day, ordering a cappuccino is just as acceptable as an espresso. Best to note, though, that proper (unspoken) etiquette in Italy says to never order a cappuccino after 10:30am (spotting tourists has never been so easy: they are drinking their lattes at 3pm!).
The morning passes, lunch begins about 1:00pm and it's out again for a quick panino, a thinly filled sandwich with slices of meat and possibly cheese, sometimes pressed, but not as often as the international community expects. In this country, the heaping thicknesses of New York deli sandwiches will never be found. The panino is eaten and it's time to get back to work. But, wait! The after-lunch grogginess could set in, so once again, it's espresso time.
Prendo un caffè per favore. I'll have an espresso. That's two so far, and it's only 1:45 in the afternoon.
About 5:00pm hits, two hours of work to go, and again the tiresome workday has almost consumed all the energy available. A quick coffee couldn't hurt. After all, it's time for a break anyway. The nearby tabacchi sells tobacco products and lotto tickets among other things. Thank goodness they have an adjoining coffee bar.
Then, the workday is finally done, so back home for some quality time with the little ones. Next it's dinner at home or off with the family to a small neighborhood pizzeria. After the fried supplì appetizer, the plate of pasta and shared pizzas, nothing goes better than a final shot of espresso to finish the day and help digest all that food.
And the day is done! The final tally? Four shots of espresso!
This is a surprisingly typical day for many Italians. The coffee shops, known as bars in Italy, employ experienced baristas who understand the ins and outs of their multi-thousand dollar espresso makers, and their clients' needs. With the baristas expert knowledge, and the use of a quality piece of machinery, an outstanding cup of espresso usually results. The bold, acidic flavors somehow turn into a smooth, robust liquid. The temperature should be not too hot, not too cold, once it's in the cup. The golden brown foam is a slightly bitter head that caps the delicious brew beneath.
Italian coffee makers built a reputation long ago for their high quality, dark roasts, perfect for espresso, and several leading brands are available worldwide. Even in Italy, Illy is still usually the most expensive at grocery stores, and whether the higher cost means they have better quality product is for the consumer to decide. Considering the wide distribution of major brands Illy, Lavazza and Segafredo, coffee lovers around the world are sure to taste a little bit of Italy in their own homes, especially now that the ritual of caffè Italian style is explained!