Alto Adige Wine Renaissance: Excellent Whites, Unusual Reds
A train from Innsbruck, Austria, speeds along towards Italy, crossing the Alps dotted with cute cottage-like houses of their German-speaking inhabitants. As the train quickly approaches the Italian border, the jagged edges of the Dolomites emerge and tower over the landscape. The train stops at the Brenner Pass and someone announces in German and Italian that the occupants are now leaving Austrian jurisdiction and entering Italy. Two hours later, the train stops at Bolzano; passengers descend and are greeted by informational pamphlets advertising die Kellerei or wine cellars of Alto Adige/Südtirol, with names like Hofstatter, Tiefenbrunner, and Klaus Schönhof.
Was the train mistakenly heading north to Germany instead of south to Italy? Not at all. Welcome to the autonomous, 75% German-speaking Italian wine province of Alto Adige.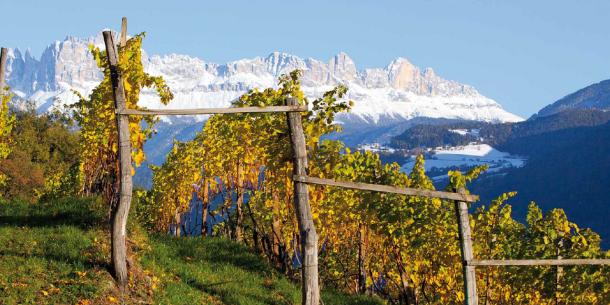 Alto Adige, also known by its German name Südtirol, is one of Italy's most unique wine areas. The province produced average house wines while under Austrian rule until 1919, but after becoming part of Italy, expanded its repertoire. Although it produces only a small percent of the total wine exported from Italy, it now puts forth an extensive range of 17 DOC high-quality varietals of whites and reds that grow in diverse mountain climates and soil variations.
In the past decades, the import and cultivation of various grapes in Alto Adige has brought the region to the top in the world of white wines.  Gewürtztraminer, a fruity and mildly sweet grape thought to be indigenous of the region, is said to be an exemplary expression of terroir. Südtirol also produces quantities of Chardonnay and Sauvignon Blanc, but its particular mountainous geography proves perfect for the cultivation of Pinot Blanc (locally referred to as Weissburgender or Pinot Bianco), a varietal with a dry crisp taste similar to that of Chardonnay.
In the arena of reds, the seductively elusive Lagrein boasts a velvety, deep wine with hints of chocolate. The grape is also used to produce some of the best Italian rosés. Although it is wildly praised, Lagrein is only produced in certain areas, in small amounts, due to its stringent habitat requirements and inability to grow well in bulk. Lagrein grapes are also used to supplement "lesser" wines made of the most popular, and arguably over-produced, grape, Schiava or Vernatsch. Although this grape is considered relatively unrefined and mediocre, wines produced with it in the Lago di Caldaro/Kalterersee and Santa Maddalena/St. Magdalener regions are perfect for any occasion calling for a good table wine. (Note: When you are looking for Schiava wines, they are often labeled by the German names of the region they come from, Kalterersee or St. Magdalener.)
Südtirolean wines are still making their way to the United States, but they are present, often tucked away near Veneto's Valpolicella or Trentino's Pinot Grigio. If you don't have luck finding Alto Adige wine, ask your local wine store to order a bottle from their supplier in the next shipment: this is usually free and allows everyone to further explore the wide world of Italian wines!
By Martina Mirandola Mullen
Learn more about:
The Wines of Trentino Alto Adige