Wine with Ice? Otellon'Ice Breaks the Taboo
We've all done it. It's a busy day or hot summer night with friends, and someone forgets to chill the wine. The time to uncork the bottle rolls around, but it comes to attention that the wine is too warm for consumption. Some expectant attendees with empty glasses in their hands shrug, throw a piece of ice or two in the glass, pop open the bottle, and drink. Sommeliers worldwide cringe at this watered-down destruction of the distinguished and carefully balanced aromas. And the crevasse between those who add ice and those who find it appalling continues to grow.
This summer, however, brings hope for both sommeliers and amateur wine drinkers alike with a new Italian wine: Cantina Ceci's Otellon'Ice.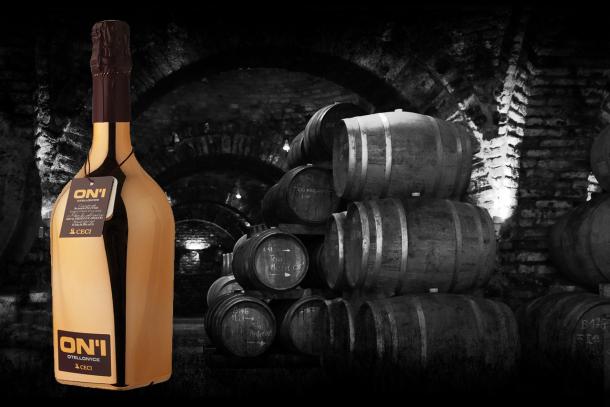 Il vino che ama il freddo ed il ghiaccio, "the wine that loves cold and ice", has taken Italy and the world of wine by storm. Its brilliant copper-gold bottle is becoming recognizable in the Old and New Worlds as a fresh and spunky innovation in wine making and drinking. First introduced at Vinitaly in the spring of 2012, Otellon'Ice is the refreshing, fizzy drink of the summer, the cousin of the well-known traditional Lambrusco, but made specifically to be consumed with ice.
Yes, putting ice in Catina Ceci's demi-sec spumante Otellon'Ice is the only sophisticated way to drink it. This creative new beverage is 100% Lambrusco Maestri grapes, gathered in the beginning days of October. The wine is then pressed with the grape skins for 5-7 days at low temperature and is then processed in the traditional spumante method of undergoing two separate fermentations, neither of which is halted, in barrels before being bottled. The resulting beverage is a violet-red liquid, placed in a loud and festive bottle to be consumed at a young age.
Due to the unusually hot fall of 2011 and the fact that the wine is meant to be mixed with (melting) ice, its alcohol content runs higher than many of its contemporaries at almost 15%. The taste is full and round with subtle tannins and flavors of strawberries, blackberries, and raspberries. Paired well with light summer recipes, Otellon'Ice is also a perfect apertivo to be enjoyed with friends and family.
For best results when drinking, slightly chill the wine first so as not to melt the ice immediately upon contact. However, if you forget to chill the wine at your next get together, throw an extra cube or two in the glass and drink in the new style which no one can look down their nose about.
Cantine Ceci S.p.A.
Via Provinciale, 99
43056 Torrile (PR), Italy
Tel: [+39] 0521 810252
Web:
http://www.lambrusco.it
Email:
info@lambrusco.it
By Martina Mirandola Mullen
Learn more about: