A Guide to the Best Shopping in Rome
What more exciting place could there be to spend your euros than Italy's capital city – beautiful, vibrant, intoxicating Roma?
Despite being an international city, many shops in Rome keep to Italian opening hours, which means to say that shops close between 1pm and 3.30 – 4pm. Rather than moan about it, why not just spend even longer over your relaxing lunch and then shop until the early evening (shops stay open until about 7.30/8pm)? There are several department stores in Rome, including Coin, Upim and Rinascimento. You can also find a good range of designer stuff in Gente, which has several stores in Rome (near the Spanish Steps) and its own outlet at Cola di Rienzo.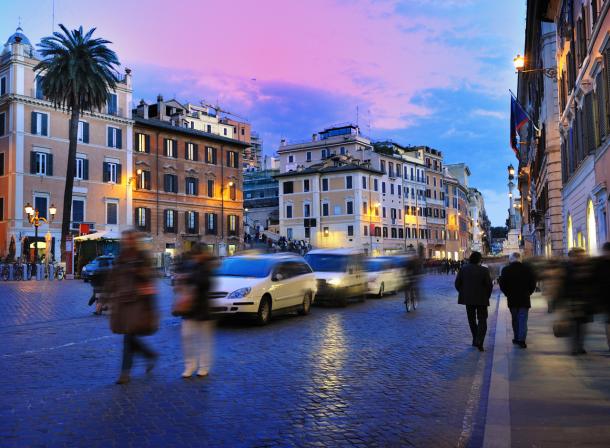 For the big names' own flagship stores, head to Piazza di Spagna and mooch around the area of the Spanish Steps and Via Condotti, where Gucci, Prada, Armani and so on are cheek by jowl. Anyone who is anyone shops here. Even walking down one of the streets in this high fashion heaven is an experience, and you never know who you'll bump into!
While you are in Piazza di Spagna, don't forget to have a look at one of the A-listers' favorite stores, Sermoneta Gloves, from one of Rome's favorite sons, Giorgio Sermoneta. If you can't find a pair of gloves to suit you among its selections of thousands (and prices start from under 20 Euros), then there is no hope for you.
Via del Corso (about a mile long from Piazza del Popolo to Piazza Venezia) is another uber-trendy and extremely popular pedestrianized shopping hotspot, with a variety of stores from Ferrari, Diesel and Benetton to beautiful luxury bedlinens at Frette and handbags, accessories and luggage at Segue.
Rome has more than its fair share of designer outlet stores you'll be pleased to know. A good one outside the city but not too far away is the McArthur Glen Castel Romano Designer Outlet (Via Ponte di Piscina Cupa, 64), in Castel Romano, the heart of the Agro Pontino zone near the Tyrrhenian coastline, 25 miles from the city centre. It boasts over 110 of the most famous designers in the world at up to 70% off, which can't be bad. It's open 10am to 8pm from Monday to Thursday and stays open an hour later in the evening on Fridays and Saturdays. Get there by car, red shuttle bus outside Termini station (Via Marsala, 8) or private shuttle from your hotel (call 06 3735-0810 one day in advance).
Many people like buying antiques while on vacation and Rome is a veritable treasure trove. There are many good flea markets and antiques shops. Try Via del Babuino, near the Spanish Steps, and the area between Via Giulia and Via del Governo Vecchio along the Tiber. The biggest and most famous flea market is Portaportese in Trastevere, which is open on Sundays from 8am to 1.30pm, and where you can find everything including the kitchen sink.
For a more Bohemian atmosphere try visiting the district of Trastevere, across the River Tiber, which has many fascinating places to shop, such as Italian leather at Fabrizi (Via della Lungaretta, 98) and Pandora della Malva (Piazza San Giovanni della Malva) which sells jewelry, shawls and scarves. For gifts centered around the home (lamps, sculptures, etc.) try Studio Forme, in Via di Santa Cecilia, 30. You can also visit the outdoor food market in Piazza San Cosimato and try your hand at some haggling!
Perhaps the most famous food market in Rome is the Campo de' Fiori, which is particularly good for fish and vegetables. It is in Piazza Campo de' Fiori, daily from 6 in the morning until 1.30 pm, but not open on Sundays.
We hope this is a nice selection of shopping ideas to help you enjoy your time in Rome. Buon divertimento!
Special vacation ideas
A Guide to Shopping in Italy for Hedonists and Bargain Lovers