Perfect Italian Wedding Gifts: Five Iconic Designs from Alessi
So you want to give a very Italian wedding gift, something chic and unique that the newlyweds will use and appreciate. The idea is to please and stand out from all the not so useful or pretty objects that often pile up at the end of a wedding ceremony. Whether the couple is getting married in Italy or elsewhere, we have just the thing. You can't go wrong with something both aesthetically appealing and functional – in short, art you can use – and so we suggest Alessi.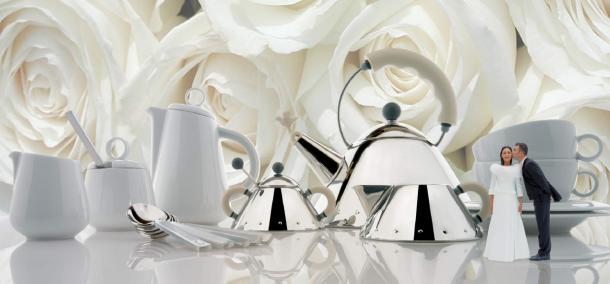 Alessi, founded in 1921, is one of the most important design houses in Italy – and we may say all over the world – for gifts and housewares. Anyone who is worth his or her salt, will appreciate a shaker, coffeemaker, juicer, or pretty much anything, from Alessi, but the particular gifts we suggest here are very wedding appropriate.
Every Italian home requires a coffeemaker. It is likely the first item one touches each morning to start the day, the thing one lights up as soon as guests arrive for an afternoon chat or every evening when dinner is coming to a close. If you give a special coffeemaker, it will be part of the couple's daily lives several times a day. It's a very personal, kind gift to give, and the Neapolitan one from Alessi is very special indeed. Working with designer Riccardo Dalisi, a notorious perfectionist, Alessi created almost 200 kinds of functional prototypes before settling on this one. If the wedding couple is from Naples, you will win even bigger points for giving this prized coffeemaker.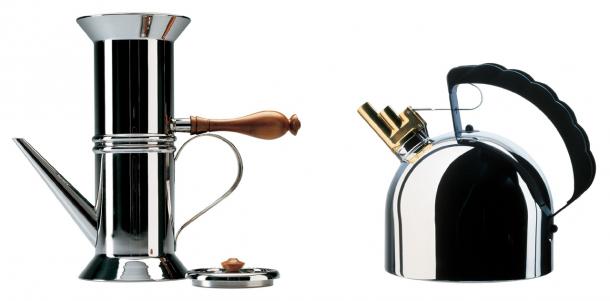 Alternatively, if your couple enjoys tea sometimes, the unique Melodic Kettle is what Alessi calls their first "multi-sensorial design". Created by Richard Sapper in 1983, it sings two notes, E and B, to create a little musical harmony when the water is ready. The overall look is so special that this iconic object has appeared in some Italian films.
If you would like to give accompanying designer mocha cups or teacups, we suggest the Hazel set designed by William Alsop and Federico Grazzini in 2009. These astonishing modernistic – yet quite heart-warming – bone china cups hide a surprise in their saucers, which include a small container for milk or after-meal liqueur. It also doesn't hurt that they can be given as stand alone gifts if your budget doesn't allow for a more substantial present as those suggested above.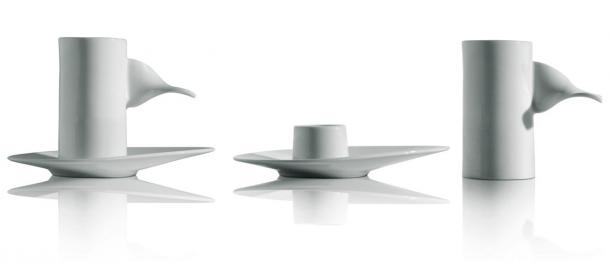 Love dessert and icecream bowls, designed by Miriam Mirri (from a Family Follows Fiction metaproject), are the perfect little pair in several bright color options. This is a very sweet designer gift for newlyweds. These little, playful bowls, fusing together mirrowed-polished stainless steel and shatter-resistant transparent thermoplastic, were designed while researching the process used by children and primitive cultures to create objects, bridging high-tech functionality with a fairytale-like imagination.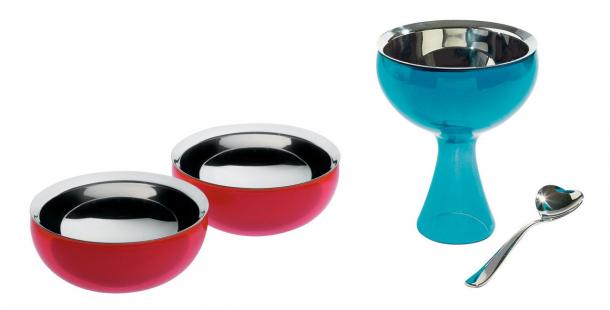 Last but not least is Peyrano, a classic 1990 design by Alessandro Mendini and the most special chocolate box you have ever seen. This little statement object is something the newlyweds can treasure for a lifetime. According to Alessi, Mendini said of his box: "Like life, a box is an enigma: it's an infinite system of surprises to be opened, mysteries to be revealed. If you use this box for chocolates, which it was designed for, it becomes a secret treasure of hidden delights. Or you can use it as a repository for the little things that matter to you, for your special memories."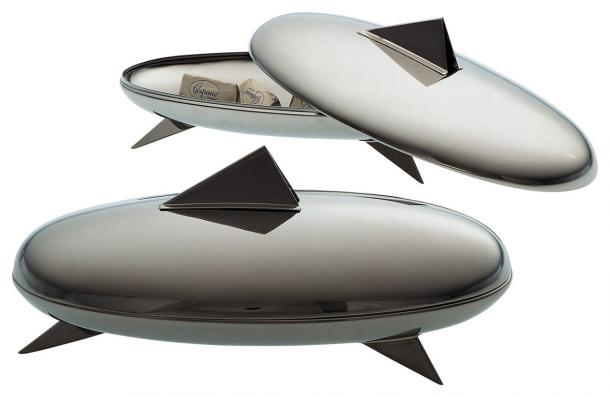 By Danielle Pollack
Learn more about:
Related news stories:
Special vacation ideas