Massimiliano Alajmo: The Youngest 3 Star Chef in Europe
Massimiliano Alajmo is already considered one of the Italy's finest chefs. Already? He was born on May 6th, 1974. He is the youngest chef in Europe to have ever received three stars from the prestigious Michelin Guide, the highest honor one can receive in his profession. He received it at the age of 28, in 2002.
Nicknamed il Mozart dei fornelli (Mozart of the stovetop) not only is Massimiliano respected in Italy, he is well regarded in the culinary world internationally. This is due in part to the fact that he combines traditional Italian methods with new cooking technology – the chill-blaster, electronic siphon, and liquid nitrogen are a few favorites, for example. Chef Mario Batali says of Massimiliano that he has "a truly original approach" to blending the traditional and innovative. Also, he likes to experiment with ingredients such as fruity black pepper from Sarawak and wrinkly aromatic Tonka beans.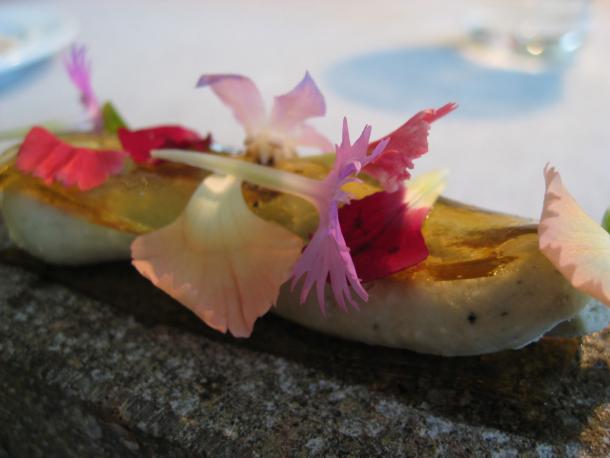 Having learned many of his skills in his mother's northern Italian kitchen, Massimiliano also uses traditional wooden instruments, all-natural yeast, Sicilian capers, wild oregano, terracotta pots and his own blends of virgin olive oil. Though he has embraced the new technology and made it to work to perfection, he does not renounce his heritage and impact of his upbringing, with a particular nod to his mother, Rita.
This specific stylistic blend is what makes him stand out from all the others.
His Training and Restaurants
His background is interesting: Massimiliano comes from a long line of chefs (four generations), and his training is both Italian and French. Once he obtained his degree in catering, he went on to deepen his experience at the Ja Navalge restaurant run by Alfredo Chiocchetti in Moena, Trento Italy. After that, he worked at the Auberge de l'Eridan then run by Marc Veyrat in a French town called Veyrier du Lac d'Annecy, and at Les Pres d'Eugenie, run by Michel Guerard at Eugenie-les-Bains.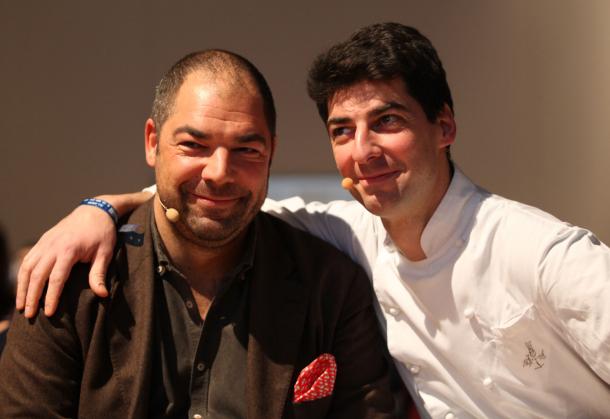 Then Massimiliano decided to accept the offer of his brother Raffaele to open a family restaurant near Padova in Italy. They named the restaurant Le Calandre and it was here that brought Massimiliano his three Michelin Guide stars. With three stars to his name, the youngest person in history of the European Union to have received this recognition was then ready to share his cuisine with the world. Le Calandre is at Via Liguria 1 in Rubano, Italy and was named one of the 2013 World's 50 Best Restaurants.
Massimiliano and his assistant chef demonstrate the importance of constant stirring in the final stages of making risotto.
The Recipe
Massimiliano grew up in a region where it is commonplace to find risotto on the dinner table. One of his best and most famous dishes is Risotto with Capers and Espresso. It is a wonderfully unusual combination elements of the aromatic south (capperi) and north (risotto) in one dish. The idea for the dish was born from a moment when tasting Pantelleria capers, Massimiliano noted a hint of something like Indian coffee.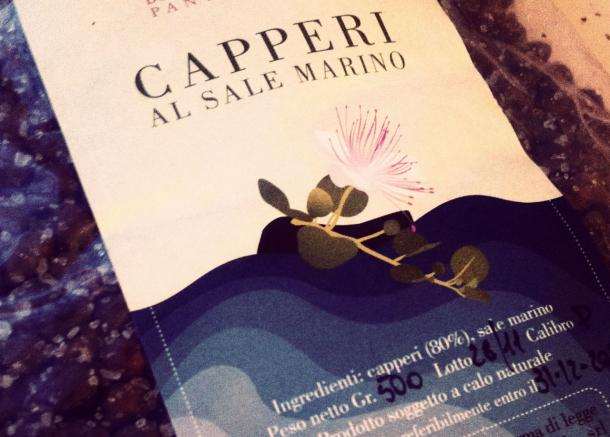 Here is the list of ingredients:
2 tablespoons of salt-packed Pantelleria capers
One quarter of a cup of brewed espresso
Five and a quarter cups of chicken stock or low-sodium broth
Two tablespoons of extra-virgin olive oil
1 small minced onion
One and a half cup of short-grain rice, preferably Arborio
One quarter of a cup of dry white wine
Eight espresso beans
Two tablespoons of unsalted butter
One quarter of a cup of Parmigiano-Reggiano, freshly grated
Salt and pepper
First, put the capers in a small bowl and cover them in two inches of water to release the salt. After letting them soak for an hour, drain the capers and chop them coarsely.
While the capers are soaking, get a small saucepan and gently simmer the already brewed espresso until it is reduced to approximately two tablespoons. This should take about five minutes.
The medium saucepan is reserved for the stock, where it should be covered and kept warm on low heat. The large saucepan is where you will heat the olive oil. Add the onion to the olive oil and cook it for about three minutes. Once the onion has softened, add the rice and cook it while stirring regularly for about two minutes.
Then add the wine and simmer for another two minutes, stirring. Finally, add the espresso beans and one cup of the hot stock from the medium saucepan. Cook this at a moderate temperature and stir constantly until all the liquid is absorbed by the rice. You should repeat this last step until you have used a total of five cups of stock and the rice is al dente. All in all, this should take about twenty minutes. It is important to remember to stir constantly during this process.
Once finished with this, you should remove the risotto from the heat and remove the espresso beans. Mix in the butter, Parmigiano, and remaining quarter cup of stock. Then plate the risotto, where you will add chopped capers as a garnish over the risotto and a pool of reduced espresso around it. You can then lightly dust the dish with finely ground espresso powder. It should be served immediately.
This recipe is great if you want to prepare something exotic for your friends. It does not take long to prepare and is very tasty. Unless they have been to one of the Massimiliano's restaurants, your friends will probably never have tasted anything like this in their lives. Buon appetito!
By Maya Johnson
Authors note: I first found out about Massimiliano through a friend and fellow foodie David Marocchi.