Venice (Venezia): The Most Romantic City in the World
The beautiful city of Venice on the northeast Italian coast is one of the most famous locations in the world and definitely one of the most romantic. Star of films, books, poems, pictures and music, Venice fascinates and spellbinds, inspires and dazzles. Whether wreathed in atmospheric mist or sparkling in summer sunshine, Venice has a special magic that is unique and intoxicating. No wonder it is Italy's top tourist destination.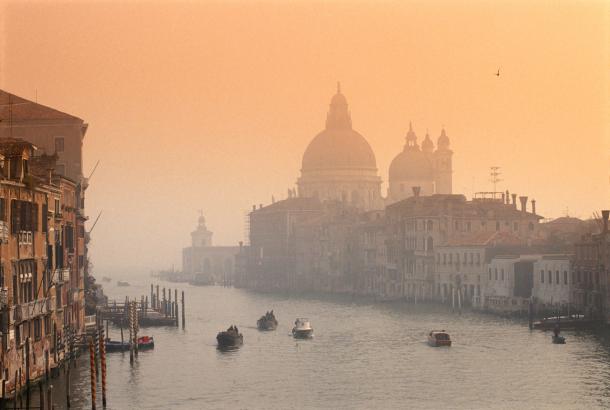 Venice is not a single landmass but is made up of over a hundred small islands, which are linked together by a series of bridges and canals, the most famous of which is the Grand Canal which runs through the center. It is therefore understandable that the way to get around La Serenissima ("the most serene one") as the city is affectionately known, is not by car, but by boat. Its traffic-free-streets make walking a pleasure, although be careful not to get lost, which it's all too easy to do.
The city is divided into six districts or sestieri: Cannaregio (near the train station) Castello and San Marco are on one side of the Grand Canal, with Santa Croce on the other side of the Grand Canal opposite the station. San Polo and Dorsoduro are nearer St Mark's Square in the heart of Venice. Dorsoduro is the most luxurious and expensive district but also the one with the most to see and do.
Because of its popularity, you are best advised to avoid visiting Venice in peak season, so aim for spring, fall or even winter if you can. Whatever season you decide on, you'll find more than enough to keep you busy and interested, possibly for the rest of your life! There are churches, restaurants, bridges, galleries, festivals and shops galore, and of course if you feel like splashing out (ouch – sorry about the pun) then a trip on a gondola is an oh-so-pricey but truly memorable once-in-a-lifetime experience.
Although Venice can get hot, sunny days, it also gets a lot of rain. In fact, the city gets 60 days of acqua alta (high water – i.e. flooding) a year and is very slowly sinking, with the water rising over the water resistant stone bases and reaching the soft and porous brickwork with devastating results.  One of the most famous campaigns to help try and save the city before it is too late is called Venice in Peril which organizes activities to raise funds to help conserve this precious city, its buildings and artworks.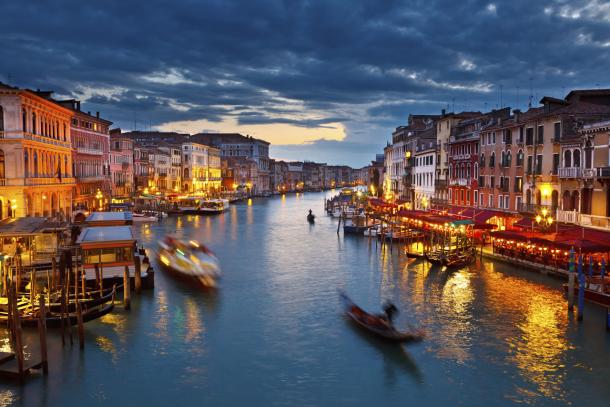 In order to get the best out of your visit to this lovely place, then we have compiled detailed information on these pages to help you with everything from shopping to accommodation, although if you are stuck you can always stop by the very busy Tourist Office by St Mark's Square.
Foodies are well catered for in Venice, but remember it is pricey, particularly in the tourist hotspots, such as the eateries around St. Mark's Square. Its location on the coast means that seafood is a specialty and the surrounding region of Veneto is home to many good wineries.
Venice is known for its many beautiful sights. In fact everywhere you look is breathtakingly beautiful, like a film set. Among the most famous sights are St Mark's Square – pricey but a must-see, the adjoining Doge's Palace – allegedly the most impressive building in the city and St. Mark's Basilica, also off the main square. For bridges you are spoiled for choice. Try the Bridge of Sighs – whether the sighing was named after lovers or prisoners on their way to execution is debatable – and the 400-year-old Rialto Bridge, one of four which cross the Grand Canal. For jaw-dropping art then go to one of Italy's best art museums, the Galleria dell'Accademia.
There is lots to shop for in Venice and our fashion and shopping pages will help you find your way around, but for general souvenirs of your stay, then remember that Venice is famous for Murano glass, carnival masks (the Venice Carnevale is one of the most iconic events in Italy) and beautiful paintings.
We hope that has whetted your appetite for one of Italy's most famous and loved cities. Please let us know about your trip and what you enjoyed most.
Related news stories:
Carlo Scarpa & Venini: Glass Masterpieces Make Splash in Venice
Special vacation ideas
Italian Historical and Botanical Gardens