Be Bold: Pairing Wines and Liqueurs with Cigars
While the world of wine and food pairing is vast and complex as it stands, there is now a growing trend in Europe to pair wine with cigars…so whether you're a neophyte or an appassionato, here are some enterprising ideas.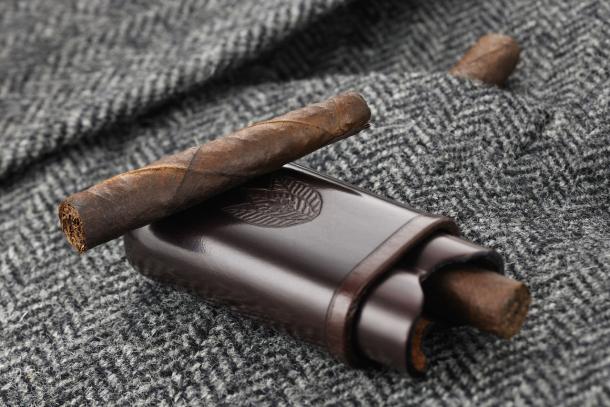 The classic and most acclaimed combinations are Cuban or Tuscan cigars with sparkling whites or distillates and liqueurs, such as calvados (an apple brandy), whiskey, rum or cognac, working to combine the strong aromas of the alcoholic drink of choice with the peat, smoked or coffee flavors of the cigar itself. A closer look at how cigars are being enjoyed today in Italy shows us a fresh approach to an old tradition.
The most loved Italian cigar is the Toscano, which is produced in Lucca, Tuscany, by Manifatture Sigaro Toscano. That general family name covers several industrial made brand variations, which have decidedly fuller flavors, and some special hand made versions, with lighter, purer and more persistent flavors, like the Garibaldi, Modigliani or Soldati, all of which carry the name of some of Italy's best known historical personalities.
As a first combination I suggest a Sigaro Toscano called il Moro, hand made and aged 12-18 months, matched with a vintage 2007 Chianti Classico DOCG "Castello di Brolio" by Ricasoli, which has great aromatic complexity. The chocolate, coffee and spices on the palate go well with the quiet yet strong flavor of il Moro, and the elegant tannins of this Chianti prevail with a long finish.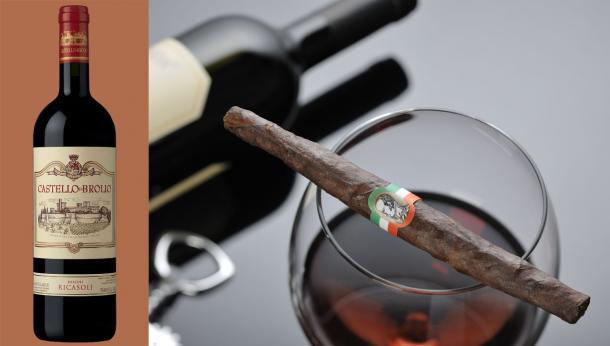 If you like a lighter cigar, I suggest a Toscanello Aroma Vaniglia, one of the most widely known Italian cigars, with a nice balance of spicy and sweet (and appreciated also by women), matched with some high quality "bubbly", like the Prosecco DOC Treviso or Spumante Rosato "Il Fresco" by Villa Sandi. To the eye, the Villa Sandi's Rosato has light pink and bright nuances from the use of the grape skin in the fermentation process. Fruity and floral to the nose with delicate notes of golden apple and mountain wildflowers, it compliments the vanilla of the cigar perfectly. The Prosecco, with its sparkling dry, fresh and fruity taste and a harmonious aftertaste, it goes very nicely too with a Toscanello Vanilla – a perfect combination for a toast, a way to relax after a successful meeting, or just a fun date.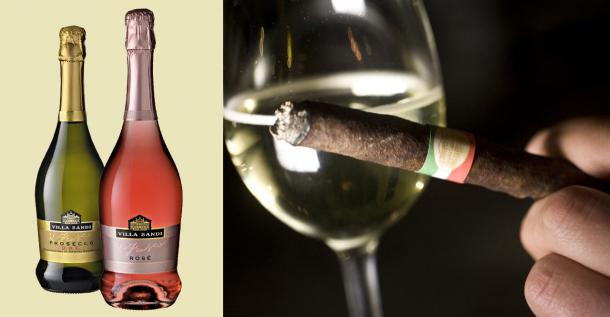 If you are not ready to match cigars with wine, but are looking for something unique and international, you can try a Romeo Y Julieta, a type of cigar produced both in Cuba (by Habanos SA) and in the Dominican Republic (by Altadis SA, a division of Imperial Tobacco), with a very special Italian brandy, precisely a vintage 1988 of "Antico Brandy Italiano" con selezione di tabacco toscano, aged 21 years, by Villa Zarri. This is not simply a brandy, but it is sometimes considered a refined "tobacco drink", because of the use of Tuscan grown tobacco leaves in the distillation process. It has sweet notes of raisin, vanilla, barley and licorice in the nose. Also present are hints of date, rosewood and an echo of smoking tobacco. The palate is then pervaded by intense tones of Tuscan cigar, raw leather and black pepper. This brandy demands an excellent cigar, whether Cuban or Tuscan is your preference.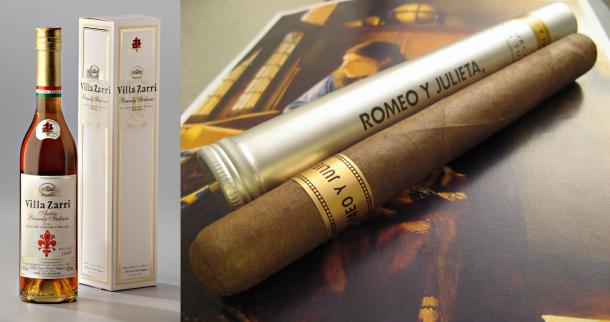 A very bold combination is a Cohiba cigar, the name that Cuban Indians gave to tobacco (and which today indicates both a line of products by Habanos SA in Cuba and one by the General Cigar Company in the Dominican Republic), matched with a powerful, smooth Italian grappa, like "Grappa 10th" Torbata Selezione Riserva by Centopercento (which means 100%). Elegant and complex, the sharp smell of smoke is accompanied by sweet notes of dried and ripe fruit. Taste is full and round, as the floral, spicy and fruity aromas blend on the palate, leaving a feeling of depth. Date, nut, carob, tobacco, vanilla and cinnamon aromas meet in this perfectly Italian distillate.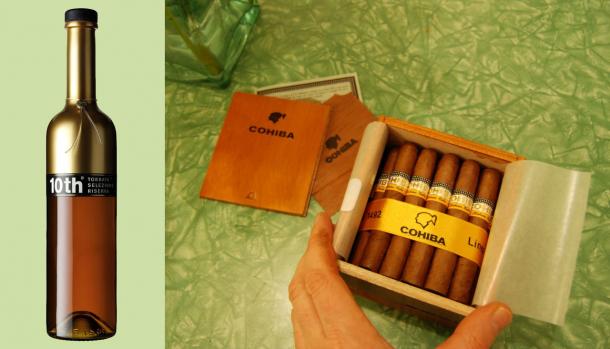 And beer lovers can take heart too, as some in Europe are now enjoying their cigars with a beer. It might seem strange, but some beer can stand up to say a Toscano 1492 Anno Domini cigar. The beer we suggest with this is called Ghisa, and is produced by Birrificio Lambrate, an artisanal micro brewery in Milan. To the nose it is characterized by toasted coffee beans and smoked aromas, while the taste hints at licorice and a pleasant essence of braised prune. The aftertaste of this beer reveals various dried fruits and nuts in succession: carob, walnut, hazelnut and cassia, along with a pleasant strong finish, just right with a Toscano 1492.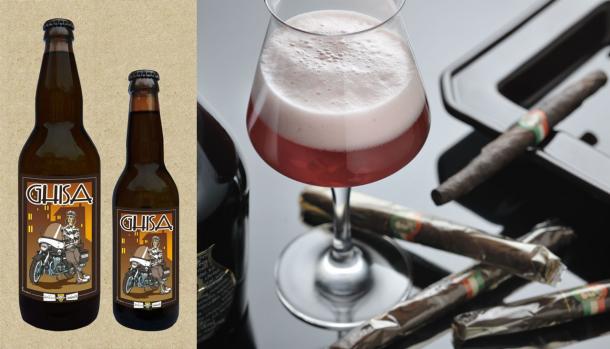 So now, if all these different pairings have aroused your interest, why not try a course to become a catador, or cigar taster, and you can unite two very nice Italian passions, as wine and cigars?
By Ornella Rosucci
Related news stories: