Top Picks for Your Picnic: Four Crisp Springtime Wines
It's almost time to go out and take a nice long walk, see what's blooming and…drink some crisp Italian wine! Of course Italy is full of excellent wines to drink "al fresco", outdoors, perhaps at the seaside or a picnic in a field of wildflowers. Today I'm going to give you some suggestions for each category of wine, perfect for sunny days.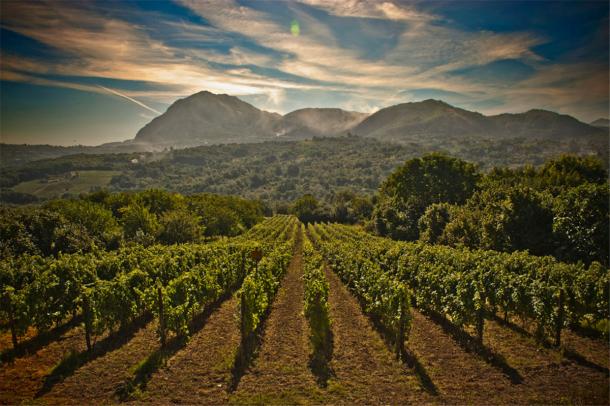 Let's beging with a sparkling wine, because it's just the nicest way to start! In Italy, when we think spumante (bubbly) the first thing that comes to mind is usually a prosecco, and the one we recommend today is the dry option made by Adriano Adami, called Valdobbiadene DOCG Prosecco Superiore Rive di Colbertaldo "Vigneto Giardino" of 2011. The bouquet of this sparkling wine has intense aromas of jasmine, lily of the valley, mineral notes, white fruits and thyme. The palate is balanced with a fresh, floral finish.
The second wine I think you will really enjoy as the weather warms up is a white wine, not a sparkling but a still selection from Campania, which was awarded the highest possible score by the respected Italian guide Bibenda. It is the Fiano di Avellino DOCG by Tenuta Sarno 1860, also of 2011. The nose is elegant and complex, with floral hints of camellia and hawthorn; also present are fruity notes of apple and rosemary with mineral to finish. The taste is very persistent, citrus, and perfectly balanced for a warm day.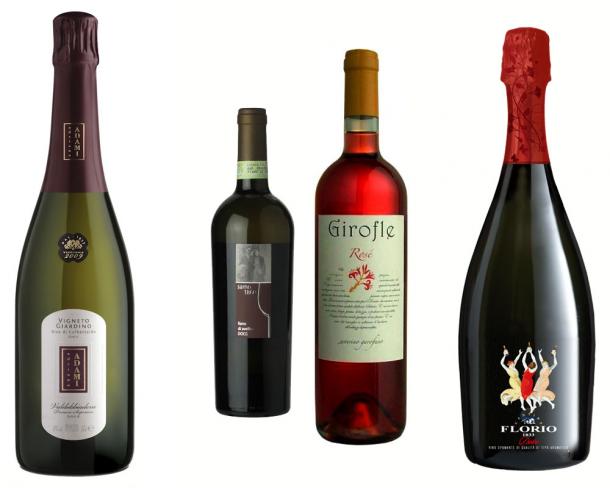 From left to right: Valdobbiadene DOCG Prosecco Superiore Rive di Colbertaldo "Vigneto Giardino" by Adriano Adami, Fiano di Avellino DOCG by Tenuta Sarno 1860, Salento IGT Rosè "Girofle" by Azienda Monaci, and Spumante Dolce by Cantine Florio.
The third wine, maybe to enjoy while having some fresh grilled fish in front of the sea in the afternoon, is a delicious rosato wine (or rosè), created in the prettiest part of Apulia by Azienda Monaci, called Salento IGT Rosè "Girofle" 2011. This lovely rosè has hints of cherries, raspberries, wild strawberries and various aromatic herbs. The palate is well balanced with a captivating finish.
Concluding our al fresco lunch, perhaps sitting on our bench in the garden while waiting for the dessert, why not drink a sweet spumante from Sicily, which transmits to us the health of that sunny land? The one I suggest is the slightly sweet Spumante Dolce by Cantine Florio 1833, an aromatic wine with Mediterranean scents and refreshing citrus notes to balance the sweetness. An ideal wine with dessert, delicious when accompanying creamy sweets, biscuits and fruit.
If you're so lucky to be in northern Italy in the springtime next year, be sure not to miss the annual Primavera del Prosecco Superiore. It is a great celebration of all our delicious spring/summer prosecco! Cin, cin!
Watch the Adriano Adami story of how prosecco gets its bubbles, and also which glass is best for which wine. © Adami
By Ornella Rosucci