Perfect Pairings: Italian Wines for a Wedding Menu
Have you ever been to an Italian wedding? Well, I can tell you it is an extraordinary experience! In Italy it is still one of the most important occasions in life, and the wedding party must be, consequently, as big and fabulous as a fairy tale event. You may think I'm exaggerating, but the menu shown here might change your mind.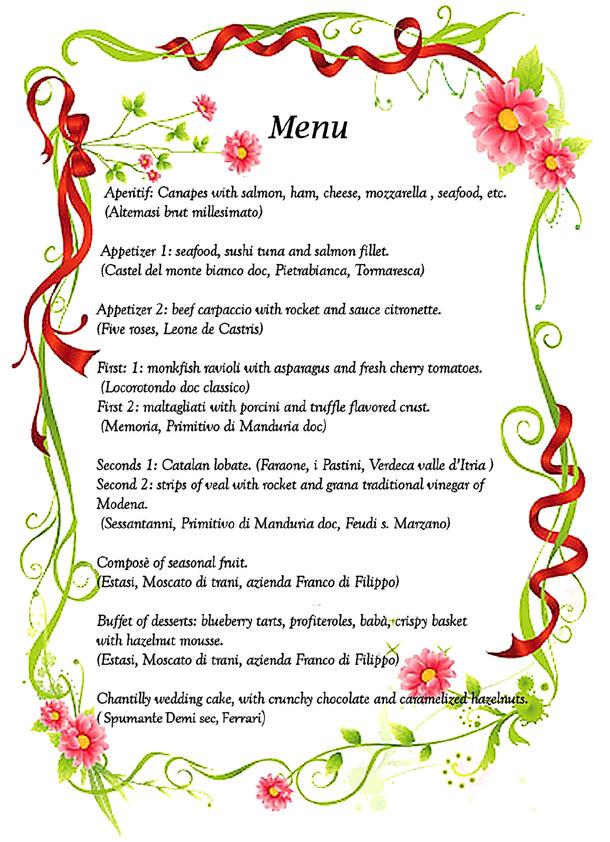 I have created this sample menu to give you ideas about pairing each food course to wines from different Italian regions. I place a special focus on wines from Apulia, in the heel of Italy so to speak, and the region in which I live. This area is still sometimes overlooked as "wine country", but it boasts the widest vineyard acreage in the entire country, second only to Sicily. Now it is producing many wonderful wines, which are beginning to compete with even the best known labels from Italy and Europe.
Here we are to the best part, we start with the wedding banquet.
Usually in Italy we start the aperitif when the newlyweds arrive at the banquet hall. A great wine to put everybody in a festive mood is the Trento DOC "Altemasi" Metodo Classico Brut Millesimato by Cavit. This 100% Chardonnay sparkling wine, or spumante as we Italians say, is from Trentino Alto Adige, one of the northern regions that produces the best spumante in Italy. This Brut has a complex aroma with a clear hint of necessary yeast. To the nose it recalls bread crust, apple, herbs and honey. It's dry, fresh and has a balanced structure, which makes it perfect as an aperitif or with seafood.
The appetizers are usually served at the table and can be two or more. I chose two, one of fish and the other meat. For the first, a nice wine is Castel del Monte DOC "Pietrabianca" by Tormaresca, a white still wine perfect with fish because of its tasty refreshing quality, with a good balance of softness and acidity. At first impact the scents are of elderflowers, mimosa, hints of citrus fruits and herbaceous plants.
For the meat appetizer, I recommend Salento IGT "Five Roses" by Leone de Castris, a pink rosato wine made from Negroamaro grapes with notes of geranium and cherry. It is named after the district in which it is produced, and legend says that every generation of this wine family has five children. In 1943, this was the first Italian bottled rosé wine requested by Charles Poletti, commissioner of supplies for the Allies during the war, who wanted an English name for it.
For the first course I suggest two pasta dishes, one with fish and the other with meat sauce. For the fish, Locorotondo DOC Classico by the Cantina Sociale del Locorotondo is the perfect white wine with its fruity nose and hints of pineapple, yellow peach and broom, as well as a smooth, harmonious finishing taste. For the meat pasta dish a Primitivo di Manduria DOC "Memoria", produced by the Consorzio Produttori Vini Manduria in the south of Apulia, is a complex red wine with hints of cherry, plum and blackberry, and a touch of rhubarb and coffee.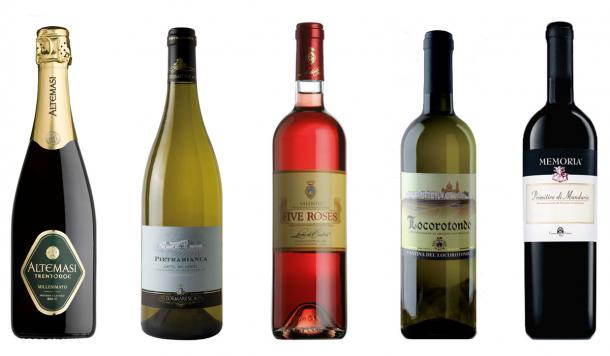 And now here we are to the second or main courses (save room, we're just getting started!). Also in this course there is both a fish and a meat offering. For the fish course, Valle d'Itria IGP "Faraone" Verdeca by I Pastini, a lovely white wine made from rare Verdeca grapes, with a delicate smell of peach and melon and a floral aroma with honey, is the perfect match. The meat dish instead goes well with a Primitivo di Manduria DOC "Sessantanni" by Feudi di San Marzano, a rich red wine, full and complex to the nose, with notes of cocoa, coffee and vanilla in the mouth.
To close the meal we serve fruit and the buffet of sweets. For these I recommend a sweet dessert wine called Moscato di Trani DOC "Estasi" Passito, made by the Azienda Agricola Franco di Filippo from the local varietal of the Muscat grape. Estasi, with a pretty golden color due to how the grapes are processed, has scents of withered rose, linden, acacia, and a tropical fruit aroma which ends with hints of vanilla and almond.
Of course the most important part of the party, between one dance and another, is the cutting of the wedding cake, when all the guests gather around the newlyweds to toast and celebrate their union. The finishing wine pairing I recommend is a Trento DOC Metodo Classico Demi-Sec by Ferrari, a creamy white with a persistent fruit finish of yellow apple, apricot, and wedding bouquet florals. It's the perfect wine to raise your glass and finish a perfect day!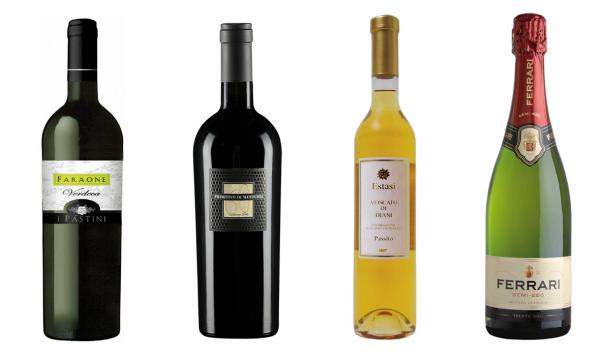 A final note: some of these wines are available for purchase only in Italy, others you can find internationally in wine shops or have them shipped directly from their producers. If you cannot find the exact wine I recommend here while you are outside of Italy, I suggest you look for a wine with the same appellation, meaning that while the individual producer may be different, the grapes used, vinification process and geographical region of production are the same.
By Ornella Rosucci
Related news stories:
Special vacation ideas